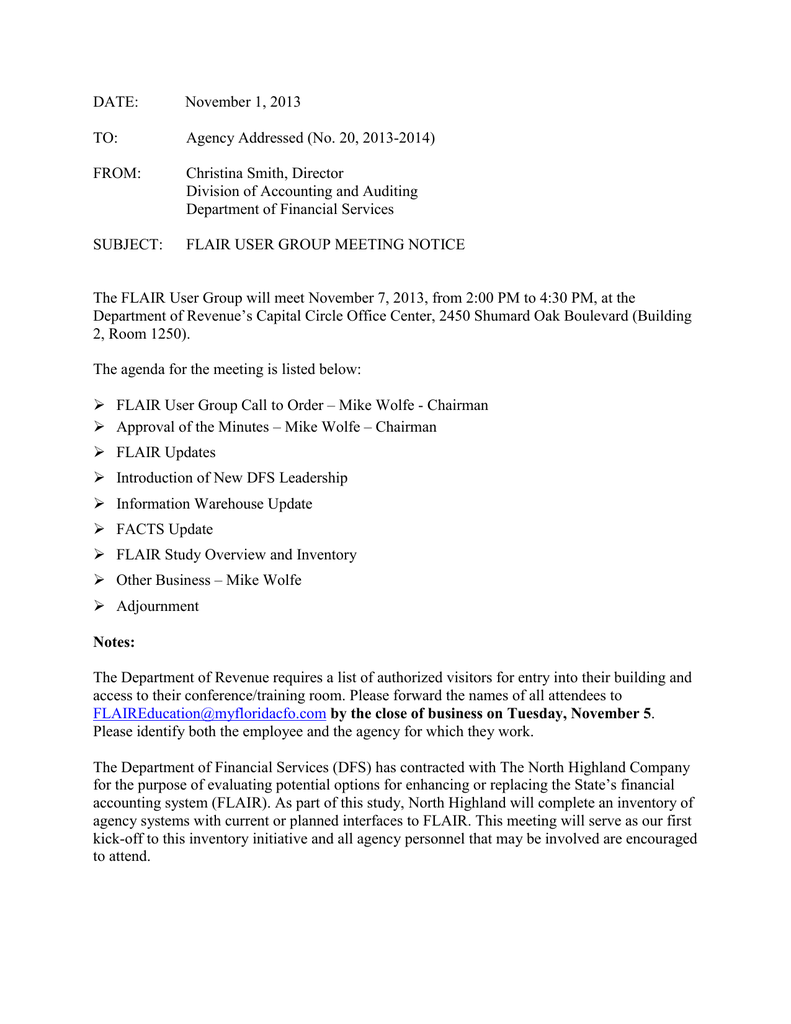 DATE:
November 1, 2013
TO:
Agency Addressed (No. 20, 2013-2014)
FROM:
Christina Smith, Director
Division of Accounting and Auditing
Department of Financial Services
SUBJECT:
FLAIR USER GROUP MEETING NOTICE
The FLAIR User Group will meet November 7, 2013, from 2:00 PM to 4:30 PM, at the
Department of Revenue's Capital Circle Office Center, 2450 Shumard Oak Boulevard (Building
2, Room 1250).
The agenda for the meeting is listed below:
 FLAIR User Group Call to Order – Mike Wolfe - Chairman
 Approval of the Minutes – Mike Wolfe – Chairman
 FLAIR Updates
 Introduction of New DFS Leadership
 Information Warehouse Update
 FACTS Update
 FLAIR Study Overview and Inventory
 Other Business – Mike Wolfe
 Adjournment
Notes:
The Department of Revenue requires a list of authorized visitors for entry into their building and
access to their conference/training room. Please forward the names of all attendees to
[email protected] by the close of business on Tuesday, November 5.
Please identify both the employee and the agency for which they work.
The Department of Financial Services (DFS) has contracted with The North Highland Company
for the purpose of evaluating potential options for enhancing or replacing the State's financial
accounting system (FLAIR). As part of this study, North Highland will complete an inventory of
agency systems with current or planned interfaces to FLAIR. This meeting will serve as our first
kick-off to this inventory initiative and all agency personnel that may be involved are encouraged
to attend.