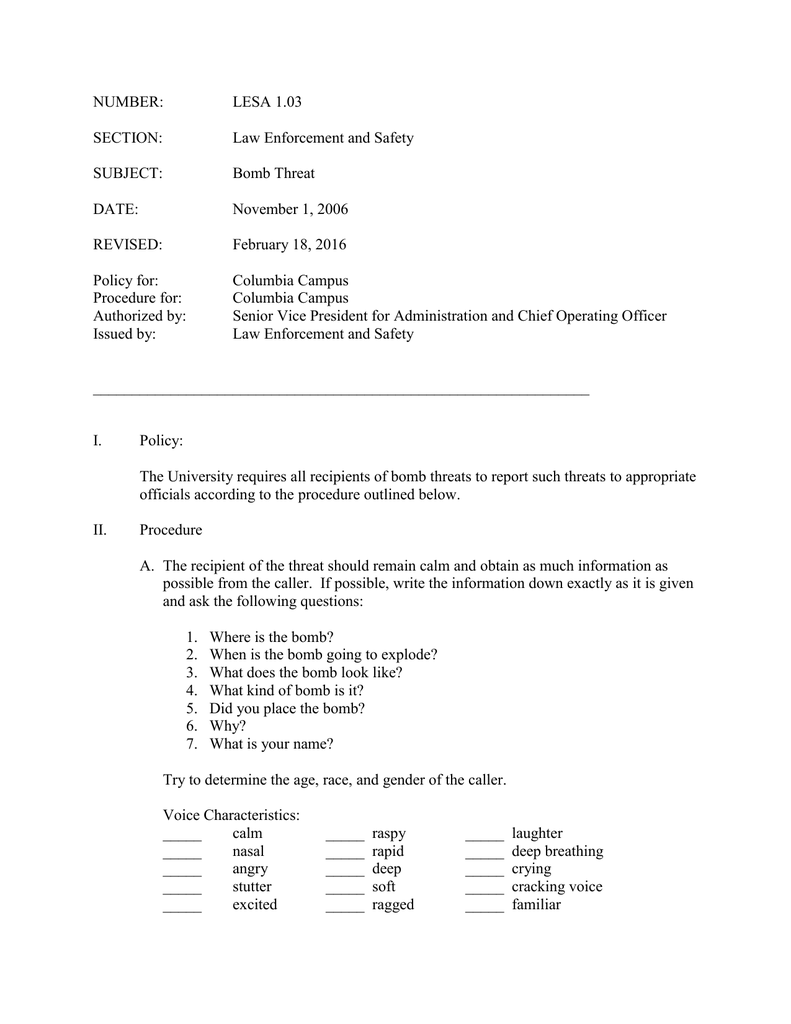 NUMBER:
LESA 1.03
SECTION:
Law Enforcement and Safety
SUBJECT:
Bomb Threat
DATE:
November 1, 2006
REVISED:
February 18, 2016
Policy for:
Procedure for:
Authorized by:
Issued by:
Columbia Campus
Columbia Campus
Senior Vice President for Administration and Chief Operating Officer
Law Enforcement and Safety
________________________________________________________________
I.
Policy:
The University requires all recipients of bomb threats to report such threats to appropriate
officials according to the procedure outlined below.
II.
Procedure
A. The recipient of the threat should remain calm and obtain as much information as
possible from the caller. If possible, write the information down exactly as it is given
and ask the following questions:
1.
2.
3.
4.
5.
6.
7.
Where is the bomb?
When is the bomb going to explode?
What does the bomb look like?
What kind of bomb is it?
Did you place the bomb?
Why?
What is your name?
Try to determine the age, race, and gender of the caller.
Voice Characteristics:
_____
calm
_____
nasal
_____
angry
_____
stutter
_____
excited
_____
_____
_____
_____
_____
raspy
rapid
deep
soft
ragged
_____
_____
_____
_____
_____
laughter
deep breathing
crying
cracking voice
familiar
_____
_____
_____
lisp
loud
slurred
Sounds:
_____
_____
_____
_____
street noises
animal noises
house noises
PA systems
Was the threat?
_____
taped
_____
vulgar
_____ slow
_____ accent
_____ normal
_____
_____
_____
_____
_____ clearing throat
_____ whispered
_____ disguised
factory machinery
clear background voices
vehicle/motor noises
telephone booth
_____ well spoken
_____ read from a script
_____ irrational
It may be helpful to inform the caller that the building is occupied and the detonation
of a bomb could result in death or injury to innocent people.
B. Immediately notify the University Police Department using the EMERGENCY
TELEPHONE LINE 911. Give the Communications officer:
1.
2.
3.
4.
5.
6.
the exact wording of the threat.
any timelines and/or demands made by the caller.
the time you received the call.
all identifying characteristics of the caller.
the telephone number on which the threat was received.
your name, room number and a telephone number where you can be reached.
C. The recipient of the threat should take no other action until members of the Division
of Law Enforcement and Safety arrive or instructions are given over the telephone by
the Communications officer. The evacuation of the building, if required, will be
ordered by a member of the Division of Law Enforcement and Safety in person or by
telephone.
D. University personnel who are in any way involved with a bomb threat are not
authorized to make any statement to the press or news media. All inquiries are to be
referred to the University Office of Communications and Public Affairs.
III.
Reason for policy changes:
Policy updated with current titles and contact information.