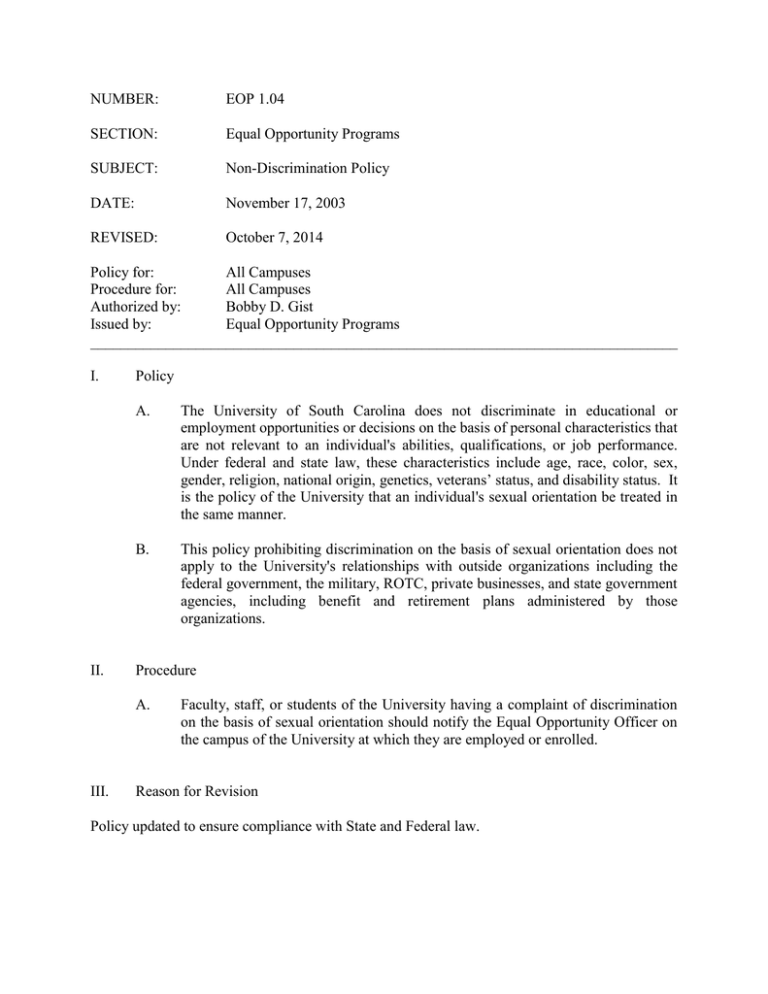 NUMBER:
EOP 1.04
SECTION:
Equal Opportunity Programs
SUBJECT:
Non-Discrimination Policy
DATE:
November 17, 2003
REVISED:
October 7, 2014
Policy for:
All Campuses
Procedure for:
All Campuses
Authorized by:
Bobby D. Gist
Issued by:
Equal Opportunity Programs
______________________________________________________________________________
I.
II.
Policy
A.
The University of South Carolina does not discriminate in educational or
employment opportunities or decisions on the basis of personal characteristics that
are not relevant to an individual's abilities, qualifications, or job performance.
Under federal and state law, these characteristics include age, race, color, sex,
gender, religion, national origin, genetics, veterans' status, and disability status. It
is the policy of the University that an individual's sexual orientation be treated in
the same manner.
B.
This policy prohibiting discrimination on the basis of sexual orientation does not
apply to the University's relationships with outside organizations including the
federal government, the military, ROTC, private businesses, and state government
agencies, including benefit and retirement plans administered by those
organizations.
Procedure
A.
III.
Faculty, staff, or students of the University having a complaint of discrimination
on the basis of sexual orientation should notify the Equal Opportunity Officer on
the campus of the University at which they are employed or enrolled.
Reason for Revision
Policy updated to ensure compliance with State and Federal law.