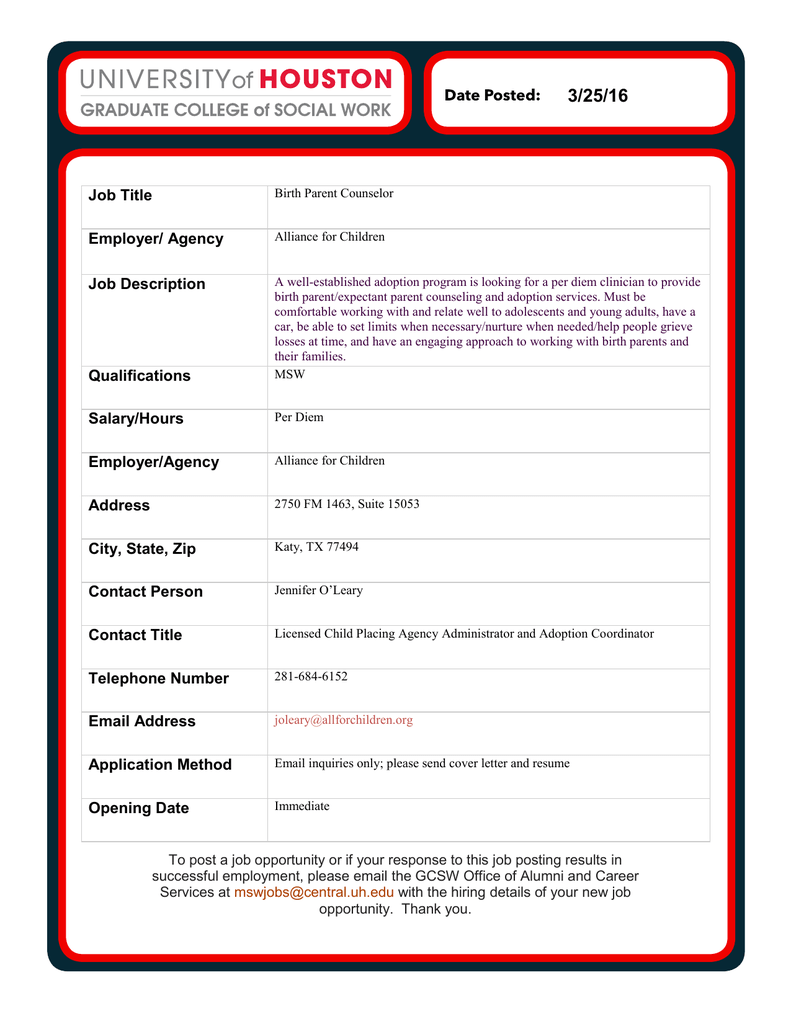 3/25/16
Job Title
Birth Parent Counselor
Employer/ Agency
Alliance for Children
Job Description
Qualifications
A well-established adoption program is looking for a per diem clinician to provide
birth parent/expectant parent counseling and adoption services. Must be
comfortable working with and relate well to adolescents and young adults, have a
car, be able to set limits when necessary/nurture when needed/help people grieve
losses at time, and have an engaging approach to working with birth parents and
their families.
MSW
Salary/Hours
Per Diem
Employer/Agency
Alliance for Children
Address
2750 FM 1463, Suite 15053
City, State, Zip
Katy, TX 77494
Contact Person
Jennifer O'Leary
Contact Title
Licensed Child Placing Agency Administrator and Adoption Coordinator
Telephone Number
281-684-6152
Email Address
[email protected]
Application Method
Email inquiries only; please send cover letter and resume
Opening Date
Immediate
To post a job opportunity or if your response to this job posting results in
successful employment, please email the GCSW Office of Alumni and Career
Services at [email protected] with the hiring details of your new job
opportunity. Thank you.