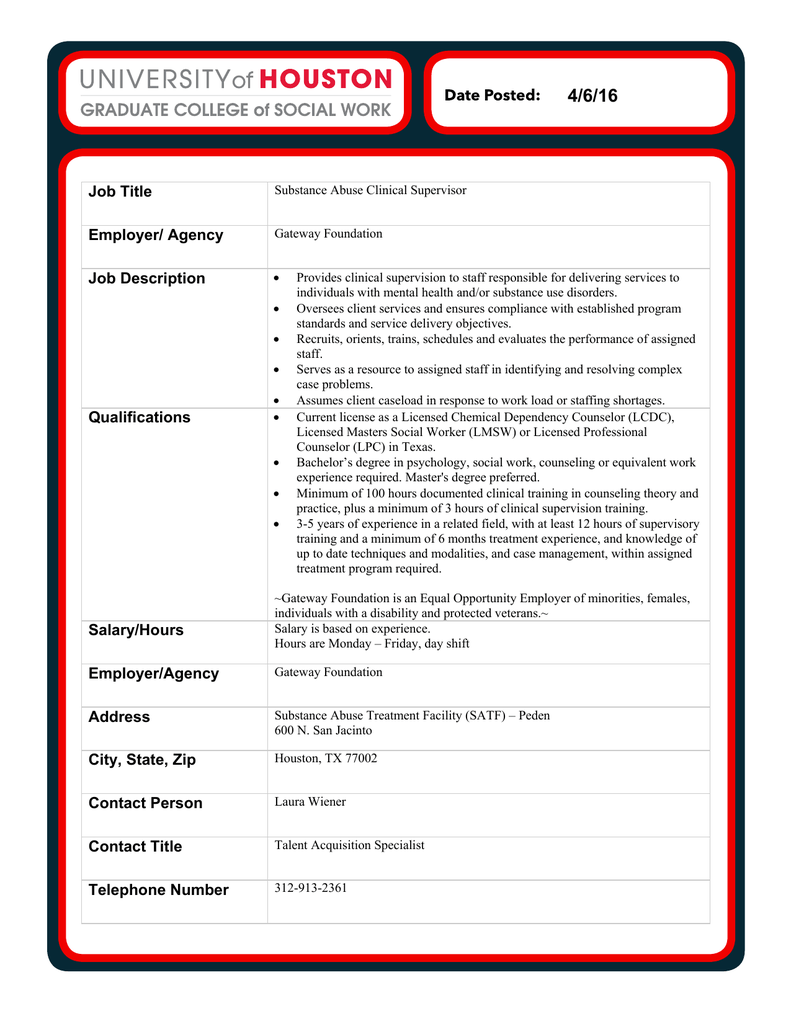 4/6/16
Job Title
Substance Abuse Clinical Supervisor
Employer/ Agency
Gateway Foundation
Job Description




Qualifications





Salary/Hours
Provides clinical supervision to staff responsible for delivering services to
individuals with mental health and/or substance use disorders.
Oversees client services and ensures compliance with established program
standards and service delivery objectives.
Recruits, orients, trains, schedules and evaluates the performance of assigned
staff.
Serves as a resource to assigned staff in identifying and resolving complex
case problems.
Assumes client caseload in response to work load or staffing shortages.
Current license as a Licensed Chemical Dependency Counselor (LCDC),
Licensed Masters Social Worker (LMSW) or Licensed Professional
Counselor (LPC) in Texas.
Bachelor's degree in psychology, social work, counseling or equivalent work
experience required. Master's degree preferred.
Minimum of 100 hours documented clinical training in counseling theory and
practice, plus a minimum of 3 hours of clinical supervision training.
3-5 years of experience in a related field, with at least 12 hours of supervisory
training and a minimum of 6 months treatment experience, and knowledge of
up to date techniques and modalities, and case management, within assigned
treatment program required.
~Gateway Foundation is an Equal Opportunity Employer of minorities, females,
individuals with a disability and protected veterans.~
Salary is based on experience.
Hours are Monday – Friday, day shift
Employer/Agency
Gateway Foundation
Address
Substance Abuse Treatment Facility (SATF) – Peden
600 N. San Jacinto
City, State, Zip
Houston, TX 77002
Contact Person
Laura Wiener
Contact Title
Talent Acquisition Specialist
Telephone Number
312-913-2361
Email Address
[email protected]
Application Method
Please apply online at: http://gatewaycorrections.org/careers/
Opening Date
April 6, 2016
To post a job opportunity or if your response to this job posting results in
successful employment, please email the GCSW Office of Alumni and Career
Services at [email protected] with the hiring details of your new job
opportunity. Thank you.