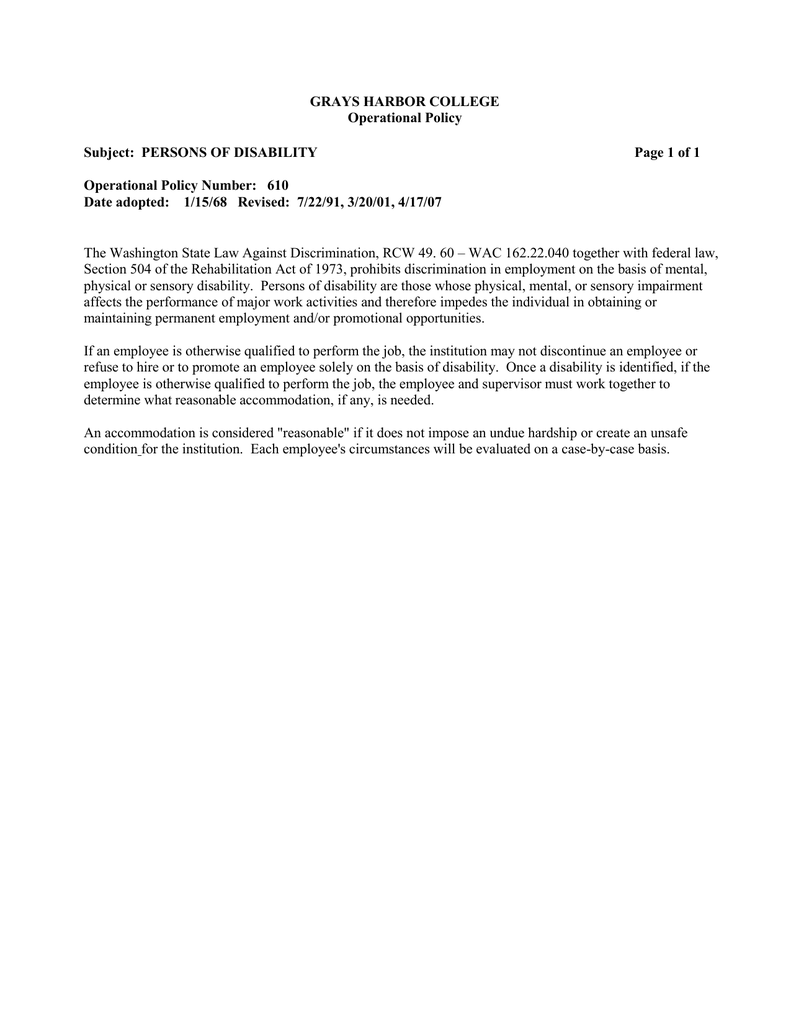 GRAYS HARBOR COLLEGE
Operational Policy
Subject: PERSONS OF DISABILITY
Page 1 of 1
Operational Policy Number: 610
Date adopted: 1/15/68 Revised: 7/22/91, 3/20/01, 4/17/07
The Washington State Law Against Discrimination, RCW 49. 60 – WAC 162.22.040 together with federal law,
Section 504 of the Rehabilitation Act of 1973, prohibits discrimination in employment on the basis of mental,
physical or sensory disability. Persons of disability are those whose physical, mental, or sensory impairment
affects the performance of major work activities and therefore impedes the individual in obtaining or
maintaining permanent employment and/or promotional opportunities.
If an employee is otherwise qualified to perform the job, the institution may not discontinue an employee or
refuse to hire or to promote an employee solely on the basis of disability. Once a disability is identified, if the
employee is otherwise qualified to perform the job, the employee and supervisor must work together to
determine what reasonable accommodation, if any, is needed.
An accommodation is considered "reasonable" if it does not impose an undue hardship or create an unsafe
condition for the institution. Each employee's circumstances will be evaluated on a case-by-case basis.