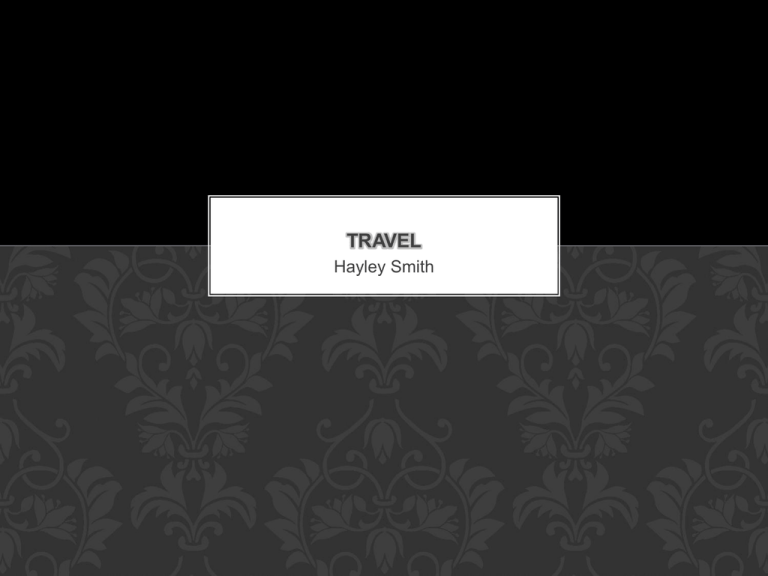 TRAVEL
Hayley Smith
LIFE EXPERIENCE






I traveled to Europe in the summer of 2011.
I got nominated to go on the trip by my band director.
I went through the Southern Michigan Ambassadors of Music.
We performed a band and choir concert in each country.
We travelled to seven European countries.
I also have traveled places with my family.
PLACES I'VE BEEN
2009
2010
2011
San Francisco,
CA
Toronto,
Canada
London, France,
Germany, Italy
2011
Switzerland,
Austria,
Lichtenstein
2012
Orlando,
Florida
COLLEGE DEGREE






I plan on majoring in Electronic Business.
I want to minor in International Business.
I would like to spend a lot of time traveling after I graduate.
I hope to find a job that will allow me to travel.
I would really like to be a web designer.
Web design would allow me to work and travel.
STUDY ABROAD





I would like to study abroad in London, England.
London is one of my favorite places to visit.
They have many good business schools there.
It would be a great experience and look good on my resume.
There are so many things to see in London.
Example: Buckingham Palace, Museums, London Eye
LONDON EXPERIENCES
Seeing a marching band at Buckingham Palace.
LONDON EXPERIENCES
Riding the London Eye.
LONDON EXPERIENCES
Going to a museum.
LONDON EXPERIENCES
Seeing a musical.
THE END





Travel can be incorporated into my business degree.
Studying abroad will look good on my resume.
Traveling is very important to me.
I would like to find a job that allows me to travel.
Studying abroad is a once-in-a-lifetime opportunity.