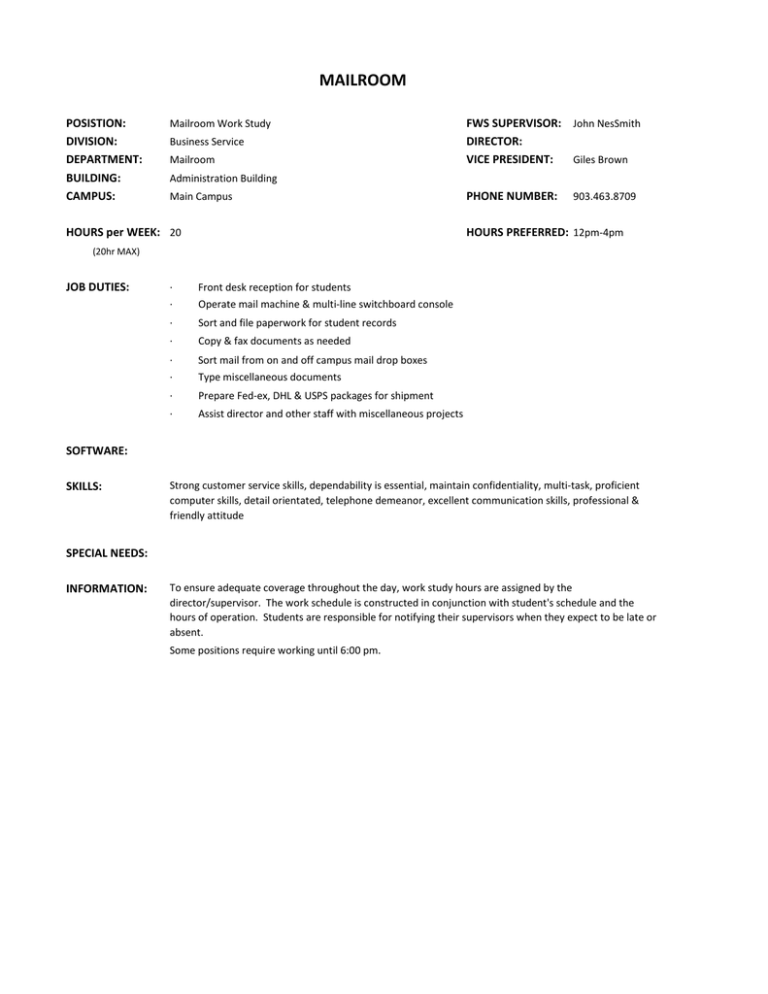 MAILROOM
POSISTION:
DIVISION:
DEPARTMENT:
BUILDING:
CAMPUS:
Mailroom Work Study
Business Service
Mailroom
FWS SUPERVISOR: John NesSmith
DIRECTOR:
VICE PRESIDENT:
Giles Brown
Administration Building
Main Campus
HOURS per WEEK: 20
PHONE NUMBER:
903.463.8709
HOURS PREFERRED: 12pm-4pm
(20hr MAX)
JOB DUTIES:
·
Front desk reception for students
·
Operate mail machine & multi-line switchboard console
·
Sort and file paperwork for student records
·
Copy & fax documents as needed
·
Sort mail from on and off campus mail drop boxes
·
Type miscellaneous documents
·
Prepare Fed-ex, DHL & USPS packages for shipment
·
Assist director and other staff with miscellaneous projects
SOFTWARE:
SKILLS:
Strong customer service skills, dependability is essential, maintain confidentiality, multi-task, proficient
computer skills, detail orientated, telephone demeanor, excellent communication skills, professional &
friendly attitude
SPECIAL NEEDS:
INFORMATION:
To ensure adequate coverage throughout the day, work study hours are assigned by the
director/supervisor. The work schedule is constructed in conjunction with student's schedule and the
hours of operation. Students are responsible for notifying their supervisors when they expect to be late or
absent.
Some positions require working until 6:00 pm.