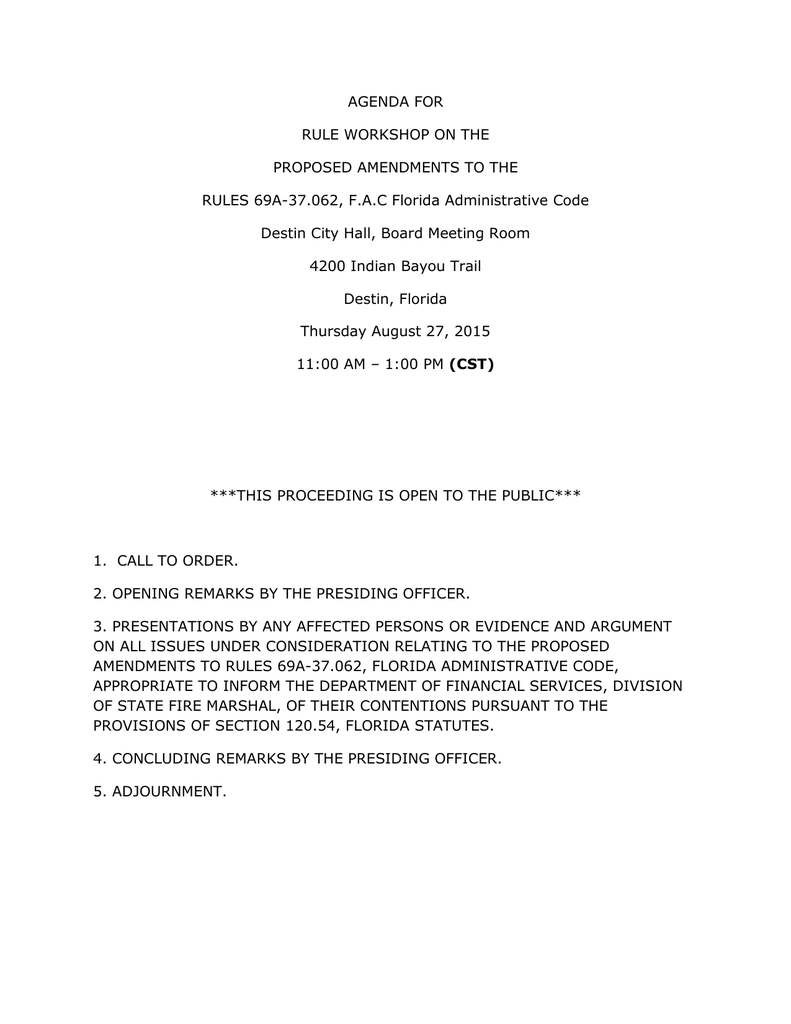 AGENDA FOR
RULE WORKSHOP ON THE
PROPOSED AMENDMENTS TO THE
RULES 69A-37.062, F.A.C Florida Administrative Code
Destin City Hall, Board Meeting Room
4200 Indian Bayou Trail
Destin, Florida
Thursday August 27, 2015
11:00 AM – 1:00 PM (CST)
***THIS PROCEEDING IS OPEN TO THE PUBLIC***
1. CALL TO ORDER.
2. OPENING REMARKS BY THE PRESIDING OFFICER.
3. PRESENTATIONS BY ANY AFFECTED PERSONS OR EVIDENCE AND ARGUMENT
ON ALL ISSUES UNDER CONSIDERATION RELATING TO THE PROPOSED
AMENDMENTS TO RULES 69A-37.062, FLORIDA ADMINISTRATIVE CODE,
APPROPRIATE TO INFORM THE DEPARTMENT OF FINANCIAL SERVICES, DIVISION
OF STATE FIRE MARSHAL, OF THEIR CONTENTIONS PURSUANT TO THE
PROVISIONS OF SECTION 120.54, FLORIDA STATUTES.
4. CONCLUDING REMARKS BY THE PRESIDING OFFICER.
5. ADJOURNMENT.