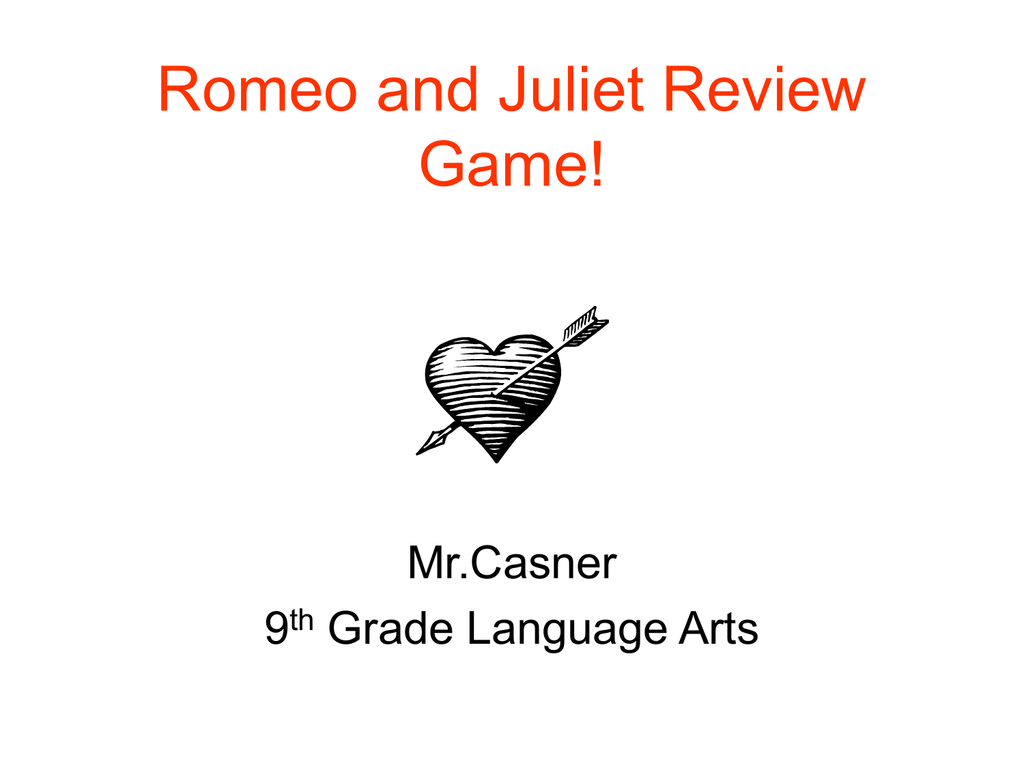 Romeo and Juliet Review
Game!
Mr.Casner
9th Grade Language Arts
Romeo And Juliet
The Globe Theater Forms of Writing
Parts of Tragedy
Characters
Pot Luck
100
100
100
100
100
200
200
200
200
200
300
300
300
300
300
400
400
400
400
400
500
500
500
500
500
SURPRISE!
• If you get the correct answer, the point
value for this question will be doubled!
Where did the poorest audience
members watch the show?
The Pit or Yard
100
What is the name of the area
where the wealthy patrons sat?
The Gallery
200
What purpose does the Flag
serve?
To tell if the show was
cancelled
300
Where would Hamlet Sr's ghost
appear?
The Trap Door
400
What is the name of the painted
ceiling above the stage?
The Heavens
500
What type of meter is used for
most of Shakespeare's play?
Iambic Pentameter
100
What type of meter does
Shakespeare use for comedy
and lower social-class
characters?
Free Verse
200
What type of poetic device does
Shakespeare use to end a
scene?
Couplets
300
Speeches that don't rhyme but
have meter are called what?
Blank Verse
400
When Romeo and Juliet first
meet, what poetic structure
does Shakespeare use?
The Sonnet
500
Before the play starts, what part
of a tragedy does Shakespeare
use to review the story with the
audience?
The Prologue
100
The direction of the action
changes in Act III during which
part of a tragedy?
The Climax
200
The only part of a tragedy found
completely in Act I is …?
The Exposition
300
After the play concludes, the
part of a tragedy that
sometimes appears, but IS
NOT found in Romeo and Juliet
is…..?
The Epilogue
400
The part of a tragedy which
occurs in Act V entirely is….?
The Catastrophe
500
Which character dies by taking
poison?
Romeo
100
Which character dies by being
stabbed with a dagger?
Juliet
200
Which character kills Mercutio?
Tybalt
300
Other than the prince, which
character tried to stop the street
fight?
Benvolio
400
Which character gives the
"Queen Mab" speech?
Mercutio
500
Pot Luck… Name the city
Romeo hides in after he kills
Tybalt.
Mantua
100
The play's setting is which of
the four seasons?
Summer
200
Which character knows about
plants and potions?
Friar Lawrence
300
How many acts are in a
Shakespeare's tragedies?
Five
400
How many characters are dead
at the conclusion of the play?
SIX
500
The Final Category is:
In which Shakespearean play
does Miranda end up on a tropical
island with fairyland creatures and
a father who controls the
weather?
The Tempest!
You are a Romeo and Juliet expert!