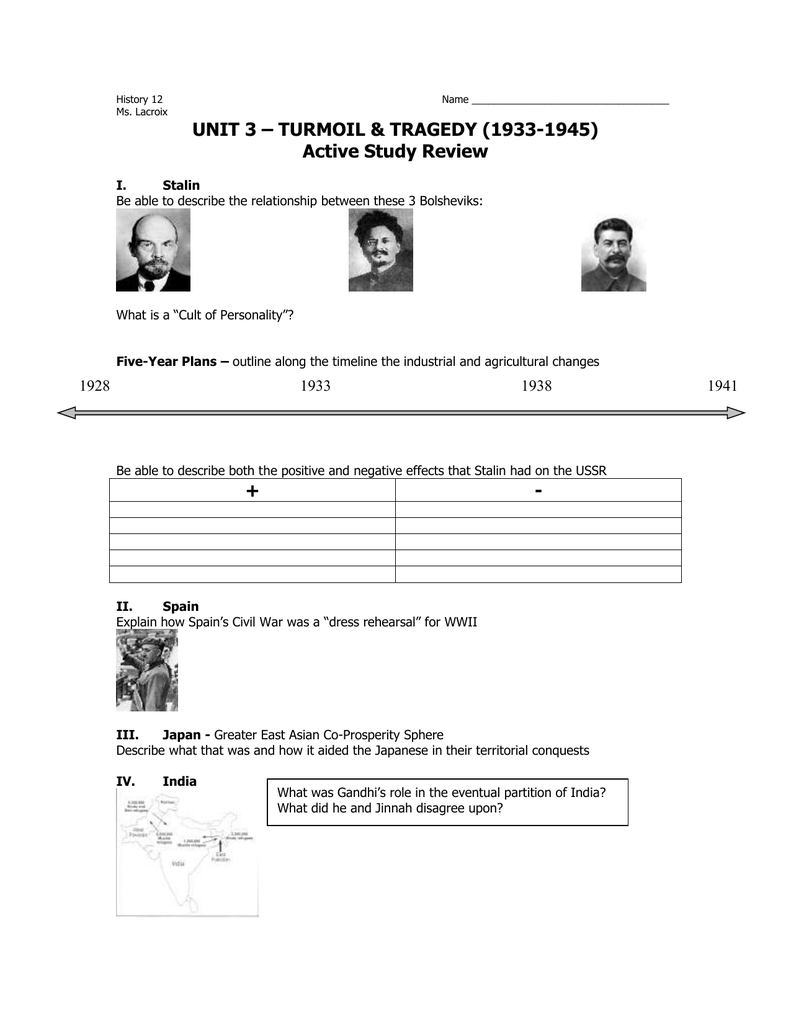 History 12
Ms. Lacroix
Name ___________________________________
UNIT 3 – TURMOIL & TRAGEDY (1933-1945)
Active Study Review
I.
Stalin
Be able to describe the relationship between these 3 Bolsheviks:
What is a "Cult of Personality"?
Five-Year Plans – outline along the timeline the industrial and agricultural changes
1928
1933
1938
Be able to describe both the positive and negative effects that Stalin had on the USSR
+
-
II.
Spain
Explain how Spain's Civil War was a "dress rehearsal" for WWII
III.
Japan - Greater East Asian Co-Prosperity Sphere
Describe what that was and how it aided the Japanese in their territorial conquests
IV.
India
What was Gandhi's role in the eventual partition of India?
What did he and Jinnah disagree upon?
1941
V.
Appeasement – outline the movements with brief notes as Hitler maneuvers through
Europe and the Allies practice appeasement. Note the reasons why Britain practiced
appeasement.
VI.
European Theatre of War – identify the main battles covered in this theatre.
N
F
UK
Baltic
States
D
B
F
H
P
R
S
A
Cz
Balkan
States
I
Northern Africa
USSR
VII.
Battle of the Atlantic -
be able to describe these key concepts:
"Neutrality Acts" out, "Cash & Carry" in… becomes "Lend-Lease"
Unrestricted U-Boat Warfare
Radar/Sonar/Enigma
VIII. Pacific Theatre of War – be able to identify the key battles and players in this theatre
of WWII.
IX.
Moral/Ethical Issues of the Second World War
Holocaust
Identify the stages of discrimination enacted on the Jews in Europe through
Hitler's Nuremburg Laws
Hiroshima/Nagasaki
Be able to identify the dilemma facing President Truman to bring the war to an
end in the Pacific.