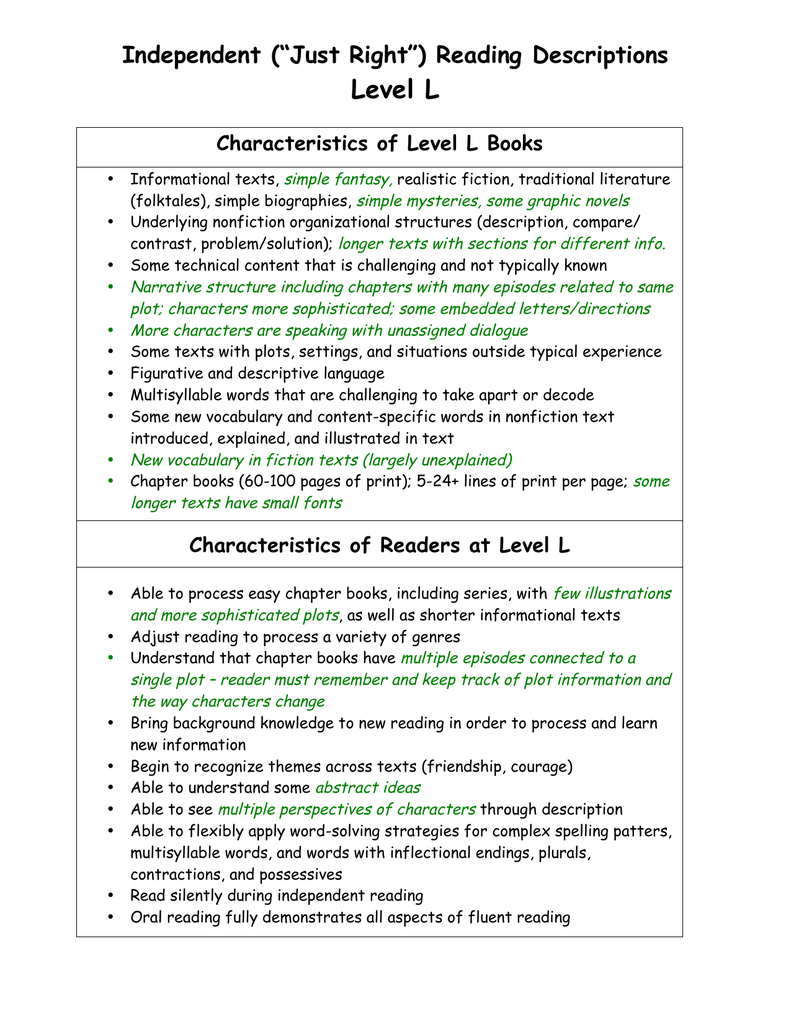 Independent ("Just Right") Reading Descriptions
Level L
Characteristics of Level L Books
•
•
•
•
•
•
•
•
•
•
•
Informational texts, simple fantasy, realistic fiction, traditional literature
(folktales), simple biographies, simple mysteries, some graphic novels
Underlying nonfiction organizational structures (description, compare/
contrast, problem/solution); longer texts with sections for different info.
Some technical content that is challenging and not typically known
Narrative structure including chapters with many episodes related to same
plot; characters more sophisticated; some embedded letters/directions
More characters are speaking with unassigned dialogue
Some texts with plots, settings, and situations outside typical experience
Figurative and descriptive language
Multisyllable words that are challenging to take apart or decode
Some new vocabulary and content-specific words in nonfiction text
introduced, explained, and illustrated in text
New vocabulary in fiction texts (largely unexplained)
Chapter books (60-100 pages of print); 5-24+ lines of print per page; some
longer texts have small fonts
Characteristics of Readers at Level L
•
•
•
•
•
•
•
•
•
•
Able to process easy chapter books, including series, with few illustrations
and more sophisticated plots, as well as shorter informational texts
Adjust reading to process a variety of genres
Understand that chapter books have multiple episodes connected to a
single plot – reader must remember and keep track of plot information and
the way characters change
Bring background knowledge to new reading in order to process and learn
new information
Begin to recognize themes across texts (friendship, courage)
Able to understand some abstract ideas
Able to see multiple perspectives of characters through description
Able to flexibly apply word-solving strategies for complex spelling patters,
multisyllable words, and words with inflectional endings, plurals,
contractions, and possessives
Read silently during independent reading
Oral reading fully demonstrates all aspects of fluent reading
Sample Texts
Level L
All-Star Examples: Amelia Bedelia (series), Pinky and Rex (series), Horrible Harry (series),
Cam Jansen (series), Looking at Insects, The Puppy Who Wanted a Boy
Books titles at my level include:
TITLE
AUTHOR
Amanda/Oliver Pig
Two Times the Fun
Shop Talk
Polk Street School (some are M)
Minnie And Moo
Van Leeuwen, Jean
Beverly Cleary
Ford, Juwanda G.
Giff, Patricia Reilly
Cazet, Denys
Gregory the Terrible Eater
Tooth Trouble
Marco? Polo!
Raven's Gift
Something Beautiful
Weinmann Sharmat, Marjorie
Klein, Abby
Scieszka, Jon
Kuharski, Janice
Wyeth, Sharon Dennis
Horrible Harry/Song Lee
The Pain And The Great One
The Three Little Pigs
Whistle For Willie
Kline, Suzy
Blume, Judy
Marshall, James
Keats, Ezra Jack
Fancy Nancy
Red Riding Hood
Scaredy Squirrel
An Earthworm's Life
By My Brother's Side
O'Connor, Jane
Marshall, James Vance
Watt, Milanie
Himmelman, John
Barber, Tiki and Ronde Barber
Cowboys
Save The Rain Forests
Nate The Great Series
The Post Office Book
No Backbone! Insects
Penner, Lucille Recht
Fowler, Allan
Sharmat, Marjorie W.
Gibbons, Gail
Goldish, Meish, Smith, Molly
Dino Times Trivia
Werewolf Club Series
When the Giants Came to Town
Dogzilla
Loretta and the Little Fairy
Lunis, White, Zimmerman
Pinkwater, Daniel Manus
Leonard, Marcia
Pish and Posh
The Magic Hat
The Wretched Stone
Cindy Ellen: A Wild Western Cinderella
Houdini Club Magic Mysteries
Sly the Sleuth Mysteries
*Bold titles are Series books.
Pilkey, Dav
Scheidl, Gerda Marie
Bottner, Barbara
Fox, Mem
Van Allsburg, Chris
Lowell, Susan
Adler, David
Napoli, Donna Jo
REMEMBER: You can sometimes find titles at your level or check the level of a book you already have
on Scholastic's Book Wizard site. Look for the initials GRL (meaning Guided Reading Level) – this is the
level we use at school. www.scholastic.com/bookwizard
Nancy Giansante is a librarian who keeps a nice leveled book list at her website:
http://home.comcast.net/~ngiansante/
This site is searchable by grade level suggestions, titles, and author names.