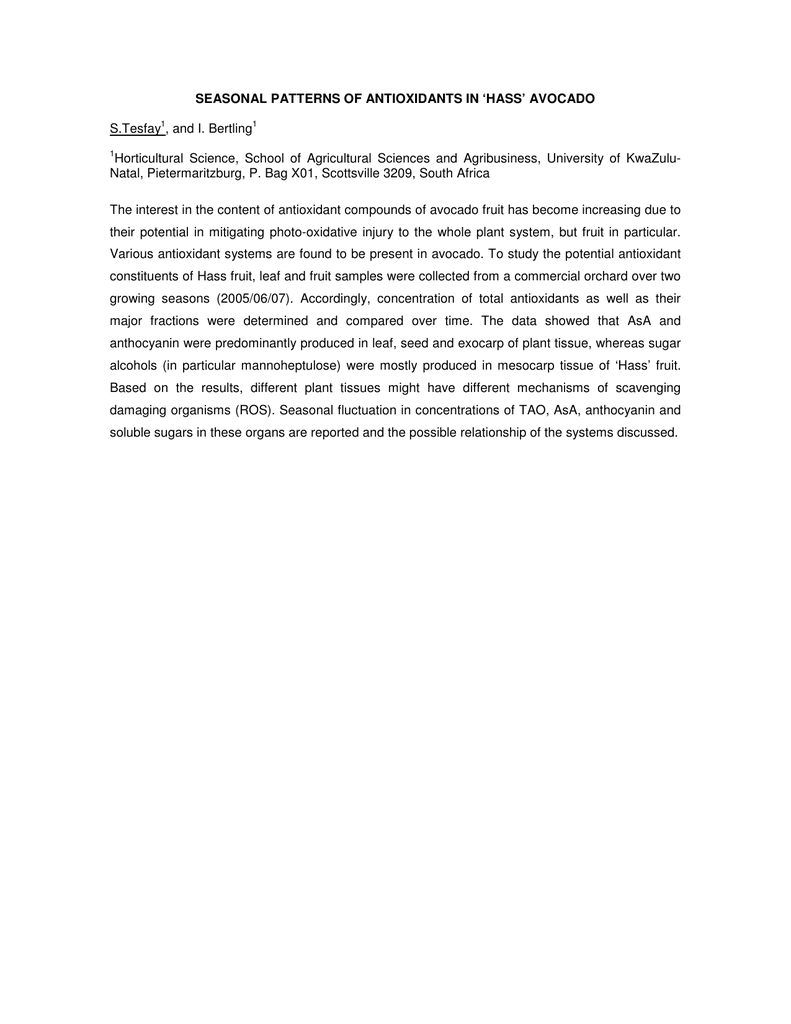 SEASONAL PATTERNS OF ANTIOXIDANTS IN 'HASS' AVOCADO
1
1
S.Tesfay , and I. Bertling
1
Horticultural Science, School of Agricultural Sciences and Agribusiness, University of KwaZuluNatal, Pietermaritzburg, P. Bag X01, Scottsville 3209, South Africa
The interest in the content of antioxidant compounds of avocado fruit has become increasing due to
their potential in mitigating photo-oxidative injury to the whole plant system, but fruit in particular.
Various antioxidant systems are found to be present in avocado. To study the potential antioxidant
constituents of Hass fruit, leaf and fruit samples were collected from a commercial orchard over two
growing seasons (2005/06/07). Accordingly, concentration of total antioxidants as well as their
major fractions were determined and compared over time. The data showed that AsA and
anthocyanin were predominantly produced in leaf, seed and exocarp of plant tissue, whereas sugar
alcohols (in particular mannoheptulose) were mostly produced in mesocarp tissue of 'Hass' fruit.
Based on the results, different plant tissues might have different mechanisms of scavenging
damaging organisms (ROS). Seasonal fluctuation in concentrations of TAO, AsA, anthocyanin and
soluble sugars in these organs are reported and the possible relationship of the systems discussed.