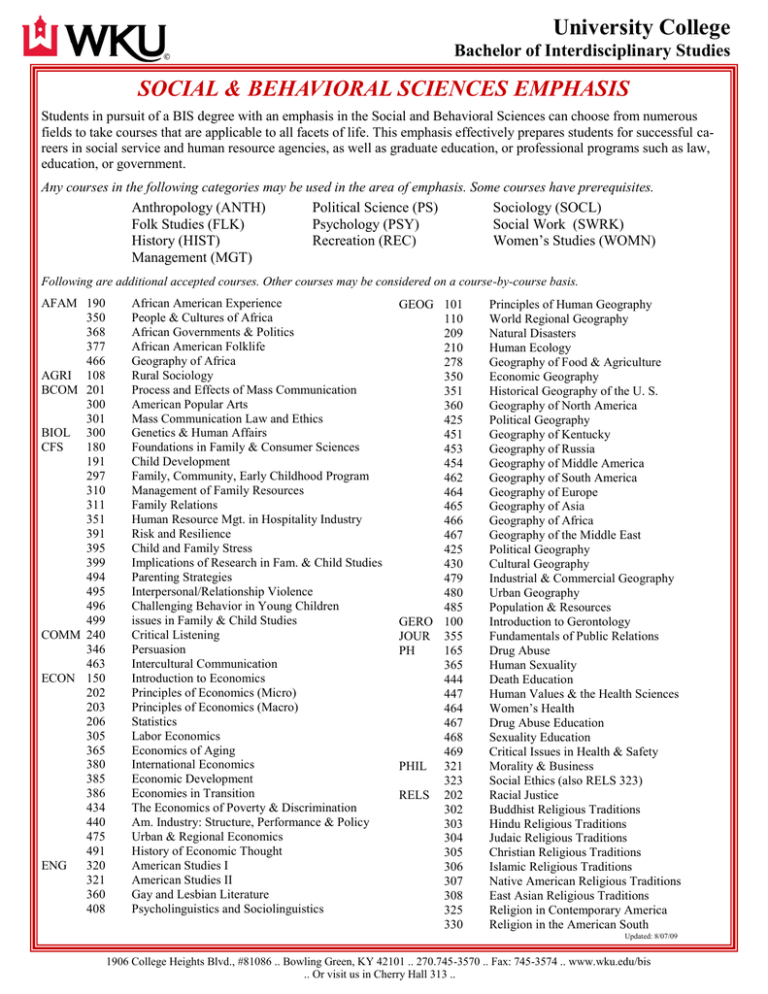 University College
Bachelor of Interdisciplinary Studies
SOCIAL & BEHAVIORAL SCIENCES EMPHASIS
Students in pursuit of a BIS degree with an emphasis in the Social and Behavioral Sciences can choose from numerous
fields to take courses that are applicable to all facets of life. This emphasis effectively prepares students for successful careers in social service and human resource agencies, as well as graduate education, or professional programs such as law,
education, or government.
Any courses in the following categories may be used in the area of emphasis. Some courses have prerequisites.
Anthropology (ANTH)
Political Science (PS)
Sociology (SOCL)
Folk Studies (FLK)
Psychology (PSY)
Social Work (SWRK)
History (HIST)
Recreation (REC)
Women's Studies (WOMN)
Management (MGT)
Following are additional accepted courses. Other courses may be considered on a course-by-course basis.
AFAM 190
350
368
377
466
AGRI 108
BCOM 201
300
301
BIOL 300
CFS
180
191
297
310
311
351
391
395
399
494
495
496
499
COMM 240
346
463
ECON 150
202
203
206
305
365
380
385
386
434
440
475
491
ENG
320
321
360
408
African American Experience
People & Cultures of Africa
African Governments & Politics
African American Folklife
Geography of Africa
Rural Sociology
Process and Effects of Mass Communication
American Popular Arts
Mass Communication Law and Ethics
Genetics & Human Affairs
Foundations in Family & Consumer Sciences
Child Development
Family, Community, Early Childhood Program
Management of Family Resources
Family Relations
Human Resource Mgt. in Hospitality Industry
Risk and Resilience
Child and Family Stress
Implications of Research in Fam. & Child Studies
Parenting Strategies
Interpersonal/Relationship Violence
Challenging Behavior in Young Children
issues in Family & Child Studies
Critical Listening
Persuasion
Intercultural Communication
Introduction to Economics
Principles of Economics (Micro)
Principles of Economics (Macro)
Statistics
Labor Economics
Economics of Aging
International Economics
Economic Development
Economies in Transition
The Economics of Poverty & Discrimination
Am. Industry: Structure, Performance & Policy
Urban & Regional Economics
History of Economic Thought
American Studies I
American Studies II
Gay and Lesbian Literature
Psycholinguistics and Sociolinguistics
GEOG 101
110
209
210
278
350
351
360
425
451
453
454
462
464
465
466
467
425
430
479
480
485
GERO 100
JOUR 355
PH
165
365
444
447
464
467
468
469
PHIL 321
323
RELS 202
302
303
304
305
306
307
308
325
330
Principles of Human Geography
World Regional Geography
Natural Disasters
Human Ecology
Geography of Food & Agriculture
Economic Geography
Historical Geography of the U. S.
Geography of North America
Political Geography
Geography of Kentucky
Geography of Russia
Geography of Middle America
Geography of South America
Geography of Europe
Geography of Asia
Geography of Africa
Geography of the Middle East
Political Geography
Cultural Geography
Industrial & Commercial Geography
Urban Geography
Population & Resources
Introduction to Gerontology
Fundamentals of Public Relations
Drug Abuse
Human Sexuality
Death Education
Human Values & the Health Sciences
Women's Health
Drug Abuse Education
Sexuality Education
Critical Issues in Health & Safety
Morality & Business
Social Ethics (also RELS 323)
Racial Justice
Buddhist Religious Traditions
Hindu Religious Traditions
Judaic Religious Traditions
Christian Religious Traditions
Islamic Religious Traditions
Native American Religious Traditions
East Asian Religious Traditions
Religion in Contemporary America
Religion in the American South
Updated: 8/07/09
1906 College Heights Blvd., #81086 .. Bowling Green, KY 42101 .. 270.745-3570 .. Fax: 745-3574 .. www.wku.edu/bis
.. Or visit us in Cherry Hall 313 ..