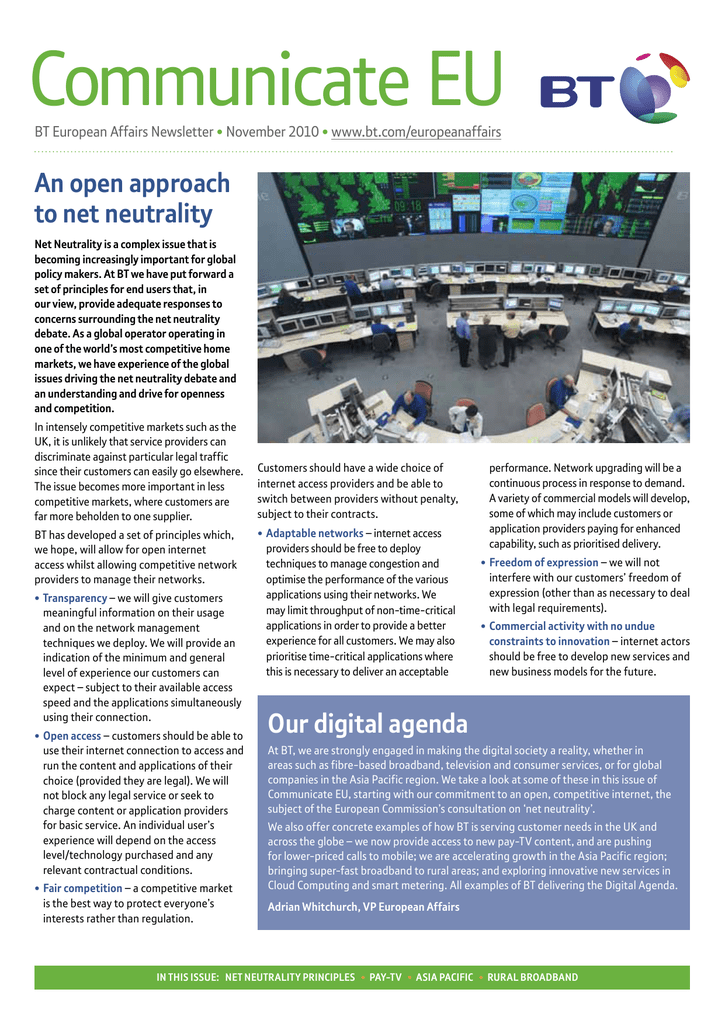 Communicate EU
BT European Affairs Newsletter • November 2010 • www.bt.com/europeanaffairs
An open approach
to net neutrality
Net Neutrality is a complex issue that is
becoming increasingly important for global
policy makers. At BT we have put forward a
set of principles for end users that, in
our view, provide adequate responses to
concerns surrounding the net neutrality
debate. As a global operator operating in
one of the world's most competitive home
markets, we have experience of the global
issues driving the net neutrality debate and
an understanding and drive for openness
and competition.
In intensely competitive markets such as the
UK, it is unlikely that service providers can
discriminate against particular legal traffic
since their customers can easily go elsewhere.
The issue becomes more important in less
competitive markets, where customers are
far more beholden to one supplier.
BT has developed a set of principles which,
we hope, will allow for open internet
access whilst allowing competitive network
providers to manage their networks.
•Transparency – we will give customers
meaningful information on their usage
and on the network management
techniques we deploy. We will provide an
indication of the minimum and general
level of experience our customers can
expect – subject to their available access
speed and the applications simultaneously
using their connection.
•Open access – customers should be able to
use their internet connection to access and
run the content and applications of their
choice (provided they are legal). We will
not block any legal service or seek to
charge content or application providers
for basic service. An individual user's
experience will depend on the access
level/technology purchased and any
relevant contractual conditions.
•Fair competition – a competitive market
is the best way to protect everyone's
interests rather than regulation.
Customers should have a wide choice of
internet access providers and be able to
switch between providers without penalty,
subject to their contracts.
•Adaptable networks – internet access
providers should be free to deploy
techniques to manage congestion and
optimise the performance of the various
applications using their networks. We
may limit throughput of non-time-critical
applications in order to provide a better
experience for all customers. We may also
prioritise time-critical applications where
this is necessary to deliver an acceptable
performance. Network upgrading will be a
continuous process in response to demand.
A variety of commercial models will develop,
some of which may include customers or
application providers paying for enhanced
capability, such as prioritised delivery.
•Freedom of expression – we will not
interfere with our customers' freedom of
expression (other than as necessary to deal
with legal requirements).
•Commercial activity with no undue
constraints to innovation – internet actors
should be free to develop new services and
new business models for the future.
Our digital agenda
At BT, we are strongly engaged in making the digital society a reality, whether in
areas such as fibre-based broadband, television and consumer services, or for global
companies in the Asia Pacific region. We take a look at some of these in this issue of
Communicate EU, starting with our commitment to an open, competitive internet, the
subject of the European Commission's consultation on 'net neutrality'.
We also offer concrete examples of how BT is serving customer needs in the UK and
across the globe – we now provide access to new pay-TV content, and are pushing
for lower-priced calls to mobile; we are accelerating growth in the Asia Pacific region;
bringing super-fast broadband to rural areas; and exploring innovative new services in
Cloud Computing and smart metering. All examples of BT delivering the Digital Agenda.
Adrian Whitchurch, VP European Affairs
IN THIS ISSUE: Net Neutrality Principles • Pay-TV • Asia Pacific • Rural Broadband
BT European Affairs Newsletter • November 2010 • www.bt.com/european affairs
Current issues for customers
BT pass 15 million broadband milestone
BT revealed that 15 million homes and
small businesses now access broadband
over the company's network. The
milestone was passed in late August
with more than five million of those
connections being via BT Retail and the
rest via other companies who benefit from
equivalent access to the BT network.
"The story doesn't end here as BT is now
investing a further £2.5 billion to roll out
fibre broadband to two thirds of the UK.
This will help the UK climb the league
tables for speeds, one of the few areas in
which we don't lead the world".
Given BT had approximately 200,000
broadband connections in August
2002, the company has added 14.8
million connections in just eight years.
This equates to more than 5,000 new
broadband connections a day.
When Virgin Media customers are taken
into account, the UK now has more than
19 million broadband premises using
broadband. Those 19 million premises
equate to 71% of UK households,
according to a recent Ofcom report,
compared with just 35% in 2005.
BT is set to revitalise the UK's pay-TV
market following the announcement to offer
cut-price Sky Sports channels for its
BT Vision customers.
Since 1 July, BT Vision customers can now
subscribe to Sky Sports 1 and Sky Sports 2
for £16.99 a month. Subscription to a single
Sky Sports channel costs £11.99 a month.
Lowering mobile termination rates
MTRs currently account for 4.7 pence, or
more, of every minute of a call to a mobile.
This is more than 10 times the termination
rate charged to call a fixed-line phone. In
2008 alone, UK mobile operators charged
people £750 million in MTRs for allowing
fixed-line customers to call mobiles.
BT Retail has launched a range of online
self-help videos – see www.youtube.com/
btcare The videos follow research showing
64% of customers are prepared to go online
for help – including 37% who welcome the
idea of online support videos. A further
20% would go online if help was laid out in
an easily understandable and easy-to-find
way. Each video lasts between one and
two minutes. They cover a range of topics
including reducing Wi-Fi interference, setting
up an email account and fitting a broadband
accelerator. New videos will be uploaded every
month and work is under way to load subtitles
onto the content. Customers viewing the
videos are being invited to comment on them
and suggestions for new topics are welcome.
Pay-TV competition kicks
off with cut-price Sky
Sports offer from BT
Olivia Garfield, BT strategy director,
said: "Broadband Britain has been a
success story with widespread
availability, low prices and high take-up.
Last year, BT joined forces with mobile
operator 3 UK and a number of other
partners to launch a campaign calling
for a significant cut in the cost of calling
mobile phones. The Terminate the Rate
campaign is calling for an end to high
mobile termination rates (MTRs), the fees
charged by one operator to another for
connecting a call to another network. Other
partners include the Federation of Small
Businesses, Carers UK, the National Union of
Students and the GMB, as well as a number
of local authorities.
Self-help videos aid
customers
Terminate the Rate is aiming to bring
down MTRs to around a penny or less,
saving consumers and businesses hundreds
of millions. The European Commission
has recognised that high MTRs penalise
consumers and stifle competition, and has
recommended that national regulators like
Ofcom take a new approach to setting MTRs
to bring them down to reasonable levels.
The campaign is calling on Ofcom, which has
just finished consulting on a review of MTRs,
to implement changes to drive down the
cost of MTRs promptly. An Ofcom decision is
due later this year.
Customers who commit to a bundle of
broadband and calls for 24 months are
also entitled to receive BT's 'total sports
package,' which works out £205 cheaper
than Sky's current equivalent deal and £281
cheaper than Virgin Media over a year.
This new competitive market pricing follows
a recent ruling by Ofcom which called on Sky
to wholesale Sky Sports 1 and Sky Sports 2
at regulated prices to rivals such as BT.
Gavin Patterson, chief executive of
BT Retail, said: "Football fans will be
cheering our new prices, which mark an end
to paying for basic channels when you only
want the sport. A more competitive market
will ensure that customers continue to get
the best sport for the sharpest prices and
this opening of the market will be in the best
interests of customers". BT estimate that
around four million more people in the UK
would like to sign up for Sky Sports channels
but felt that it was too expensive.
BT European Affairs Newsletter • November 2010 • www.bt.com/european affairs
BT accelerate major growth programme across Asia Pacific
BT Global Services announced the roll-out of
the first phase of its investment programme
into the Asia Pacific region, covering
additional resourcing, new infrastructure
and expanded portfolio of services.
As part of this plan, BT is in the process of
hiring around 300 new positions across
Asia. This will ensure that key portfolio
and services enjoyed by BT's customers
around the world can be offered and fully
supported in Asia Pacific. New staff will
be employed across the region in the key
customer markets of Australia, China,
Hong Kong, India, Japan and Singapore.
BT is also establishing a bid response centre
in Singapore to enhance its capabilities to
pursue large regional managed services
deals, an area where we lead the market
today in many parts of the world.
The expansion of the in-region proposition
portfolio will allow BT to provide enhanced
service delivery capabilities, as customers
invest throughout Asia Pacific, a region
that is playing an increasingly pivotal role
in the decisions of global multinational
corporations. Approximately 80% of BT's
largest customers by company turnover are
expanding in Asia.
Jeff Kelly, CEO BT Global Services, said: "We
looked at what our top customers needed to
be more successful in Asia Pacific. Our research
told us they want a broad suite of propositions
and professional service capabilities that are
the same wherever they operate".
Customers will see enhancements to existing
products and roll-out of new services.
This will include in-region capabilities in
managed networked IT solutions including
voice and Internet Protocol (IP) services;
managed security; unified communications;
contact centre capabilities; mobility and data
centre support.
As part of the investment into the region,
BT is also opening a suite of new customer
technology showcase centres in Beijing,
Delhi, Hong Kong, Singapore and Sydney
where customers can interact directly with
leading-edge technologies and propositions.
Neil Sutton on cloud computing
Neil Sutton is BT Global Services' vicepresident of Global Portfolio. He discusses
the importance of the cloud to BT GS and its
customers. Along with his team, he looks after
the portfolio of products and services for our
global enterprise customers, as well as our UK
public sector and commercial customers.
Why is the cloud of such strategic
importance to BT Global Services right now?
I think it's to do with what the cloud stands
for rather than it being a piece of technology.
'Cloud' can be interpreted in many ways,
but cloud services always have the same
attributes: being highly elastic, predictable,
self-serving, good-value and encouraging
innovation. These values are core to our
portfolio strategy and are embedded in our
customer demands, along with addressing the
concerns of security and risk management.
Our strategy is to put more and more
services on to global platforms that put the
customer in control.
To what extent is GS blazing a trail with its
cloud strategy?
I think it's fair to say we are setting the pace
when it comes to aspects of cloud services,
such as communications as a service. We are
really strong in this particular area with our
integrated voice and Unified Communications
offers (such as Hosted IPT, SIP, BPOS,
OneVoice and TelePresence). BT is also
pioneering when it comes to innovation across
cloud services. For example, BT Innovate &
Design have developed a concept known
as Cloud Broker, which helps to manage and
deliver the right services and applications over
the right network infrastructure based on
application and business rules.
We are also leading the pack when it comes
to CRM/contact centre infrastructure as a
service – through our NGCC Cloud offering.
Does BT GS's rich and extensive global network
give it a distinct advantage over others in
offering cloud-based services to MNCs?
Yes. However, it's important to remember
that one of the biggest risks to offering
cloud services lies with the end-user
experience. The bigger the scale, reach
and complexity, then the greater the risks.
That's why we are focusing our efforts
on developing application performance
management services across our networks –
to help us to reduce that risk.
Where do you think the future of cloud
services lies for service providers like BT GS?
We will continue to see the demand for
bandwidth increase, which means we will
continue our drive towards creating even
more intelligent and optimised networks on
behalf of our customers.
We'll also need to introduce more enabling
services like security, which will allow
customers to take advantage of new services
– otherwise, security and compliance could
become barriers.
I also think we are not far off seeing cloud
application stores becoming commonplace,
along with a set of services that allow
customers to manage both cloud and noncloud-based services as one.
BT European Affairs Newsletter • November 2010 • www.bt.com/european affairs
BT's massive boost for rural broadband
BT and Cornwall Council have announced an
ambitious £132million project to bring superfast broadband to the county and the Isles
of Scilly. The project, which is part-funded
by the European Union, will provide superfast fibre broadband access to up to 90% of
local businesses and homes by 2014. BT is
providing £78.5million towards the project
with another £53.5million funded by the
European Regional Development Fund. Up to
half of local businesses and homes will have
access to fibre-to-the-premises broadband
services which deliver the UK's fastest
broadband speeds of up to 100Mbps.
BT's chief executive Ian Livingston said:
"This is a very significant project that, once
again, positions Cornwall as a broadband
leader. It will make the county one of the
best connected areas in the world and
provide a major boost to its prosperity".
Alec Robertson, leader of Cornwall Council,
said: "The introduction of next-generation
super-fast broadband has the potential to
transform the local economy over the next
20 years. Local businesses will be given
an all-important head start through early
access to world-class communications
and this will dramatically increase their
competitiveness. The high speeds on
offer will attract new business investment
into Cornwall, creating thousands of new
job opportunities".
BT propose secure long-range radio
for national smart meter rollout
BT announced it is joining forces with Arqiva
and Detica to offer a dedicated and secure
long-range radio communications solution
for the Government's proposed smart
metering initiative. Due to cover 28 million
homes and small business properties by 2020
or sooner, this multi-billion pound initiative
is designed to reduce energy costs and lower
Great Britain's carbon dioxide emissions by
2.6 million tonnes per year when the rollout
is complete.
The envisaged solution will create a dedicated
network specifically for the smart metering
programme and use Arqiva's radio spectrum
and extensive radio infrastructure, with BT
providing its expertise in delivering complex
national IT and telecommunications projects
and Detica providing robust information and
infrastructure security services. The partners
will be supported by Sensus, who specialise in
enabling smart meters and smart grids, and
they will be providing their long-range
radio technology, FlexNetTM. Their
technology is already widely proven in other
countries and this experience will ensure
that the companies benefit from lessons
learnt elsewhere.
Olivia Garfield, BT Group Strategy
Director, said: "Smart meters will use
telecommunications to deliver important
environmental benefits and so BT is
determined to be at the heart of the project.
It is vital that any solution is designed
for ubiquitous coverage of homes and is
thoroughly secure and resilient".
This partnership between three of the UK's
leading communications network and IT
service providers brings together a leading
combination of design and operational
experience in the delivery of national, largescale, communications and IT infrastructure
projects to meet the smart meter challenge.
BT signs EU
code to reduce
electricity
consumption
BT was the first UK company to sign
up to Europe's code of conduct on
broadband energy consumption at a
ceremony in Brussels this week. At the
'ICT 2010-conference' 16 ICT firms
signed – in the presence of European
commissioner Neelie Kroes – the code
to reduce the electricity consumption
of their broadband equipment and
data centres. The code is intended to
encourage communication providers
and network equipment providers to
design, build and deploy equipment
which conforms to stringent power
consumption limits.
Information & Communication
Technology (ICT) equipment and
services consume over 8% of electrical
power in the EU and produce about
4% of its CO2 emissions. These figures
could double by 2020. These voluntary
commitments from the ICT sector
relating to broadband will, however,
lead to large electricity savings of up to
25TWh per year in Europe by 2015.
Leading the pan-BT team preparing
for the signing was BT Group Portfolio
general manager Mauro Mortali.
How to contact us
Adrian Whitchurch
VP European Affairs
+32 2 237 1718
[email protected]
Till Kupfer
VP Trade and International Affairs
+32 2 237 1713
[email protected]
Henk Mannekens
European Regulatory Manager
+32 2 237 1757
[email protected]
© British Telecommunications plc 2010. Registered office: 81 Newgate Street, London EC1A 7AJ. Registered in England No. 1800000. Produced by BT Group Communications.
Designed by Tag. Printed on recycled paper.