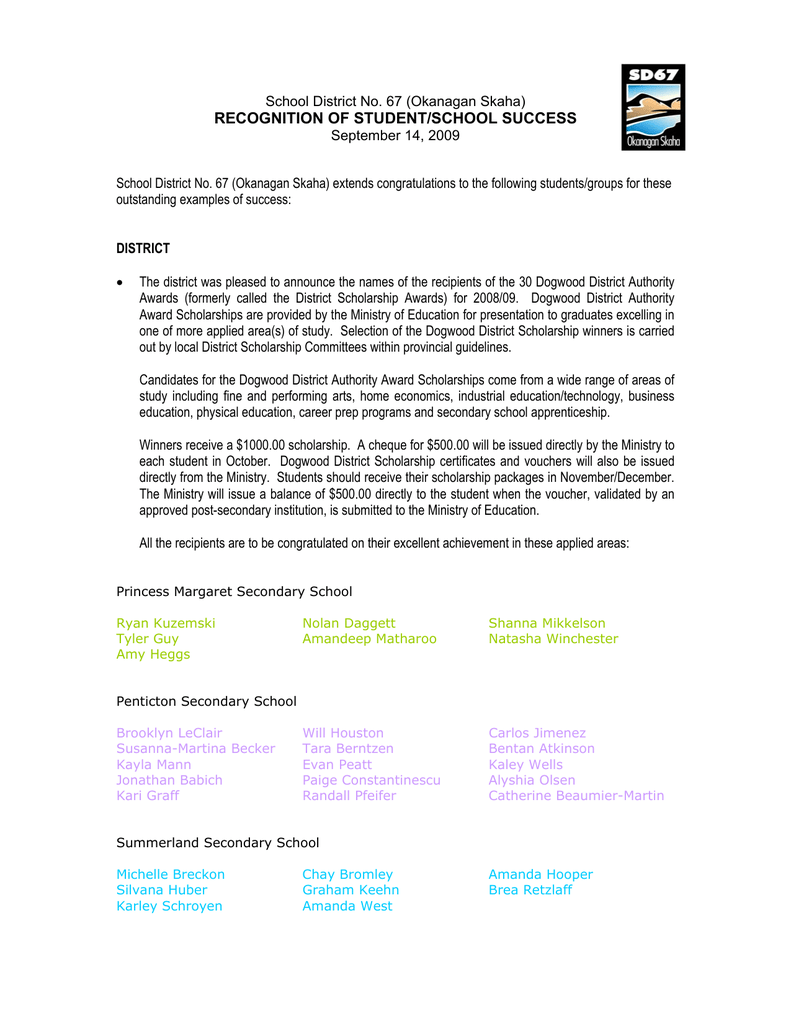 School District No. 67 (Okanagan Skaha)
RECOGNITION OF STUDENT/SCHOOL SUCCESS
September 14, 2009
School District No. 67 (Okanagan Skaha) extends congratulations to the following students/groups for these
outstanding examples of success:
DISTRICT
•
The district was pleased to announce the names of the recipients of the 30 Dogwood District Authority
Awards (formerly called the District Scholarship Awards) for 2008/09. Dogwood District Authority
Award Scholarships are provided by the Ministry of Education for presentation to graduates excelling in
one of more applied area(s) of study. Selection of the Dogwood District Scholarship winners is carried
out by local District Scholarship Committees within provincial guidelines.
Candidates for the Dogwood District Authority Award Scholarships come from a wide range of areas of
study including fine and performing arts, home economics, industrial education/technology, business
education, physical education, career prep programs and secondary school apprenticeship.
Winners receive a $1000.00 scholarship. A cheque for $500.00 will be issued directly by the Ministry to
each student in October. Dogwood District Scholarship certificates and vouchers will also be issued
directly from the Ministry. Students should receive their scholarship packages in November/December.
The Ministry will issue a balance of $500.00 directly to the student when the voucher, validated by an
approved post-secondary institution, is submitted to the Ministry of Education.
All the recipients are to be congratulated on their excellent achievement in these applied areas:
Princess Margaret Secondary School
Ryan Kuzemski
Tyler Guy
Amy Heggs
Nolan Daggett
Amandeep Matharoo
Shanna Mikkelson
Natasha Winchester
Will Houston
Tara Berntzen
Evan Peatt
Paige Constantinescu
Randall Pfeifer
Carlos Jimenez
Bentan Atkinson
Kaley Wells
Alyshia Olsen
Catherine Beaumier-Martin
Penticton Secondary School
Brooklyn LeClair
Susanna-Martina Becker
Kayla Mann
Jonathan Babich
Kari Graff
Summerland Secondary School
Michelle Breckon
Silvana Huber
Karley Schroyen
Chay Bromley
Graham Keehn
Amanda West
Amanda Hooper
Brea Retzlaff
•
The Annual 'Celebrating Student Achievement' event was held once again at the Penticton Lakeside
Resort on June 2, 2009. Many local students had an opportunity to showcase their talents. The event
is a selection of some of the best accomplishments of elementary, middle and secondary schools
throughout the district.
The Program:
o
o
o
o
o
o
o
o
Princess Margaret Secondary Choir - (Director: Lori Grant)
'Through the Cracks' - (Tribute to Student Achievement, Helping Teachers)
West Bench Elementary ' Welcome Here, Welcome Home' & 'Destination Conservation
Rocks' – (Chris Philpotts, Charlene Woods, Bonnie Bordin and Tanya Thacker)
Francesca Ota-Demers – (Jill McCullum and Dean Bates)
Skaha Lake Middle School Jazz Band – (Director Dave Brunelle)
Humanitarian Trip to Africa – (Bill Bidlake and Princess Margaret Students)
'The Wheelbarrow' (Penticton Secondary Media Teacher Russ Stasiuk)
Summerland Secondary, 'Chicago' (Director Heather Ayris), 'All That Jazz', 'Funny
Honey', and 'Me & My Baby'.
COLUMBIA ELEMENTARY SCHOOL
•
Family Read in June - Thanks to everyone who came out and supported the Family Read. The
weather was perfect, and all around the school, families sat on blankets or deck chairs and read with
their children or grandchildren. The Family Read just seemed to be a natural extension to the students'
(and their parents'!) love of reading. It was a wonderful day.
•
Sports Day A Huge Success - The Columbia Sports Day was held on June 11th and was a great
success. There were many parents who came out to enjoy the morning with their children. As well, the
children had a great time. A huge thank you to everyone who helped to organize. Many grade 5
students acted as team leaders for both the primary and intermediate students. Dylan Moorman, a
grade 5 student acted as the judge in the tug-of-war contests and kept everyone honest! This was one
of the best sports days ever at Columbia.
KALEDEN ELEMENTARY
The 2008-09 school year has been such a great one at Kaleden Elementary – the school has had many
accomplishments:
•
•
•
•
•
•
•
•
The final stage of the playground is in the works… Picnic tables and shade trees soon to
arrive.
Many great gains and individual successes in learning.
Wrapped up a year of One to One Reading – (Thanks volunteer readers for reading with the
students).
Continued with the weekly assemblies to celebrate the students and talk about learning and
other topics.
Implemented daily physical activity for all students in all grades. What great benefits were
accomplished! ☺
Everyone had enjoyed healthy fruits and veggies in the classrooms every week as part of a
provincial program.
Delicious and nutritious weekly hot lunches that met and exceeded the new legislated
guidelines! ☺
Offered various school wide and classroom level curricular fieldtrips.
•
•
•
•
•
•
•
Carried out school wide events like Western Days, Kite Making, Tubing at Apex…
Participated in grade 2/3 swimming program and grade 4 and 5 cross-country skiing
program – thanks to PAC for helping with the costs. ☺
Plenty of fundraising that has allowed the school to ensure that many great activities
continue in the future.
Had 400 students participating in the Kaleden Run… with a record number of Kaleden
students. ☺
Benefitted from the hard working PAC and SPC Executive. Everyone has worked together
and accomplished so much to make the school a better place. The children and community
are very lucky!
Seeing off a talented group of grade 5 students who are well equipped to handle middle
school.
Completed some projects for Kaleden's Centennial – planting 130 trees on grey ledge,
making banners and posters for the 100th birthday party. What a note to end on.
Best of all… Staff enjoyed watching the children learn, grow and have fun
McNICOLL PARK MIDDLE SCHOOL
•
At McNicoll Park Middle grade 8 had an (unprecedented) five Big M Award Winners - the highest
honour in the school! Recipients must have received an Exploratory Award, Athletic Award,
Leadership Award, and an Academic Excellence Award. In a 'normal' year the school may have had 1
or 2 recipients. Way to go McNicoll!
NARAMATA ELEMENTARY
June was busy at Naramata Elementary – some highlights of June were:
•
•
•
•
KVR Bike Trip
Playground Celebration
Beach Day
Awards Day
PARKWAY ELEMENTARY
•
The new Kindergarten students for September joined the school for an orientation session with teacher,
Mrs. Tucker. They all had a great time.
•
Three School Fun Runs took place at the end of June - everyone worked hard at making a personal
best in laps!
•
Parkway T-Shirts were handed out to students (they look great) and another bulk order will go out in
the early September. T-Shirts were sold for $10.00 each.
•
The grade 2 students visited the Safety Village and had a super time.
•
The grade 4/5 cross-country running team had their year end run. It was a beautiful morning and
everyone was out to cheer them on.
•
The school held one fire drill and one lockdown drill the end week of school and all of the students
responded very well.
•
The PAC put on an excellent BBQ and Family Fun Night - the turnout was outstanding! The Student
Art Show and School Choir performance was also a big hit with everyone.
SKAHA LAKE MIDDLE SCHOOL
•
•
•
•
•
•
•
•
•
Skaha Lake Middle School jazz band played at the Celebration of Student Achievement held at the
Penticton Lakeside Resort on June 2nd.
The school held an "Ice Cream Social" as a prize for Skaha Lake Middle School students who
came in second place at the Environmental Mind Grind Championships. For the second year in a
row, Skaha got the award for the school with the most team spirit!
Skaha Lake enjoyed a fun-filled day competing in the District Track and Field Day.
Skaha Lake Middle School Band Concert was held on the June 15th. The bands at all grade levels
played to a full house.
Grade 6, 7 and 8 team building Tug O' War competitions were held.
Grade 9 transition meetings were held to assist in the movement of the grade 8 students to
Princess Margaret.
119 grade 5 students arrived at Skaha Lake Middle School for their orientation day. The students
participated in a scavenger hunt, team building activities in the gym and finished off the session
eating "shark dogs."
Skaha's PAC put on a lovely lunch to honour the staff for their hard work in the 2008-09 school
year.
Skaha held their award ceremonies on the morning of June 25th.
The Grade 8
"Award of
Excellence
Medallion" winnersfor students who
achieved honour
and effort roll in
every term this
year, recognized
for citizenship and
were involved in
extra-curricular
activities at a high
level.
Skaha's "Top Academic"
Boy and Girl:
Darien Folk and
Dana Klamut
Awarded to the top boy and
girl based on grades. Each
student had a 96% in their
Math, Science, English and
Social Studies courses.
Presented by Dave Brunelle,
(Principal) and Jodi Bird
(grade 8 math and science
teacher).
Skaha Lake Middle School
- "Top Shark"
Boy and Girl Award:
Sohail Sidhu and
Deborah Rose
Nominated by teachers and
administration.
Presented by Pam Butters
(Vice-Principal) and Travis
Kroschinsky (grade 8 math
and science and
technology education
teacher.)
SUMMERLAND SECONDARY SCHOOL
Excellence: The Year in Review:
•
•
•
•
•
•
•
•
Fine Arts – Chicago! Painting for the troops in Kandahar – Shakespeare Festival
Applied Skills and Careers – Skills Canada Regional Competition Results
Silver Medals – Fashion Design, Computer Animation (2), Mechanical CAD, Cabinet Making
Bronze Medals – Computer Animation (2)
First and Second Place in 'Walk on the Greenside Fashion Competition"
19 students in Apprenticeships
Athletics – Golf Team 6th in Provincial Championships, Senior Boys Soccer Team 13th in Provincial
Championships
Track and Field - going to Provincial Championships June 5th - Senior Girls Soccer 4th in the
Okanagan Valley
Some of the Scholarships for Academics, Leadership and Citizenship:
2 Simon Fraser University major entrance scholarships
3 UBC Vancouver President's Entrance Scholarships $500 - $2000
18 UBC Okanagan President's Entrance Scholarships $1000 - $2000
1 UBC Okanagan President's Entrance Scholarships $4000
3 UBC Vancouver President's Entrance Scholarships $4000
1 Community Builder Scholarship $3500
3 Okanagan College Tuition Entrance Scholarships $500
2 Regional Millenium Scholarships $4500
1 National Loran Scholarship $40,000
1 National TD Canada Trust $40,000
1 National Millenium Scholarship
Robyn Duncan received a $20,000 entrance scholarship to Trinity Western University.
•
"Golf Team Finishes Strong at Provincials":
Fry Keehn leading the SSS team with a first round of 80! With a combined score of 341, the boys
managed to stay in 7th place out of 12 teams. Day 2 brought rain to the Royalwood course, but the
boys staved off the change in temperature and rain to again post a combined total of 341. The two day
total of 682 was enough to give the SSS golf team a 6th place finish at Provincials this year! Mr. Fry
and Mr. Keehn are very proud of the team and how they represented Summerland in a professional
manner during the 3 day event. Next years team will be led by veteran Doug Chadwick and will have
some help with up and coming hopefuls in Graham Filik and Kendall Wilson. The team will also have
good representation by grade 11 players Graham Zagrodney, Cole Marchant and Trevor Austin. The
Summerland Secondary Golf team was bound for Provincials in Chilliwack BC. With strong winds on
the practice round Sunday, the boys came off the course with a defeated demeanor. The Royalwood
golf course presented strong winds, gnarly rough and red and yellow stakes throughout the course.
Day 1 proved to be a successful day with Graham.
TROUT CREEK ELEMENTARY SCHOOL
•
•
•
•
•
•
•
Kindergarten, grade 1 and grade 5 students participated in transition events to prepare them for their
new grades / school.
Successful Used Book Fair organized by the P.A.C.
Fun Jump Rope for Heart assembly featuring TC's great skippers; Trout Creek kids donated· $164.77
to this worthy cause.
Wonderful time had by all at the Children's Festival; a special thanks to the Boys and Girls Club for the
incredible financial support.
Strong turn out by the grade 3 students at the West Bench cross-country run.
A warm welcome was extended to new students and their families joining the school for the 2009-10
school year at the Open House in June.
Congratulations to the P.A.C. executive: Chairperson: Mrs. Jenny Chick, Vice-Chair: Mrs. Gena Lowe,
Secretary: Mrs. KaraLee Cave, Treasurer: Mrs. CharLynn Bubar – A great mural created on the north
wall of the sports court; thanks P.A.C. for designing and organizing the project
UPLANDS ELEMENTARY
•
Jenaya Copithorne and Anise Theurer were the Top Accelerated Reading Award Winners for Uplands
Elementary. Jenaya and Anise had over 1000 points!
•
Over 90 Volunteers at Uplands had a wonderful celebration at the Uplands Volunteer Tea. All classes
presented a "Thank You" to the helpers and supporters.
•
Ms. Street's class performed several songs with a 2008-09 Power Point presentation of all the
highlights at Uplands Celebration of Learning Assembly in June. Division 1 (Mrs. Kantz) and Division
2 (Mrs. Gardhouse) Classes were also highlighted. As well, Mrs. Salting led the Division 1 and Division
2 Guitar Concert for this event – 'There are 54 guitarists out in the world'. It was a wonderful event
and everyone thoroughly enjoyed themselves.
Kiegan Lins (student) and
Laurie Hepso (CEA) successful
recycling program ended in a
pizza party celebration.
WEST BENCH ELEMENTARY
•
Thank you to everyone who attended the annual West Bench Barbeque. A huge thank you especially
to all of the staff, parents and friends who volunteered to make it such a success.
Some Highlights of the school year were:
•
•
•
•
•
•
•
•
•
•
•
•
•
•
•
•
•
•
•
•
•
•
•
picnics on the playground
celebrated the new playground equipment
ran in Naramata and Kaleden and for Terry Fox
enjoyed a litter free lunch in the gym and paraded in costumes for Hallowe'en
sang, danced, played drums and guitars at the Remembrance Day Assembly
Christmas Concerts, Talent Shows and Sing-a-longs
watched Canadiana Musical Theater and Grupo
America - play, sang and danced for everyone
challenged other schools at soccer and basketball as well as played floor hockey in the gym
had craft days, a Christmas Cakewalk and Pancakes in PJ's
wore house team colours proudly and coloured their hair
made funny hats for spring
the Destination Conservation Team did a great job through the school year and the school went
swimming to celebrate all of their hard work with recycling
buddy Reading with parents for Family Literacy Day
celebrated random acts of kindness during February with pink hearts
did lots of activities for Hundred's Day
read over 14,000 books and that was celebrated by a rooftop sleepover
danced, played games and auctioned off wonderful items at the Spring Fling
helped 57 new Canadians take their Oath of Citizenship and wrote and sang songs to celebrate them
joining our Canadian family
Wildcats jumped, hopped and leaped at Jump Rope for Heart to raise money for the Heart Fund
barbequed, visited and watched the Wildcats, young and old, climb the climbing wall
grade 3's hosted other grade 3's from all over the District for the grade 3 Run
ended the year with the grade 4 and 5 classes - went on their trip to Science World as well as Fun Day
and the Intermediate and Primary Awards
It has been a great year at the little school on the hill!