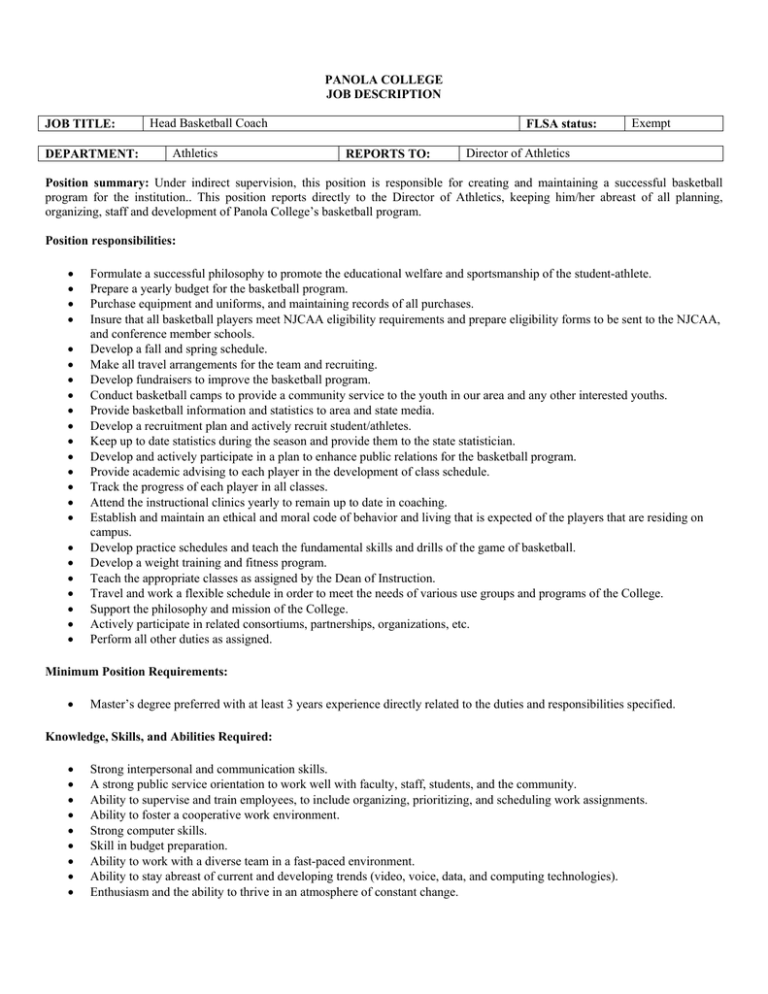 PANOLA COLLEGE
JOB DESCRIPTION
JOB TITLE:
DEPARTMENT:
Head Basketball Coach
Athletics
FLSA status:
REPORTS TO:
Exempt
Director of Athletics
Position summary: Under indirect supervision, this position is responsible for creating and maintaining a successful basketball
program for the institution.. This position reports directly to the Director of Athletics, keeping him/her abreast of all planning,
organizing, staff and development of Panola College's basketball program.
Position responsibilities:
•
•
•
•
•
•
•
•
•
•
•
•
•
•
•
•
•
•
•
•
•
•
•
Formulate a successful philosophy to promote the educational welfare and sportsmanship of the student-athlete.
Prepare a yearly budget for the basketball program.
Purchase equipment and uniforms, and maintaining records of all purchases.
Insure that all basketball players meet NJCAA eligibility requirements and prepare eligibility forms to be sent to the NJCAA,
and conference member schools.
Develop a fall and spring schedule.
Make all travel arrangements for the team and recruiting.
Develop fundraisers to improve the basketball program.
Conduct basketball camps to provide a community service to the youth in our area and any other interested youths.
Provide basketball information and statistics to area and state media.
Develop a recruitment plan and actively recruit student/athletes.
Keep up to date statistics during the season and provide them to the state statistician.
Develop and actively participate in a plan to enhance public relations for the basketball program.
Provide academic advising to each player in the development of class schedule.
Track the progress of each player in all classes.
Attend the instructional clinics yearly to remain up to date in coaching.
Establish and maintain an ethical and moral code of behavior and living that is expected of the players that are residing on
campus.
Develop practice schedules and teach the fundamental skills and drills of the game of basketball.
Develop a weight training and fitness program.
Teach the appropriate classes as assigned by the Dean of Instruction.
Travel and work a flexible schedule in order to meet the needs of various use groups and programs of the College.
Support the philosophy and mission of the College.
Actively participate in related consortiums, partnerships, organizations, etc.
Perform all other duties as assigned.
Minimum Position Requirements:
•
Master's degree preferred with at least 3 years experience directly related to the duties and responsibilities specified.
Knowledge, Skills, and Abilities Required:
•
•
•
•
•
•
•
•
•
Strong interpersonal and communication skills.
A strong public service orientation to work well with faculty, staff, students, and the community.
Ability to supervise and train employees, to include organizing, prioritizing, and scheduling work assignments.
Ability to foster a cooperative work environment.
Strong computer skills.
Skill in budget preparation.
Ability to work with a diverse team in a fast-paced environment.
Ability to stay abreast of current and developing trends (video, voice, data, and computing technologies).
Enthusiasm and the ability to thrive in an atmosphere of constant change.
Physical Demands and Work Environment:
•
•
•
•
Work is normally performed in a typical interior office/gymnasium environment.
Physical effort required and the employee must occasionally lift and/or move up to 50 pounds.
Limited exposure to physical risk.
Some travel required.