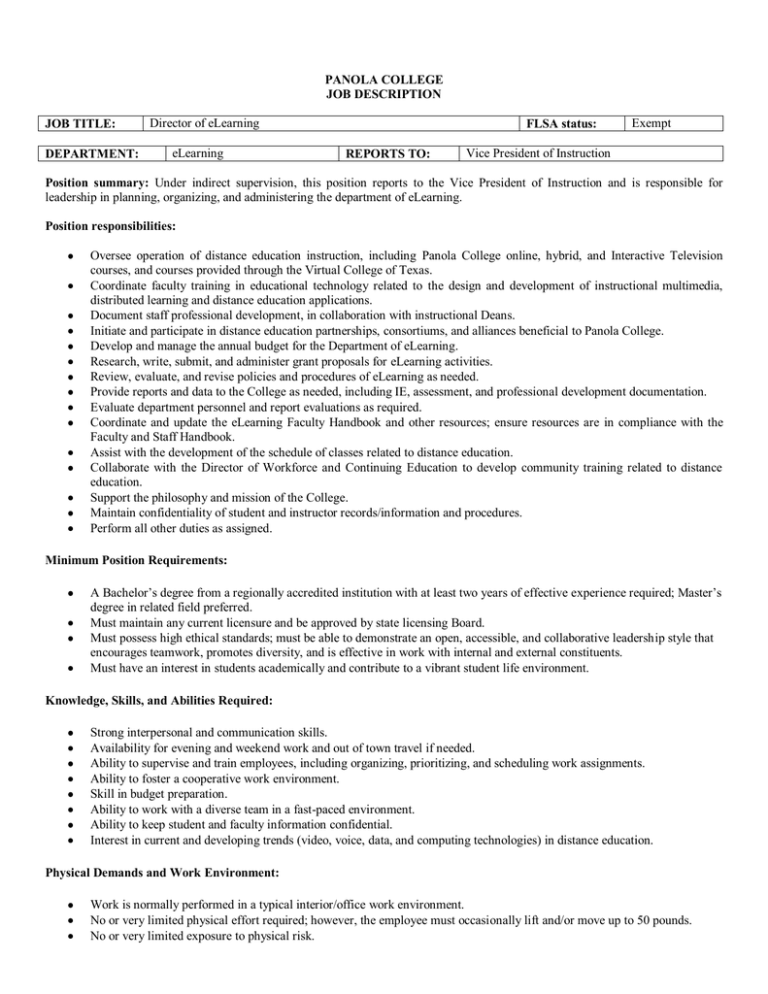 PANOLA COLLEGE
JOB DESCRIPTION
JOB TITLE:
DEPARTMENT:
Director of eLearning
eLearning
FLSA status:
REPORTS TO:
Exempt
Vice President of Instruction
Position summary: Under indirect supervision, this position reports to the Vice President of Instruction and is responsible for
leadership in planning, organizing, and administering the department of eLearning.
Position responsibilities:
Oversee operation of distance education instruction, including Panola College online, hybrid, and Interactive Television
courses, and courses provided through the Virtual College of Texas.
Coordinate faculty training in educational technology related to the design and development of instructional multimedia,
distributed learning and distance education applications.
Document staff professional development, in collaboration with instructional Deans.
Initiate and participate in distance education partnerships, consortiums, and alliances beneficial to Panola College.
Develop and manage the annual budget for the Department of eLearning.
Research, write, submit, and administer grant proposals for eLearning activities.
Review, evaluate, and revise policies and procedures of eLearning as needed.
Provide reports and data to the College as needed, including IE, assessment, and professional development documentation.
Evaluate department personnel and report evaluations as required.
Coordinate and update the eLearning Faculty Handbook and other resources; ensure resources are in compliance with the
Faculty and Staff Handbook.
Assist with the development of the schedule of classes related to distance education.
Collaborate with the Director of Workforce and Continuing Education to develop community training related to distance
education.
Support the philosophy and mission of the College.
Maintain confidentiality of student and instructor records/information and procedures.
Perform all other duties as assigned.
Minimum Position Requirements:
A Bachelor's degree from a regionally accredited institution with at least two years of effective experience required; Master's
degree in related field preferred.
Must maintain any current licensure and be approved by state licensing Board.
Must possess high ethical standards; must be able to demonstrate an open, accessible, and collaborative leadership style that
encourages teamwork, promotes diversity, and is effective in work with internal and external constituents.
Must have an interest in students academically and contribute to a vibrant student life environment.
Knowledge, Skills, and Abilities Required:
Strong interpersonal and communication skills.
Availability for evening and weekend work and out of town travel if needed.
Ability to supervise and train employees, including organizing, prioritizing, and scheduling work assignments.
Ability to foster a cooperative work environment.
Skill in budget preparation.
Ability to work with a diverse team in a fast-paced environment.
Ability to keep student and faculty information confidential.
Interest in current and developing trends (video, voice, data, and computing technologies) in distance education.
Physical Demands and Work Environment:
Work is normally performed in a typical interior/office work environment.
No or very limited physical effort required; however, the employee must occasionally lift and/or move up to 50 pounds.
No or very limited exposure to physical risk.