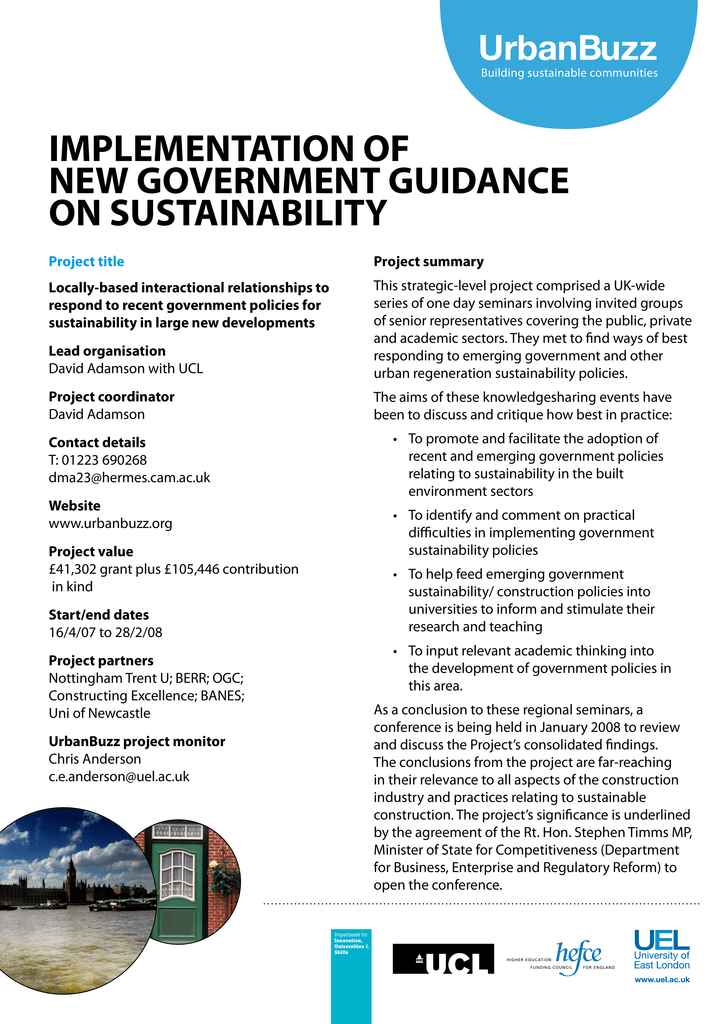 UrbanBuzz
Building sustainable communities
IMPLEMENTATION OF
NEW GOVERNMENT GUIDANCE
ON SUSTAINABILITY
Project title
Project summary
Locally-based interactional relationships to
respond to recent government policies for
sustainability in large new developments
Lead organisation
David Adamson with UCL
This strategic-level project comprised a UK-wide
series of one day seminars involving invited groups
of senior representatives covering the public, private
and academic sectors. They met to find ways of best
responding to emerging government and other
urban regeneration sustainability policies.
Project coordinator
David Adamson
The aims of these knowledgesharing events have
been to discuss and critique how best in practice:
Contact details
T: 01223 690268
[email protected]
Website
www.urbanbuzz.org
Project value
£41,302 grant plus £105,446 contribution
in kind
Start/end dates
16/4/07 to 28/2/08
Project partners
Nottingham Trent U; BERR; OGC;
Constructing Excellence; BANES;
Uni of Newcastle
UrbanBuzz project monitor
Chris Anderson
[email protected]
• To promote and facilitate the adoption of
recent and emerging government policies
relating to sustainability in the built
environment sectors
• To identify and comment on practical
difficulties in implementing government
sustainability policies
• To help feed emerging government
sustainability/ construction policies into
universities to inform and stimulate their
research and teaching
• To input relevant academic thinking into
the development of government policies in
this area.
As a conclusion to these regional seminars, a
conference is being held in January 2008 to review
and discuss the Project's consolidated findings.
The conclusions from the project are far-reaching
in their relevance to all aspects of the construction
industry and practices relating to sustainable
construction. The project's significance is underlined
by the agreement of the Rt. Hon. Stephen Timms MP,
Minister of State for Competitiveness (Department
for Business, Enterprise and Regulatory Reform) to
open the conference.