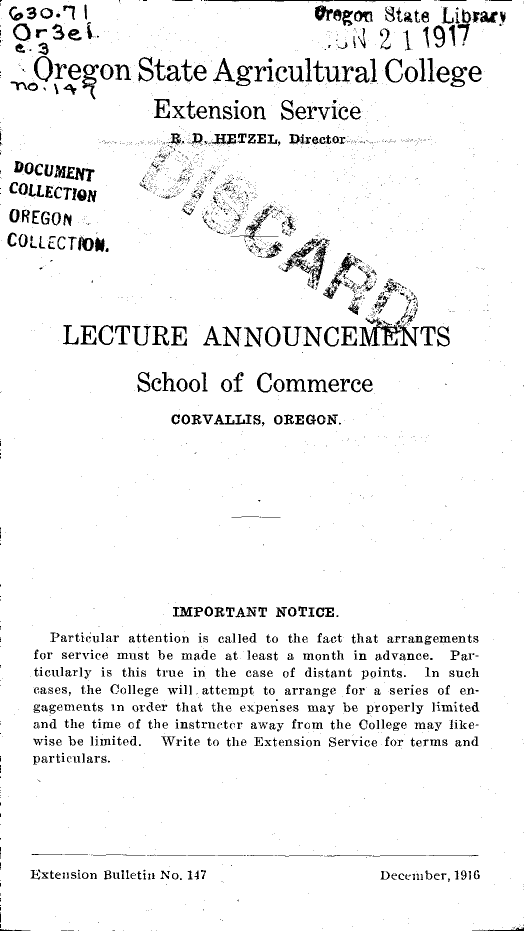 Co 3 0.1
Chnor State Librazy
I
OrSei.
N 2 1 1917
Qreqon State Agricultural College
Extension Service
.11,ETZEL, Director
DOCUMENT
COLLECT/AN
OREGON
COLA:M-1)0k
LECTURE ANNOUNCEANTS
School of Commerce
CORVALLIS, OREGON.
IMPORTANT NOTICE.
Particular attention is called to the fact that arrangements
for service must be made at least a month in advance. Particularly is this true in the case of distant points, in such
cases, the College will attempt to arrange for a series of engagements in order that the expenses may be properly limited
and the time of the instructcr away from the College may likewise be limited. Write to the Extension Service for terms and
particulars.
Extension Bulletin No. 147
December, 1916
,
1
FACULTY OF THE SCHOOL OF COMMERCE.
W. J. Kerr, D. So., President of the Oregon Agricultural College
John Andrew Bexell, A. M., Dean
ACCOUNTING AND BUSINESS MANAGEMENT.
The members of the Faculty of the School of Commerce are
prepared to give general lectures and lectures in their respective fields of study to high school classes, departmental meetings, high school assembly meetings, faculty meetings, and high
school commencement exercises.
John Andrew Bexell, A. M.
Erwin Bertram Lemon, B. S.
Russell Marion Howard, B. S.
Charles Lewis Parrish, C. P. A.
ECONOMICS AND SOCIOLOGY.
Hector Macpherson, Ph. D.
Louis August Rufener, Ph. D.
Newland Howland Comish, M. S.
Guilford Lansing Hurd.
GOVERNMENT AND BUSINESS LAW.
Ulysses Grant Dubaeh, Ph. D.
Chester Collins Maxey, K. A.
Jesse Franklin Brumbaugh, A. M., LL. B.
OFFICE TRAINING AND STENOGRAPHY.
Herbert Townsend Vance.
Etha Mabel Maginnis.
SUGGESTED LECTURE TOPICS.
Earning, Spending and Saving. (Illustrated with Charts.)
The Pork Barrel in Congress.
Early History of Oregon. (Illustrated with slides.)
Simplified City Government. (Illustrated with Charts.)
State's Money Getting and Spending System. (Illustrated
with Charts.)
Typical Bookkeeping Problems.
Where and How to Invest Savings.
The Creative Instini t.
Cooperation in Marketing.
Why Study Economic-s?
A Trip Through a Government Grave YardThe Dead Letter
Office.
HISTORY.
John B. Horner, A. AL, Litt. D.
(Illu strated. )
Elements of Success. (Illustrated with Charts.)
Address the Extension Service of the College, indicating the
service desired.