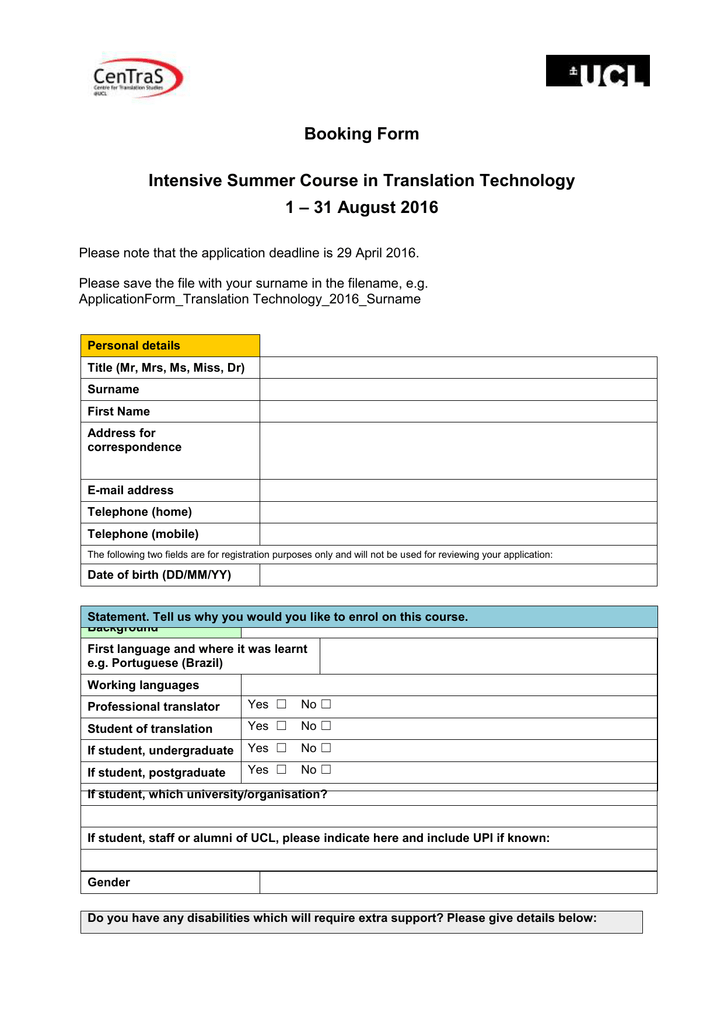 Booking Form
Intensive Summer Course in Translation Technology
1 – 31 August 2016
Please note that the application deadline is 29 April 2016.
Please save the file with your surname in the filename, e.g.
ApplicationForm_Translation Technology_2016_Surname
Personal details
Title (Mr, Mrs, Ms, Miss, Dr)
Surname
First Name
Address for
correspondence
E-mail address
Telephone (home)
Telephone (mobile)
The following two fields are for registration purposes only and will not be used for reviewing your application:
Date of birth (DD/MM/YY)
Statement. Tell us why you would you like to enrol on this course.
Background
First language and where it was learnt
e.g. Portuguese (Brazil)
Working languages
Professional translator
Yes ☐
No ☐
Student of translation
Yes ☐
No ☐
If student, undergraduate
Yes ☐
No ☐
If student, postgraduate
Yes ☐
No ☐
If student, which university/organisation?
If student, staff or alumni of UCL, please indicate here and include UPI if known:
Gender
Do you have any disabilities which will require extra support? Please give details below:
We will endeavour to accommodate any disability but please note that the accessibility of some of the
software taught is out of our control.
Please assess your English skills by completing the grid below
How difficult do you find...?
1
2
3
4
5
very difficult
quite
difficult
OK
quite easy
very easy
understanding everyday
conversations
expressing simple ideas
making people understand your
accent
Once completed, please return by email, with a copy of your CV, to Ms Emmanouela Patiniotaki:
[email protected]
By the end of May 2016 you will be notified if you have been accepted onto the course. If you have
been successful, you will also receive more detailed information on how to pay your fees.
As soon as payment has been processed you will be contacted by email to officially confirm your
place on the course.
We look forward to welcoming you at UCL.