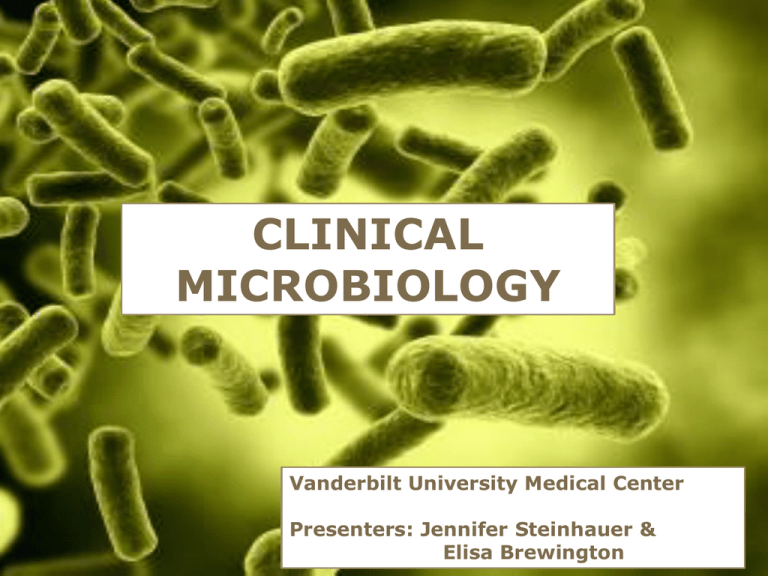 CLINICAL
MICROBIOLOGY
Vanderbilt University Medical Center
Presenters: Jennifer Steinhauer &
Elisa Brewington
Objectives
 Determine how to order the tests the
Doctor wants.
 Learn how to correctly fill out a
Microbiology requisition.
 Determine what is the best specimen for
the test.
ORDERING WHAT THE DOCTOR WANTS
It is important to know what orders the
Physician wants for multiple reasons:
• Limited amount of specimen: specimens of
limited quantity need to be disbursed to the
highest priority cultures/tests.
• Patient care is our highest priority. Ordering
the correct tests is beneficial to everyone.
Patients are treated in a timely manner while
Medical Laboratory Scientists are able to
aliquot their time to additional patient testing.
• Unnecessary tests are costly for the hospital
and for the patient.
If the Physician
wants an aerobic &
anaerobic culture,
a bacterial culture
will cover both of
those for tissues,
abscesses, or body
fluids. (C&S,
routine culture,
and bacterial
culture are the
same thing and
they include a
gram stain.)
If the Physician
wants a fungal
culture (i.e. yeast,
mold), order a
Fungus culture.
If a Physician wants an AcidFast Bacillus (AFB) i.e.
Mycobacteria, order an AFB
culture. An AFB culture
includes all mycobacterial
species (i.e. TB, MAC, etc.).
We still need a little more
information to properly
accession specimens.
Please legibly provide the
Physician's first and last
name and/or the Physician
code.
Most importantly, we need the
specimen source in order to
properly process the sample.
Please be as
descriptive as
possible when
indicating the
specimen
source. Indicate
the source on
both the
specimen and
the requisition.
Please include
the date and time
the specimen was
collected.
DETERMINING THE BEST
SPECIMEN TO USE
While swabs are convenient, they are inferior to fluid
and tissue.
NOW… E Swabs
E Swabs advantages over our current method:
•
•
•
•
Reduced cost
Plastic container provides added safety
Swab breakpoint reduces contamination
Increased microorganism viability
Any Questions?
If you ever have any questions,
always feel free to call Microbiology
@ 23406 or Lab Client Services @ 5LABS.