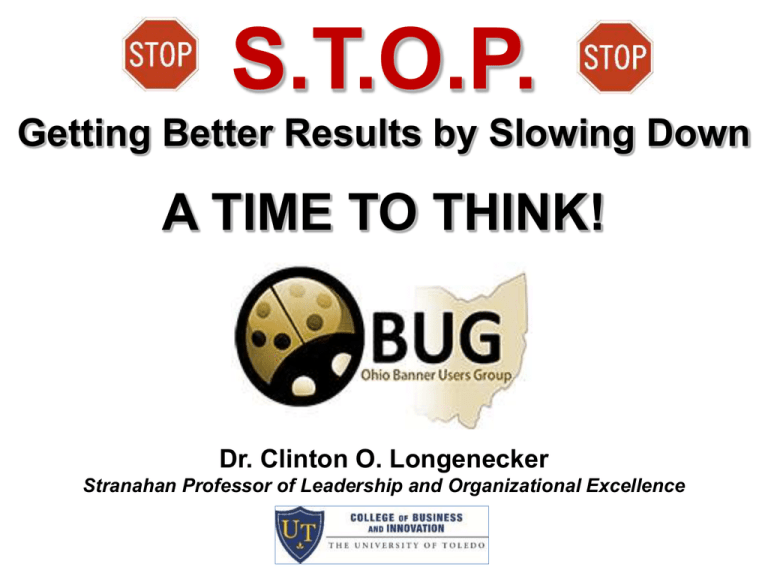 S.T.O.P.
Getting Better Results by Slowing Down
A TIME TO THINK!
Dr. Clinton O. Longenecker
Stranahan Professor of Leadership and Organizational Excellence
THINK!
Our Superordinate Learning Objective
To help you better link your
use of time with the results
you need and life you
want to lead!
WHAT IS A LEADER'S
MOST IMPORTANT
RESOURCE?
SPEED INTERVIEWS
(60 Second)
Key Questions:
1. Why are you at this conference?
2. Name your biggest challenge this year todate.
3. Name one skill that you need to improve
upon this year to be more effective.
4. How does being too busy effect you?
(p. 2)
THINK!
IN YOUR
EXPERIENCE,WHAT
ARE THE KEYS TO
CAREER SURVIVAL
AND SUCCESS?
(p. 3)
CAREER
COACHING
TIME!
CAREER SURVIVAL AND SUCCESS
RESEARCH FINDINGS
1. Performance Track
Record of Getting
Desired Results
2. Effective Communication
Talents and Practices
(p. 4)
3. Strong Interpersonal and
Teaming Skills
4. Possessing/Maintaining
a Positive Personality
and Attitude
5. Ability to Develop
Yourself to Meet Job
Demands
6. Learning and Leveraging
Work Experience
7. Ability to Handle
Pressure/Stress and
Stay Poised
8. Problem-Solving and
Decision-Making
Effectiveness
9. Ability to Use Critical
Resources and Power
Effectively
10. Possessing a
Mentor/Accountability
Partner
HOW MANY
PEOPLE HERE ARE
REALLY, REALLY
BUSY!
EVERYONE IS
BUSY!
THE QUESTION OF
THE DAY: BUSY
DOING WHAT?
Yet, if we were to follow YOU around for one (1)
week would we see a strong correlation
between what you are trying to achieve and
your daily behavior, actions and time usage?
THE BUSYNESS
CONTINUUM
 NOT

REALLY

TOO
 BUSY!
BUSY!
BUSY! BUSY!
(p. 5)
Not Busy:
Living a quiet life with
minimum activity; time
availability is significant
allowing for an abundance of
free and idle time with the
absence of pressure.
Busy:
Being actively and attentively
engaged; a life full of activity,
responsibilities, and
commitments; specific effort and
attention is required to manage
priorities, meet deadlines and
accomplish desired outcomes.
Really Busy:
To be fully occupied in a particular
activity; committed to something
previously planned so unable to
undertake additional activity; or
engaged in or characterized by
constant, challenging and ongoing
activity.
Too Busy:
To find oneself overcommitted; in
a state of constantly having more
things to do than can be
realistically accomplished; a
marked absence of personal time;
or being in a constant and
unrelenting state of motion.
THE BUSYNESS
CONTINUUM
X
 NOT

REALLY

TOO
 BUSY!
BUSY!
BUSY! BUSY!
(p. 5)
HOW DOES BEING TOO
BUSY EFFECT YOU?
One Minute Reading
Assignment:
The Destructive Nature
of Being Too Busy
(p. 6)
THE DESTRUCTIVE NATURE
OF BEING TOO BUSY
Background: A sample of 1,500 business leaders were asked to answer
the following question, "How does being too busy affect you as a leader?" A
content analysis of their responses revealed that:
Communication breakdowns increase and
listening skills diminish
Strained working relationships and increased
conflict/tension
Loss of perspective, negative attitudes, and
tendency to over-react
Ineffective decision-making
Loss of focus, attention to detail and more prone
to mistakes
(p. 6)
THE DESTRUCTIVE NATURE
OF BEING TOO BUSY
Problems frequently ignored and left
unresolved
Loss of life balance, family time, and
health
Planning, organizing and coordinating
activities break down
Loss of strategic, longer-term and bigger
picture issues
Become increasingly reactive, inefficient,
and unproductive
STOP (v)
Defined:
"To cease from or discontinue action
or activity;"
"To be still or immobile,"
"To halt or cease motion;" or
"To get in the way of something."
S.T.O.P.:
Getting Better Results by Slowing Down
SIT
THINK
ORGANIZE
PERFORM
(p. 7)
THE POWER OF S.T.O.P.
SIT – The act of regularly
slowing down, being still and
finding a quiet, isolated place
to sit where you will not be
disturbed that will allow you
the opportunity to think
(p. 7)
clearly.
THINK – The process of
refocusing your thoughts from the
urgent pressing issues of the day
to devote real and critical thought
to the important and key results
and activities that drive your
cumulative effectiveness.
(p. 7)
ORGANIZE – The act
of planning for and organizing
the specific actions that must
be implemented on an
ongoing basis to achieve
desired outcomes and higher
levels of performance.
(p. 7)
PERFORM – The
act of implementing and
executing a well thought out
plan of action that addresses
the key issues that lead to the
outcomes/results you desire.
(p. 7)
S.T.O.P. Effectiveness ROI
Range: 12%-32%
Average: 21.8%
1.
2.
3.
4.
5.
Quality of Work
Quantity of Work
Relationships
Desired Outcomes
Leader Satisfaction
S.T.O.P.
LESSON #1 - Assess where you are on the
Busyness Continuum and how your level
of busyness impacts your:
 Workplace effectiveness/performance
 Perspective/Attitude
 Working relationships
 Family life
 Health
(p. 8)
S.T.O.P.
LESSON #2 - Realistically evaluate where
your time goes and how much of your
busyness can be controlled.
Is your busyness caused by:
•
•
•
•
•
•
•
Habit?
Not controlling your time?
An overgrown job?
Lack of resources?
Disorganization or poor planning?
Always saying yes?
An inability to say no?
S.T.O.P.
LESSON #3 - Plan a minimum of four
STRATEGIC STOP's each year to conduct a
personal alignment retreat with yourself
to determine what you must keep doing,
start doing, and stop doing to take control
of your activity and improve your
performance. Key questions/issues that
will impact your performance:
1. What results are most critical for success this performance
period?
2. What activities/work practices will help me get the
outcomes/results we need?
3. How must I invest my time to be successful this
performance period?
4. What working relationships must be further
developed/fostered to improve performance?
5. What problem or process needs to be fixed to improve
performance?
6. What talent/skill to I need to develop this performance
period to get better results?
7. How will I monitor and measure my performance on an
ongoing basis?
S.T.O.P.
LESSON #4 – Develop
the practice of making
your Daily S.T.O.P. part
of your daily work life!
The Daily S.T.O.P
 15 Minutes at the start of each day
to develop your performance script!
 5 Minutes mid-shift to make
adjustments!
 5 Minutes at the end of the day to
learn, adjust and plan!
S.T.O.P.
25 Minutes = 4.62% of
your 9 hour work day!
S.T.O.P.
LESSON #5 – Use "performance
scripting" to make better use of
your time and keep your resource
deployment tied to your mission
and the results you are being paid
to deliver!
(p. 9)
THE POWER OF S.T.O.P.
4.62% OF YOUR DAY!
THE RULE OF 15/5/5 = ______
Keys to Performance Scripting:
1. It is critically important to be still and clear your mind in
developing your daily performance script! (In addition, it is
good to take time each day to think about the good things
that you are thankful for in your life as well as what needs
to get done!)
2. Identify the list of results/activities you must realistically
accomplish each day! List everything you want to get done!
3. Now realistically estimate the amount of time needed for
each specific activity.
4. Then determine what should come off your list until a later
date and what can be delegated.
(p. 9)
5. Determine who you will need to include in
each activity if it is to be actually be
accomplished.
6. Now prioritize and develop your plan of
attack for the day protecting your productive
time and high priority activities.
7. Take a "half-time timeout" to assess your
performance and be ready to make adjustments
and reprioritize!
8. End each day with a final STOP to review
progress, and prepare what is coming the next
day!
THANKS FOR BEING A
GREAT GROUP AND
FOR TAKING
ACTION!!!!!!!
A+
Have a GREAT Conference!