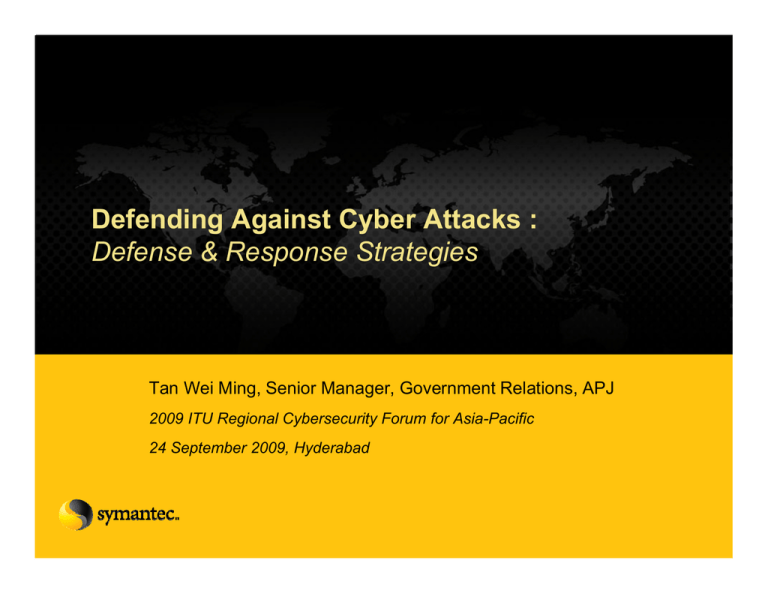 Defending Against Cyber Attacks :
Defense & Response Strategies
Tan Wei Ming, Senior Manager, Government Relations, APJ
2009 ITU Regional Cybersecurity Forum for Asia-Pacific
24 September 2009, Hyderabad
How Likely Are These?
2
Exponential Spike In Malicious Activities
More malicious programs were
detected in the last 18 months than
in all the previous years combined
Symantec Internet Security Threat Report (Trends for 2008), volume XIV, published April 2009
3
Cyber Defense – A Mission Impossible?
Disruption
p
of critical infrastructure operations
p
Large-scale
Defacing of
DDoS attacks
government
websites
Organized
Criminal
Well Meaning
Insider
Malicious
Insider
Malware outbreaks within
Stealthy ex-filtration or unintended
government network
loss of confidential data
4
Effective Cyber Defense & Incident
Response Strategy
> 4 important principles
Understand the threats
Establish prioritised risk-based framework
Develop intelligence-in-depth
Develop strong defense capabilities
5
1>Understand
1
Understand The Threats
Threat Landscape
The Web is the
focal point
Primary vector for
malicious activity
•
Target reputable,
high-traffic websites
Attackers want
YOUR
information
•
• Focus on exploits
targeting end-users
for financial gain
Increased
sophistication of the
Underground
Economy
• Well-established
infrastructure for
monetizing stolen
information
Rapid adaptation to
security measures
• Relocating operations to
new geographic areas
• Evade traditional security
protection
6
Web As The New Focal Point
• Attackers locate and compromise a high-traffic site through a vulnerability
•
specific to the site or in a Web application it hosts.
Once the site is compromised, attackers modify pages so malicious
content is served to visitors.
Site-specific vulnerabilities
Web application vulnerabilities
7
Information At Risk
> The Education sector accounted for the majority of data breaches with 27%,
followed by Government (20%) and Healthcare (15%)
> More than half of breaches (57%) were due to theft or loss with insecure policy
accounting for 21%.
> Manyy data breaches are related to loss of small, portable
p
devices such as USB
memory keys, portable hard drives, and smart phones.
8
Convergence Of Attack Methods
Attackers combining malicious code, phishing, spam, exploitation of
vulnerabilities, and online attacks
1. Spam containing link to compromised server
5. Download and install additional threats
Server hosting
additional threats
4. Downloader installed through browser vulnerability
2. User visits legitimate
g
site
3. Redirection
MPack Server
Compromised Server
9
2>Establish Prioritised Risk-based
Framework
Multi-tier protection
Endpoint protection &
management
Sensors & correlation
Dashboard monitoring
Maintain adequate staff levels
Recruit, train, certify & retain
security specialists
Increase security
y awareness
amongst users and the public
Present & future threat analysis
Incident response & recovery
Pre-emptive protective measures
Coordinate with international
community & related bodies
10
Information Assurance Framework
NATIONAL INFORMATION ASSURANCE POLICY FRAMEWORK
National Legislation
g
& Regulations
g
Data Protection
Cyber Crime
Anti Spam
Online Child Safety
Critical Information Infrastructure Protection
Policies & Structures
Awareness Building & Threat
Notification
Identify CII assets/functions & Interdependencies
Identify Of CII Owners & Operators
Establish Trusted Information Sharing & Analysis
Establish Public/Private Roles & Responsibilities
Plan & Test Emergency Response Plans
Increase Awareness Of Small
Businesses & Individuals
Issue Notifications Of Threats,
Vulnerabilities, Security Incidents
Policy & Operational Coordination & Response
Military
Law Enforcement
Agencies
CERT (Govt, National, Academic)
Public-Private Partnerships & International Cooperation
Research Institutes
GOVERNMENT
Industry Experts
Other N-CERTS
PRIVATE SECTOR
Int'l Alliances & Associations
GENERAL PUBLIC
11
Fundamental Questions to Ask
>
How do you prioritize events that occur at your end points today? How many
malicious events do you experience per day? per week?
>
How long does it currently
take to
respond
to those events?
How are
you
keeping
up? How do you
manage the workflow of that process?
>
How much time does your staff invest in researching effective remediation best
practices?
>
Do you have visibility to malicious activities before they occur?
>
How do you invest your response resources today? How would you rather use
these resources?
>
What are your current requirements for providing security status, audit reports,
and general information requests? How do you meet those requirements?
>
Are yyou leveraging
g g the information yyou have?
Arebiggest
you challenges
optimizing
your responding
resources?
What are your
in effectively
to malicious
activities that occur?
12
Prioritization A Constant Challenge
ƒIdentify
Identify and issue
warning of serious
security threat
2
Events Requiring
Immediate Customer
Contact
55
Events
E
t P
Provided
id d for
f
Client Review
620
Security
Events
ƒ Eliminate insignificant
events and report
valid events
ƒ Security threat
pattern identification
9,481,668
Logs and alerts
generated by firewalls
and IDSs
Based on one month of actual customer data.
13
Risk-Based
Risk
Based Approach
RISK
MANAGEMENT
THREAT &
VULNERABILITY
MANAGEMENT
INCIDENT
RESPONSE
AUDIT & RECOVERY /
COUNTERINTELLIGENCE
Respon
nse Time Avvailable
C2
Situational Awareness
I f
Information
i Risk
Ri k M
Management
Comprehensive Analysis
Sensors & Correlation
Cyber Intelligence
WEEKS
DAYS/HOURS
Proactive
HOURS/MINUTES
WEEKS
Reactive
14
3>Develop
3
Develop Intelligence-in-Depth
Intelligence in Depth
• GUIDANCE AND SUPPORT IN DEVELOPING AND MAINTAINING IA POLICY
Strategic
Intelligence
•
•
•
•
•
Strategic threat trend reports (ISTR)
Sector specific reports
Technology vulnerability assessments
Penetration testing
Environmental assessments
• DELIVERY OF SITUATIONAL AWARENESS OF IA ACTIVITIES
Operational
Intelligence
Tactical
Intelligence
•
•
•
•
•
In depth analysis of targeted malware and attacks
Monitoring of network relevant vulnerabilities and exploits
Ongoing behavioural anomaly base lining and detection
Incident analysis and lessons learned
War gaming of potential attack vectors
• TIMELY AND RELEVANT DELIVERY OF EVALUATED INTELLIGENCE TO ENABLE
REAL TIME DECISIONS IN HANDLING AN INCIDENT
• Visual representation of suspicious activity and prediction of likely attack paths
• Prioritisation of threats based on information and infrastructure criticality
• Presentation of appropriate remediation methods to defeat attacks
15
Global Intelligence Network
Identifies more threats, takes action faster & prevents impact
Calgary,
g y, Alberta
San Francisco, CA
Mountain View, CA
Culver City, CA
Dublin, Ireland
R di
Reading,
England
E l d
Tokyo, Japan
Alexandria, VA
Chengdu, China
Austin, TX
Taipei, Taiwan
Chennai, India
P
Pune,
IIndia
di
Sydney, AU
Worldwide Coverage
Global Scope and Scale
24x7 Event Logging
Rapid Detection
Threat Activity
Attack
Activity
• 240,000
,
sensors
• 240,000
240 000 sensors
• 200+
countries
• 200+
countries
Preemptive Security Alerts
Malcode Intelligence
Malware
• 130MIntelligence
client, server,
• 130M client,
client
server
gateways
t server,
gateways
monitored
• Global coverage
• Global coverage
Vulnerabilities
Vulnerabilities
• 32,000+ vulnerabilities
• 32,000
32 000+ vulnerabilities
• 11,000
11 000 vendors
d
• 11,000 vendors
• 72,000 technologies
• 72,000 technologies
Information Protection
Spam/Phishing
Spam/Phishing
•2.5M decoy accounts
2email
5Mildecoy
accounts
•8B+
8B• 2.5M
messages/daily
/d il
••1B+
8B+web
email
messages/day
requests/daily
• 1B+ web requests/day
Threat Triggered Actions
Copyright © 2009 Symantec Corporation. All rights reserved.
16
Combining Global, Sector & Local
Intelligence
Global
Cyber
Intelligence
Global
Real World
Intelligence
Trusted
Information
Sharing
Locall
L
Network
Information
17
Security Event Monitoring & Correlation
Dublin, Ireland
Calgary, Canada
San Francisco, CA
Springfield, OR
Redwood City, CA
Santa Monica, CA
Tokyo, Japan
London, England
Munich, Germany
Alexandria, VA
Sydney, Australia
18
4>Develop
4
Develop Strong Defense Capabilities
Prioritised Risk-based Visibility
Protect Information
ENDPOINT
DISCOVERY
NETWORK
Action
nable Intellligence
Action
nable Intellligence
Protect Systems
DATA LOSS PREVENTION
MESSAGING
ENCRYPTION
WEB
NETWORK ACCESS CONTROL
DATA PROTECTION
Policy-Driven Compliance
Symantec Management Platform
Discover
Inventory
Workflow
Configure
Provision
Patch
Report
CMDB
19
Multi-Tier
Multi
Tier Protection
Gateway Protection
•Brightmail Gateway
IM and SMTP
Gateways
Groupware Protection
Endpoint Protection
•Mail Security for Exchange
•Mail Security for Domino
p
•Premium Antispam
•Endpoint Protection
•AntiVirus for Mac / Linux
•AntiVirus for Windows
Mobile
Messaging
Environment
SMTP and
IM Traffic
Internet
Microsoft Exchange
Lotus Domino
20
Defending & Managing The Endpoints
Symantec Endpoint
Protection
Symantec Network Access
Control
Vontu DLP & Symantec
Endpoint Encryption
Threat Protection
Network
A
Access
C
Control
t l
Data Loss Prevention
& Encryption
Keep the Bad things Out
Trust, but Verify
Keep the Good things In
• Protect
P t t against
i t malware
l
• Protect from known and
unknown threats
• Manage multiple endpoint
technologies
• Enforce Endpoint Security
policies
• Discover confidential data
• Allow guest access to the
network
• Enforce policies to prevent
its loss
• Provide access only to
properly secured
endpoints
• Encrypt to prevent
unauthorized access
• Monitor its use
Altiris Client Management Suite
Endpoint Management
Keep the Wheels On
•
•
•
•
Integrates security, data loss and management
Provides automation
Increases visibility and control
Lowers total cost of ownership by managing
multiple endpoint technologies
21
Sensor Deployment & Correlation
Monitor &
Correlate
Incident
Actionable
Alerts
Initiate
Remediation
Workflow
SIM 4.0 WWSMC Demo Board
Helpdesk
Processes
Symantec Confidential
Security & IT
Compliance
Reports
10
Symantec Security Information Manager (SSIM)
22
Executive Dashboard Monitoring
E.g. Vulnerability Assessment Module
Vulnerability information is collected and
collated with organisation & asset info.
The analyst team is able to monitor status
at a glance and drill down by theatre to
individual assets. They can view trends
and
d search
h ffor th
the status
t t off any system.
t
23
Thank You!
Tan Wei Ming
weiming_tan@symantec.com
+65 96236998
Copyright
Copyright
© 2009
© 2009
Symantec
Symantec
Corporation.
Corporation.
All rights
All rights
reserved.
reserved.
Symantec
Symantec
and the
andSymantec
the Symantec
LogoLogo
are trademarks
are trademarks
or registered
or registered
trademarks
trademarks
of Symantec
of Symantec Corporation or its
affiliates in the
Corporation
U.S. and other
or its countries.
affiliates inOther
the U.S.
names
and may
otherbe
countries.
trademarks
Other
of their
names
respective
may be owners.
trademarks of their respective owners.
ThisThis
document
document
is provided
is provided
for informational
for informational
purposes
purposes
onlyonly
andand
is not
is not
intended
intended
as advertising.
as advertising.
All warranties
All warranties
relating
relating
to the
to the
information
information
in this
in this
document,
document, either express or implied,
either
are express
disclaimed
or implied,
to the maximum
are disclaimed
extent to
allowed
the maximum
by law. extent
The information
allowed by
inlaw.
this document
The information
is subject
in this
to change
document
without
is subject
notice.
to change without notice.