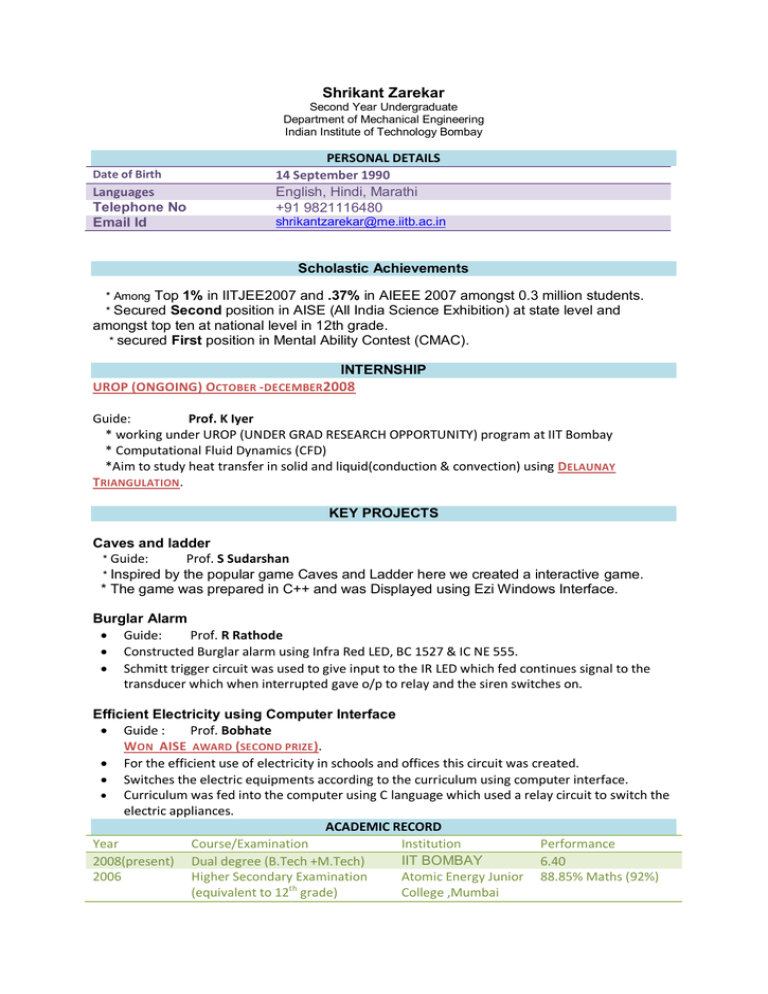 Shrikant Zarekar
Second Year Undergraduate
Department of Mechanical Engineering
Indian Institute of Technology Bombay
Date of Birth
Languages
Telephone No
Email Id
PERSONAL DETAILS
14 September 1990
English, Hindi, Marathi
+91 9821116480
shrikantzarekar@me.iitb.ac.in
Scholastic Achievements
* Among Top 1% in IITJEE2007 and .37% in AIEEE 2007 amongst 0.3 million students.
* Secured Second position in AISE (All India Science Exhibition) at state level and
amongst top ten at national level in 12th grade.
* secured First position in Mental Ability Contest (CMAC).
INTERNSHIP
UROP (ONGOING) OCTOBER -DECEMBER 2008
Guide:
Prof. K Iyer
* working under UROP (UNDER GRAD RESEARCH OPPORTUNITY) program at IIT Bombay
* Computational Fluid Dynamics (CFD)
*Aim to study heat transfer in solid and liquid(conduction & convection) using DELAUNAY
TRIANGULATION .
KEY PROJECTS
Caves and ladder
* Guide:
Prof. S Sudarshan
* Inspired by the popular game Caves and Ladder here we created a interactive game.
* The game was prepared in C++ and was Displayed using Ezi Windows Interface.
Burglar Alarm
 Guide:
Prof. R Rathode
 Constructed Burglar alarm using Infra Red LED, BC 1527 & IC NE 555.
 Schmitt trigger circuit was used to give input to the IR LED which fed continues signal to the
transducer which when interrupted gave o/p to relay and the siren switches on.
Efficient Electricity using Computer Interface
 Guide :
Prof. Bobhate
WON AISE AWARD (SECOND PRIZE ).
 For the efficient use of electricity in schools and offices this circuit was created.
 Switches the electric equipments according to the curriculum using computer interface.
 Curriculum was fed into the computer using C language which used a relay circuit to switch the
electric appliances.
ACADEMIC RECORD
Year
Course/Examination
Institution
Performance
IIT BOMBAY
2008(present) Dual degree (B.Tech +M.Tech)
6.40
2006
Higher Secondary Examination
Atomic Energy Junior 88.85% Maths (92%)
(equivalent to 12th grade)
College ,Mumbai
2004
School of Secondary Examination
(equivalent to 10th grade)
Atomic Energy
School, Mumbai
84.20% Maths (95%)
Courses completed
MECHANICAL ENGINEERING COURSES COVERED






Manufacturing Processes (ME 203)
Strength of Materials
(ME 202)
Solid Mechanics
(ME 201)
Fluid Mechanics
(ME 212)
Thermodynamics
(ME 209)
Engineering Mechanics
(CE 101)



LAB COURSES
Experimental Engineering Lab
Manufacturing Practice Lab
Solid Mechanics Lab


Workshop Practice
Engineering Graphics and Drawing
MECHANICAL ENGINEERING
INSTITUTE COURSES AND LABS










Engineering Metallurgy
Numerical Analysis
Data Analysis and Interpretations Linear Algebra and
Ordinary Differential Equations I
Calculus
Electric Circuits
Modern Physics(Relativistic Mechanics)
Computer Programming (C++)
Physics Lab
Chemistry Lab
HUMANITIES AND ENVIRONMENT SCIENCES



Economics
Environmental Economics
Environmental studies
Software's used:
Programming languages:
Operating Systems:




SKILLS
ANSYS, MATLAB, AUTOCAD, MAYA
C/C++
Various flavours of Linux, Microsoft Windows
Positions of Responsibility
Coordinator in Techtronic department of Techfest 2008(Asia's largest fest).
Organizer in Infrastructure department of Techfest 2007.
Organiser in Infrastructure department of Mood Indigo 2007.
Lead WWF (World Wide Fund for Nature) at school level.


Head boy for two consecutive years at school (2003-2005).
Persistently participated in debating and personality contest over the years.





EXTRA CURRICULAR ACTIVITIES
Won first prize in shooting competition held at IIT BOMBAY 2007-08.
Awarded best physic of the year consecutively in 10th and 11th grade at school level.
Awarded Third prize in INCORPORA (stock exchange game) held at IIT Bombay 2007-08.
Actively participated in RED CROSS activities.
Part of school basket ball team (2003-05).