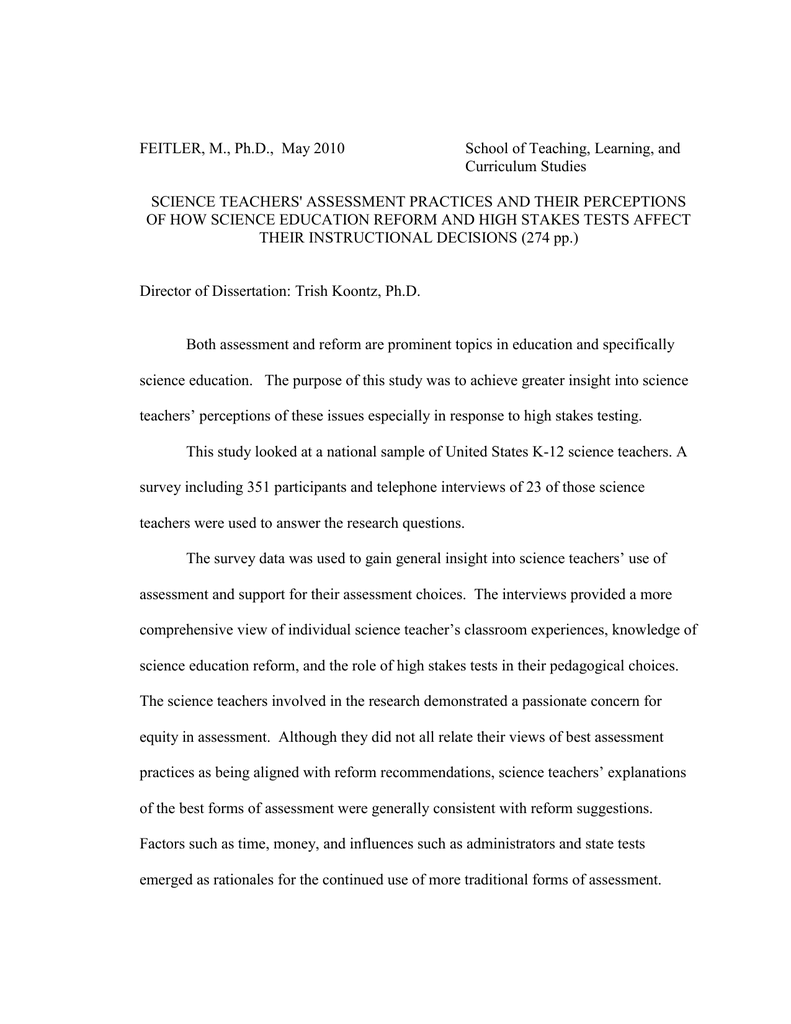 FEITLER, M., Ph.D., May 2010
School of Teaching, Learning, and
Curriculum Studies
SCIENCE TEACHERS' ASSESSMENT PRACTICES AND THEIR PERCEPTIONS
OF HOW SCIENCE EDUCATION REFORM AND HIGH STAKES TESTS AFFECT
THEIR INSTRUCTIONAL DECISIONS (274 pp.)
Director of Dissertation: Trish Koontz, Ph.D.
Both assessment and reform are prominent topics in education and specifically
science education. The purpose of this study was to achieve greater insight into science
teachers" perceptions of these issues especially in response to high stakes testing.
This study looked at a national sample of United States K-12 science teachers. A
survey including 351 participants and telephone interviews of 23 of those science
teachers were used to answer the research questions.
The survey data was used to gain general insight into science teachers" use of
assessment and support for their assessment choices. The interviews provided a more
comprehensive view of individual science teacher"s classroom experiences, knowledge of
science education reform, and the role of high stakes tests in their pedagogical choices.
The science teachers involved in the research demonstrated a passionate concern for
equity in assessment. Although they did not all relate their views of best assessment
practices as being aligned with reform recommendations, science teachers" explanations
of the best forms of assessment were generally consistent with reform suggestions.
Factors such as time, money, and influences such as administrators and state tests
emerged as rationales for the continued use of more traditional forms of assessment.
Limitations of the study, suggestions for further research, and further implications of the
research are also discussed.