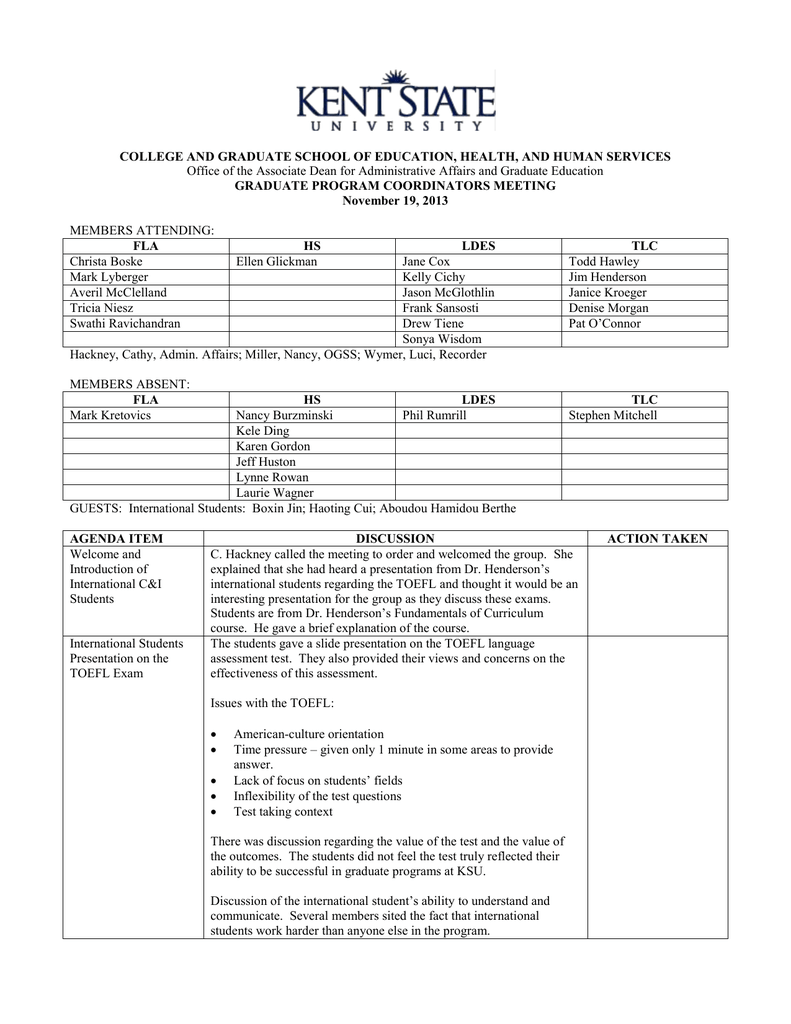 COLLEGE AND GRADUATE SCHOOL OF EDUCATION, HEALTH, AND HUMAN SERVICES
Office of the Associate Dean for Administrative Affairs and Graduate Education
GRADUATE PROGRAM COORDINATORS MEETING
November 19, 2013
MEMBERS ATTENDING:
FLA
Christa Boske
Mark Lyberger
Averil McClelland
Tricia Niesz
Swathi Ravichandran
HS
Ellen Glickman
LDES
Jane Cox
Kelly Cichy
Jason McGlothlin
Frank Sansosti
Drew Tiene
Sonya Wisdom
Hackney, Cathy, Admin. Affairs; Miller, Nancy, OGSS; Wymer, Luci, Recorder
MEMBERS ABSENT:
FLA
Mark Kretovics
HS
LDES
Nancy Burzminski
Phil Rumrill
Kele Ding
Karen Gordon
Jeff Huston
Lynne Rowan
Laurie Wagner
GUESTS: International Students: Boxin Jin; Haoting Cui; Aboudou Hamidou Berthe
AGENDA ITEM
Welcome and
Introduction of
International C&I
Students
International Students
Presentation on the
TOEFL Exam
TLC
Todd Hawley
Jim Henderson
Janice Kroeger
Denise Morgan
Pat O'Connor
TLC
Stephen Mitchell
DISCUSSION
C. Hackney called the meeting to order and welcomed the group. She
explained that she had heard a presentation from Dr. Henderson's
international students regarding the TOEFL and thought it would be an
interesting presentation for the group as they discuss these exams.
Students are from Dr. Henderson's Fundamentals of Curriculum
course. He gave a brief explanation of the course.
The students gave a slide presentation on the TOEFL language
assessment test. They also provided their views and concerns on the
effectiveness of this assessment.
Issues with the TOEFL:





American-culture orientation
Time pressure – given only 1 minute in some areas to provide
answer.
Lack of focus on students' fields
Inflexibility of the test questions
Test taking context
There was discussion regarding the value of the test and the value of
the outcomes. The students did not feel the test truly reflected their
ability to be successful in graduate programs at KSU.
Discussion of the international student's ability to understand and
communicate. Several members sited the fact that international
students work harder than anyone else in the program.
ACTION TAKEN
Discussion and
Development of
Elements for an EHHS
Vision of Graduate
Education





Thesis Registration
Recommendations from
the Doctoral Program
Review Committee
Students incredibly hardworking
Should be viewed on a case by case basis - holistically
Helping them to be more reflective and critical thinkers
Communication
Concern that the written word is focused on more than the
communication skills
 Resources for writing
 GA & TA teaching assignments are not as available for
international students because of lack of language skills.
 C&I requires an advocate in the program if the student has low
TOEFL scores.
 Lack of support services for international students
 20 hr week GA to hold weekly writing group in house.
Suggested by the Doctoral Program Review Committee that the thesis
students be registered by the school offices for thesis just as the
doctoral students are registered for Dissertation I & II. How this
would work was explained.
Anything else for the
good of the group?
E. Eckert has set a deadline of the end of the semester for any program
related items to be included in the alumni survey.
The meeting was adjourned at 11:18 am
Next meeting: Friday, Dec. 13th, 10:00 – 11:30, WH- Rm 200
Respectfully submitted
Luci Wymer, Recorder
C. Hackney will meet
with the School
directors to determine is
this new procedure
would be possible.