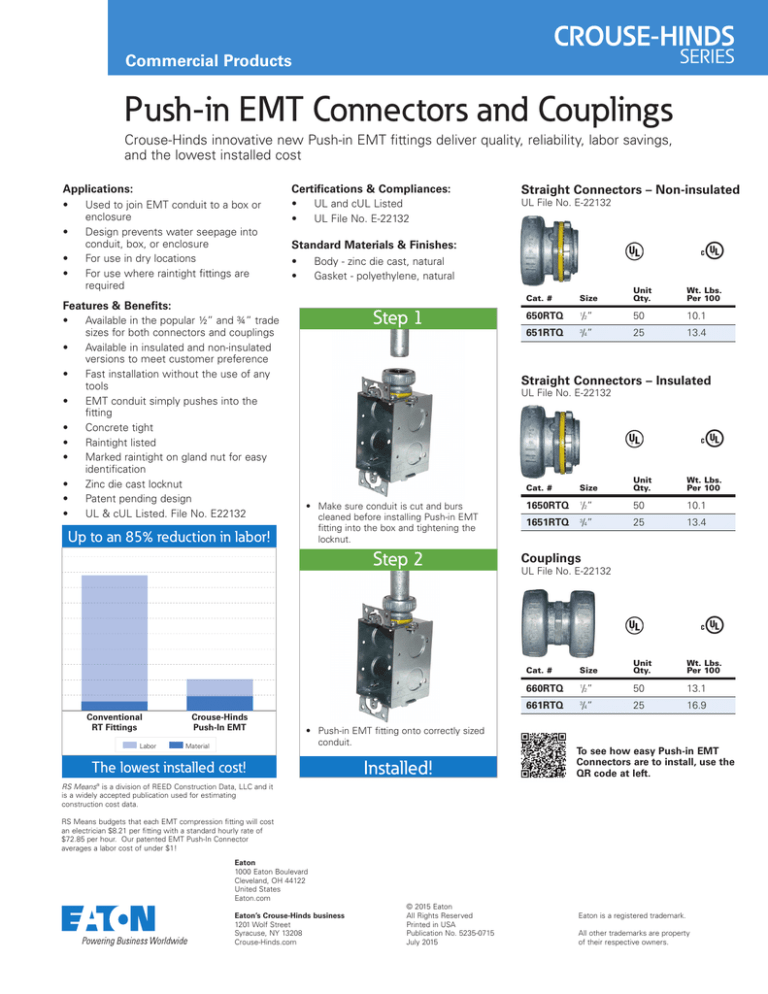 Commercial Products
Push-in EMT Connectors and Couplings
Crouse-Hinds innovative new Push-in EMT fittings deliver quality, reliability, labor savings,
and the lowest installed cost
Applications:
Certifications & Compliances:
Straight Connectors – Non-insulated
•
•
•
UL File No. E-22132
•
•
•
Used to join EMT conduit to a box or
enclosure
Design prevents water seepage into
conduit, box, or enclosure
For use in dry locations
For use where raintight fittings are
required
UL and cUL Listed
UL File No. E-22132
Standard Materials & Finishes:
•
•
Body - zinc die cast, natural
Gasket - polyethylene, natural
Features & Benefits:
•
•
•
•
•
•
•
•
•
•
Available in the popular ½" and ¾" trade
sizes for both connectors and couplings
Available in insulated and non-insulated
versions to meet customer preference
Fast installation without the use of any
tools
EMT conduit simply pushes into the
fitting
Concrete tight
Raintight listed
Marked raintight on gland nut for easy
identification
Zinc die cast locknut
Patent pending design
UL & cUL Listed. File No. E22132
Up to an 85% reduction in labor!
Step 1
Labor
Crouse-Hinds
Push-In EMT
Material
Size
Unit
Qty.
Wt. Lbs.
Per 100
650RTQ
1
/2"
50
10.1
651RTQ
3
/4"
25
13.4
Straight Connectors – Insulated
UL File No. E-22132
• Make sure conduit is cut and burs
cleaned before installing Push-in EMT
fitting into the box and tightening the
locknut.
Step 2
Conventional
RT Fittings
Cat. #
• Push-in EMT fitting onto correctly sized
conduit.
The lowest installed cost!
Installed!
Cat. #
Size
Unit
Qty.
Wt. Lbs.
Per 100
1650RTQ
1
/2"
50
10.1
1651RTQ
3
/4"
25
13.4
Couplings
UL File No. E-22132
Cat. #
Size
Unit
Qty.
Wt. Lbs.
Per 100
660RTQ
1
/2"
50
13.1
661RTQ
3
/4"
25
16.9
To see how easy Push-in EMT
Connectors are to install, use the
QR code at left.
RS Means® is a division of REED Construction Data, LLC and it
is a widely accepted publication used for estimating
construction cost data.
RS Means budgets that each EMT compression fitting will cost
an electrician $8.21 per fitting with a standard hourly rate of
$72.85 per hour. Our patented EMT Push-In Connector
averages a labor cost of under $1!
Eaton
1000 Eaton Boulevard
Cleveland, OH 44122
United States
Eaton.com
Eaton's Crouse-Hinds business
1201 Wolf Street
Syracuse, NY 13208
Crouse-Hinds.com
© 2015 Eaton
All Rights Reserved
Printed in USA
Publication No. 5235-0715
July 2015
Eaton is a registered trademark.
All other trademarks are property
of their respective owners.