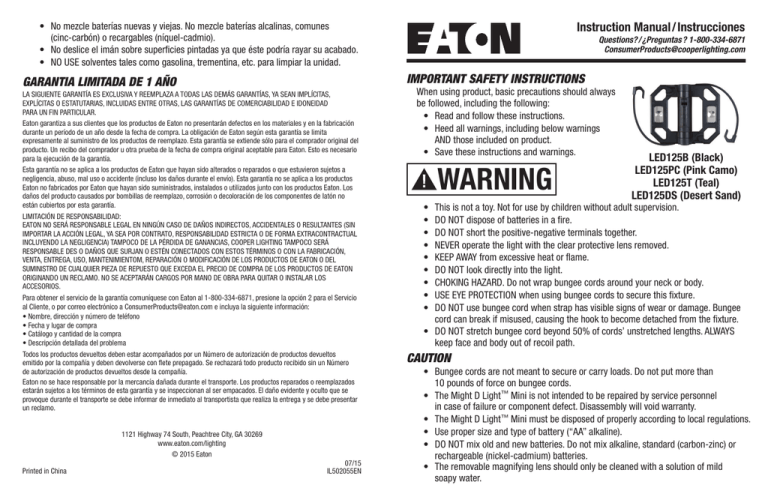 Instruction Manual/Instrucciones
• No mezcle baterías nuevas y viejas. No mezcle baterías alcalinas, comunes
(cinc-carbón) o recargables (níquel-cadmio).
• No deslice el imán sobre superficies pintadas ya que éste podría rayar su acabado.
• NO USE solventes tales como gasolina, trementina, etc. para limpiar la unidad.
IMPORTANT SAFETY INSTRUCTIONS
GARANTIA LIMITADA DE 1 AÑO
LA SIGUIENTE GARANTÍA ES EXCLUSIVA Y REEMPLAZA A TODAS LAS DEMÁS GARANTÍAS, YA SEAN IMPLÍCITAS,
EXPLÍCITAS O ESTATUTARIAS, INCLUIDAS ENTRE OTRAS, LAS GARANTÍAS DE COMERCIABILIDAD E IDONEIDAD
PARA UN FIN PARTICULAR.
Eaton garantiza a sus clientes que los productos de Eaton no presentarán defectos en los materiales y en la fabricación
durante un período de un año desde la fecha de compra. La obligación de Eaton según esta garantía se limita
expresamente al suministro de los productos de reemplazo. Esta garantía se extiende sólo para el comprador original del
producto. Un recibo del comprador u otra prueba de la fecha de compra original aceptable para Eaton. Esto es necesario
para la ejecución de la garantía.
Esta garantía no se aplica a los productos de Eaton que hayan sido alterados o reparados o que estuvieron sujetos a
negligencia, abuso, mal uso o accidente (incluso los daños durante el envío). Esta garantía no se aplica a los productos
Eaton no fabricados por Eaton que hayan sido suministrados, instalados o utilizados junto con los productos Eaton. Los
daños del producto causados por bombillas de reemplazo, corrosión o decoloración de los componentes de latón no
están cubiertos por esta garantía.
LIMITACIÓN DE RESPONSABILIDAD:
EATON NO SERÁ RESPONSABLE LEGAL EN NINGÚN CASO DE DAÑOS INDIRECTOS, ACCIDENTALES O RESULTANTES (SIN
IMPORTAR LA ACCIÓN LEGAL, YA SEA POR CONTRATO, RESPONSABILIDAD ESTRICTA O DE FORMA EXTRACONTRACTUAL
INCLUYENDO LA NEGLIGENCIA) TAMPOCO DE LA PÉRDIDA DE GANANCIAS, COOPER LIGHTING TAMPOCO SERÁ
RESPONSABLE DES O DAÑOS QUE SURJAN O ESTÉN CONECTADOS CON ESTOS TÉRMINOS O CON LA FABRICACIÓN,
VENTA, ENTREGA, USO, MANTENIMIENTOM, REPARACIÓN O MODIFICACIÓN DE LOS PRODUCTOS DE EATON O DEL
SUMINISTRO DE CUALQUIER PIEZA DE REPUESTO QUE EXCEDA EL PRECIO DE COMPRA DE LOS PRODUCTOS DE EATON
ORIGINANDO UN RECLAMO. NO SE ACEPTARÁN CARGOS POR MANO DE OBRA PARA QUITAR O INSTALAR LOS
ACCESORIOS.
Para obtener el servicio de la garantía comuníquese con Eaton al 1-800-334-6871, presione la opción 2 para el Servicio
al Cliente, o por correo electrónico a ConsumerProducts@eaton.com e incluya la siguiente información:
• Nombre, dirección y número de teléfono
• Fecha y lugar de compra
• Catálogo y cantidad de la compra
• Descripción detallada del problema
Todos los productos devueltos deben estar acompañados por un Número de autorización de productos devueltos
emitido por la compañía y deben devolverse con flete prepagado. Se rechazará todo producto recibido sin un Número
de autorización de productos devueltos desde la compañía.
Eaton no se hace responsable por la mercancía dañada durante el transporte. Los productos reparados o reemplazados
estarán sujetos a los términos de esta garantía y se inspeccionan al ser empacados. El daño evidente y oculto que se
provoque durante el transporte se debe informar de inmediato al transportista que realiza la entrega y se debe presentar
un reclamo.
1121 Highway 74 South, Peachtree City, GA 30269
www.eaton.com/lighting
© 2015 Eaton
Printed in China
Questions?/¿Preguntas? 1-800-334-6871
ConsumerProducts@cooperlighting.com
07/15
IL502055EN
When using product, basic precautions should always
be followed, including the following:
• Read and follow these instructions.
• Heed all warnings, including below warnings
AND those included on product.
• Save these instructions and warnings.
WARNING
•
•
•
•
•
•
•
•
•
LED125B (Black)
LED125PC (Pink Camo)
LED125T (Teal)
LED125DS (Desert Sand)
This is not a toy. Not for use by children without adult supervision.
DO NOT dispose of batteries in a fire.
DO NOT short the positive-negative terminals together.
NEVER operate the light with the clear protective lens removed.
KEEP AWAY from excessive heat or flame.
DO NOT look directly into the light.
CHOKING HAZARD. Do not wrap bungee cords around your neck or body.
USE EYE PROTECTION when using bungee cords to secure this fixture.
DO NOT use bungee cord when strap has visible signs of wear or damage. Bungee
cord can break if misused, causing the hook to become detached from the fixture.
• DO NOT stretch bungee cord beyond 50% of cords' unstretched lengths. ALWAYS
keep face and body out of recoil path.
CAUTION
• Bungee cords are not meant to secure or carry loads. Do not put more than
10 pounds of force on bungee cords.
• The Might D Light™ Mini is not intended to be repaired by service personnel
in case of failure or component defect. Disassembly will void warranty.
• The Might D Light™ Mini must be disposed of properly according to local regulations.
• Use proper size and type of battery ("AA" alkaline).
• DO NOT mix old and new batteries. Do not mix alkaline, standard (carbon-zinc) or
rechargeable (nickel-cadmium) batteries.
• The removable magnifying lens should only be cleaned with a solution of mild
soapy water.
• Los lentes con aumento extraíbles solo se deben limpiar con una solución jabonosa suave.
• Do not slide on finished painted surfaces as magnet may scratch finish.
• DO NOT USE solvents such as gasoline, turpentine, etc., to clean unit.
1-YEAR LIMITED WARRANTY
THE FOLLOWING WARRANTY IS EXCLUSIVE AND IN LIEU OF ALL OTHER WARRANTIES, WHETHER
EXPRESS, IMPLIED OR STATUTORY INCLUDING, BUT NOT LIMITED TO, ANY WARRANTY OF
MERCHANTABILITY OR FITNESS FOR ANY PARTICULAR PURPOSE.
Eaton warrants to customers that, for a period of one year from the date of purchase, Eaton products
will be free from defects in materials and workmanship. The obligation of Eaton under this warranty is
expressly limited to the provision of replacement products. This warranty is extended only to the original
purchaser of the product. A purchaser's receipt or other proof of date of original purchase acceptable to
Eaton. This is required before warranty performance shall be rendered.
This warranty does not apply to Eaton products that have been altered or repaired or that have
been subjected to neglect, abuse, misuse or accident (including shipping damages). This warranty does
not apply to products not manufactured by Eaton which have been supplied, installed, and/or used in
conjunction with Eaton products. Damage to the product caused by replacement bulbs or corrosion or
discoloration of brass components are not covered by this warranty.
LIMITATION OF LIABILITY:
IN NO EVENT SHALL EATON BE LIABLE FOR SPECIAL, INDIRECT, INCIDENTAL, OR CONSEQUENTIAL
DAMAGES (REGARDLESS OF THE FORM OF ACTION, WHETHER IN CONTRACT, STRICT LIABILITY, OR IN
TORT INCLUDING NEGLIGENCE), NOR FOR LOST PROFITS; NOR SHALL THE LIABILITY
OF EATON FOR ANY CLAIMS OR DAMAGE ARISING OUT OF OR CONNECTED WITH THESE TERMS OR THE
MANUFACTURE, SALE, DELIVERY, USE, MAINTENANCE, REPAIR OR MODIFICATION OF EATON PRODUCTS,
OR SUPPLY OF ANY REPLACEMENT PARTS THEREFORE, EXCEED THE PURCHASE PRICE OF EATON
PRODUCTS GIVING RISE TO A CLAIM. NO LABOR CHARGES WILL BE ACCEPTED TO REMOVE OR
INSTALL FIXTURES.
To obtain warranty service, please contact Eaton at 1-800-334-6871, press option 2 for Customer
Service, or via e-mail ConsumerProducts@eaton.com and include the following information:
• Name, address and telephone number
• Date and place of purchase
• Catalog and quantity purchase
• Detailed description of problem
All returned products must be accompanied by a Return Goods Authorization Number issued by
the Company and must be returned freight prepaid. Any product received without a Return Goods
Authorization Number from the Company will be refused.
Eaton is not responsible for merchandise damaged in transit. Repaired or replaced products shall be
subject to the terms of this warranty and are inspected when packed. Evident or concealed damage
that is made in transit should be reported at once to the carrier making the delivery and a claim filed
with them.­­
ESPAÑOL
INSTRUCCIONES IMPORTANTES DE SEGURIDAD
Al utilizar el producto, siempre se deben seguir las precauciones básicas,
incluído lo siguiente:
• Lea y siga estas instrucciones.
• Tenga en cuenta todas las advertencias, incluyendo las advertencias a continuación
Y aquellas incluidas en el producto.
• Guarde estas instrucciones y advertencias.
•
•
•
•
•
•
•
•
ADVERTENCIA
Esto no es un juguete. No apto para niños sin estar supervisados por personas adultas.
NO ELIMINE de las baterías en el fuego.
NO junte las terminales positiva-negativa.
NUNCA opere la luz sin el lente protector transparente.
MANTENGALO ALEJADO del calor o llamas en exceso.
NO vea directamente hacia la luz.
PELIGRO DE ASFIXIA No enrosque la cuerda elástica alrededor del cuello o del cuerpo.
UTILICE LENTES PROTECTORES cuando use cuerdas elásticas para asegurar
este aparato.
• NO utilice la cuerda elástica cuando la cinta presente signos visibles de desgaste
o esté dañada. La cuerda elástica puede cortarse si no se la utiliza correctamente,
y es posible que el gancho se desprenda del aparato.
• NO estire las cuerdas elásticas más del 50% del largo no estirado de las cuerdas.
SIEMPRE mantenga el cuerpo y la cara fuera del alcance del rango de retroceso
de la cuerda.
PRECAUCION
• La función de las cintas elásticas no es asegurar ni transportar cargas. No
ejerza más de 10 libras de fuerza en las cuerdas elásticas.
• La Might-D-Light™ Mini no está fabricada para ser reparada por un servicio
personal en caso de fallas o defectos de un componente. Desarmar el accesorio
anulará la garantía.
• La Might D Light™ Mini debe disponerse correctamente según regulaciones locales.
• Use el tamaño y el tipo adecuados de batería ("AA" alcalino).