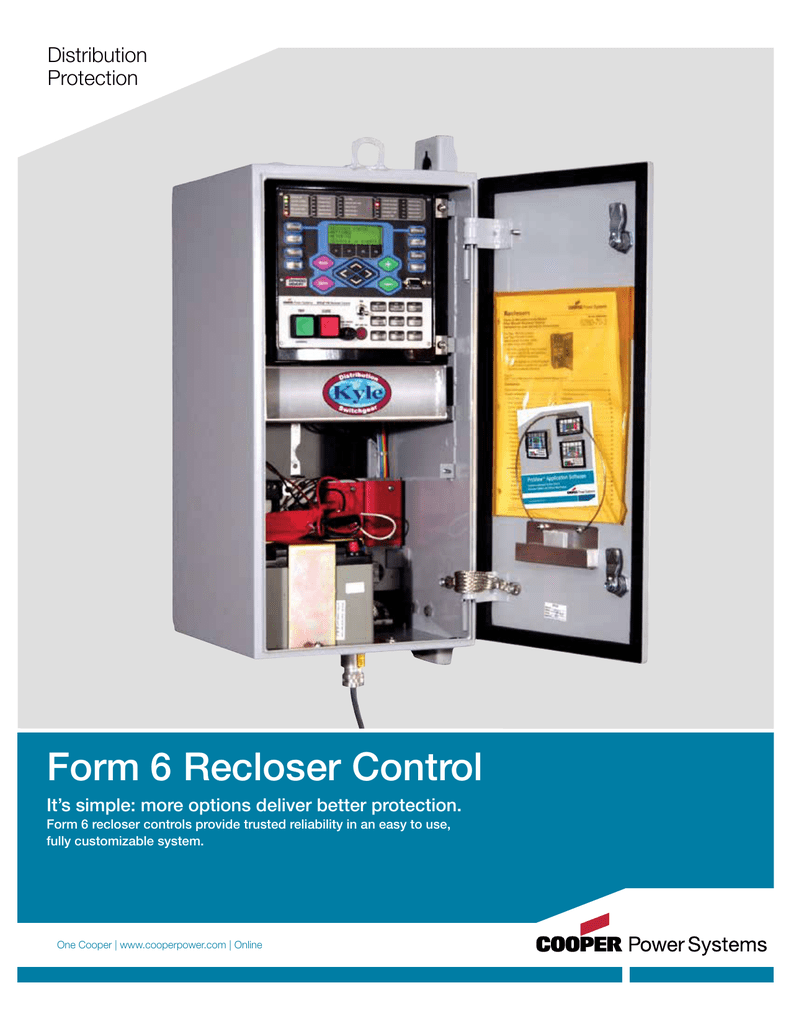 Distribution
Protection
Form 6 Recloser Control
It's simple: more options deliver better protection.
Form 6 recloser controls provide trusted reliability in an easy to use,
fully customizable system.
One Cooper | www.cooperpower.com | Online
Customized protection
that's easy to use.
The Form 6 recloser control is
available in rack mount, pole mount,
and yard mount configurations.
The Form 6 recloser control gives you more options,
more data, and more control – and the reliability you
expect from Cooper Power Systems.
The Form 6 control panel is designed for ease of use and
flexibility, with clearly defined programming and operating
functions, one-touch analysis keys, LED status indication,
and easy access to MMI messages. The back panel features
readily identifiable communication ports and connections,
easily accessible through the back door of the control cabinet.
Rack-mounted controls also offer easy access to the back panel
when mounted in a standard 19" rack.
Flexibility – customization options:
■■ Time Current Curves – modifiable for multiple applications
with TCC Editor II, High Current Lockout, Fast Trip Disabled,
Sequence Coordination, and Cold Load Pickup
■■ Discrete SCADA Communications – provides five configurable
output status contacts and three configurable input control
contacts
■■ Removable Inserts – for customizing specific protection
requirements
■■ Idea Workbench™ Software Functionality – to customize the
Form 6 control for specific and unique applications
Reliability – performance you can count on:
■■ Protection Profiles – four profiles capable of fully specifying
control operation are standard
■■ Sensitive Ground/Earth Fault Operation – provides tripping
of the recloser after definite time for ground currents below
normal ground minimum trip levels
■■ Event Recording – Oscillography and Sequence of Events
time-stamping for up to 33 event types
■■ System Monitoring – Instantaneous/Demand metering, Data
Profiler, Recloser Duty Monitor and Fault Location
■■ Manual Close Delay – provides a delay from the time the manual
CLOSE button is pushed to the time the manual close operation
is performed
■■ Thermostatically Controlled Heater – standard on pole- and
yard-mount styles
Control – the features you want:
For more information about the Form 6
microprocessor-based recloser control,
call 1-877-CPS-INFO (877-277.4636) or
visit www.cooperpower.com.
■■ Security – Multiple programming passwords and viewing codes limit
access to authorized personnel
■■ Multi-Function Device – Frequency and Voltage Protection with
Synchronism Check supervision of close commands
■■ Directional – for maintaining system coordination from multiple
sources
Cooper Power Systems
2300 Badger Drive
Waukesha, WI 53188
P: 877.CPS.INFO (877.277.4636)
One Cooper | www.cooperpower.com | Online
B280-08011 • 0912
Cooper Power Systems and Idea Workbench are valuable trademarks of Cooper Industries in the U.S. and other countries.
You are not permitted to use the Cooper Trademarks without the prior written consent of Cooper Industries.
©2012 Cooper Industries. All Rights Reserved.