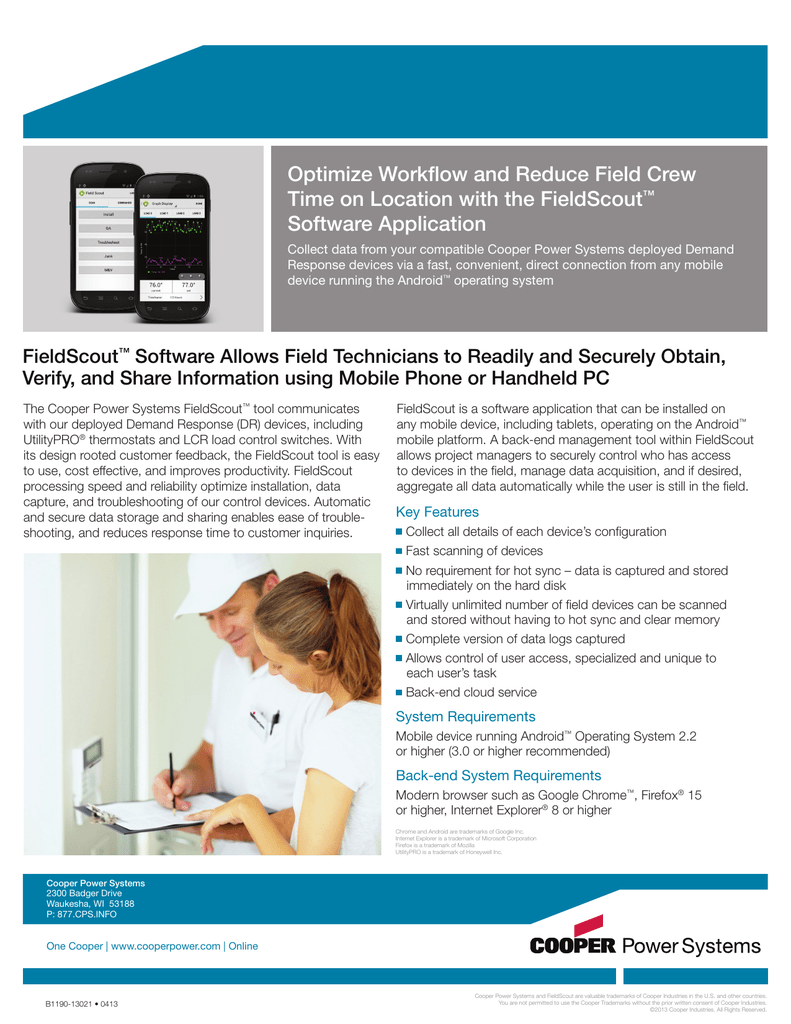 Market if applies [Subtitle white-front, 65 Medium, 11pt, 11.5 pt Leading]
Product or Solution
Photo
Optimize Workflow and Reduce Field Crew
Time on Location with the FieldScout™
Software Application
Collect data from your compatible Cooper Power Systems deployed Demand
Response devices via a fast, convenient, direct connection from any mobile
device running the Android™ operating system
FieldScout™ Software Allows Field Technicians to Readily and Securely Obtain,
Verify, and Share Information using Mobile Phone or Handheld PC
The Cooper Power Systems FieldScout™ tool communicates
with our deployed Demand Response (DR) devices, including
UtilityPRO® thermostats and LCR load control switches. With
its design rooted customer feedback, the FieldScout tool is easy
to use, cost effective, and improves productivity. FieldScout
processing speed and reliability optimize installation, data
capture, and troubleshooting of our control devices. Automatic
and secure data storage and sharing enables ease of troubleshooting, and reduces response time to customer inquiries.
FieldScout is a software application that can be installed on
any mobile device, including tablets, operating on the Android™
mobile platform. A back-end management tool within FieldScout
allows project managers to securely control who has access
to devices in the field, manage data acquisition, and if desired,
aggregate all data automatically while the user is still in the field.
Key Features
• Collect all details of each device's configuration
• Fast scanning of devices
• No requirement for hot sync – data is captured and stored
immediately on the hard disk
• Virtually unlimited number of field devices can be scanned
and stored without having to hot sync and clear memory
• Complete version of data logs captured
• Allows control of user access, specialized and unique to
each user's task
• Back-end cloud service
System Requirements
Mobile device running Android™ Operating System 2.2
or higher (3.0 or higher recommended)
Back-end System Requirements
Modern browser such as Google Chrome™, Firefox® 15
or higher, Internet Explorer® 8 or higher
Chrome and Android are trademarks of Google Inc.
Internet Explorer is a trademark of Microsoft Corporation
Firefox is a trademark of Mozilla
UtilityPRO is a trademark of Honeywell Inc.
Cooper Power Systems
2300 Badger Drive
Waukesha, WI 53188
P: 877.CPS.INFO
One Cooper | www.cooperpower.com | Online
B1190-13021 • 0413
Cooper Power Systems and FieldScout are valuable trademarks of Cooper Industries in the U.S. and other countries.
You are not permitted to use the Cooper Trademarks without the prior written consent of Cooper Industries.
©2013 Cooper Industries. All Rights Reserved.