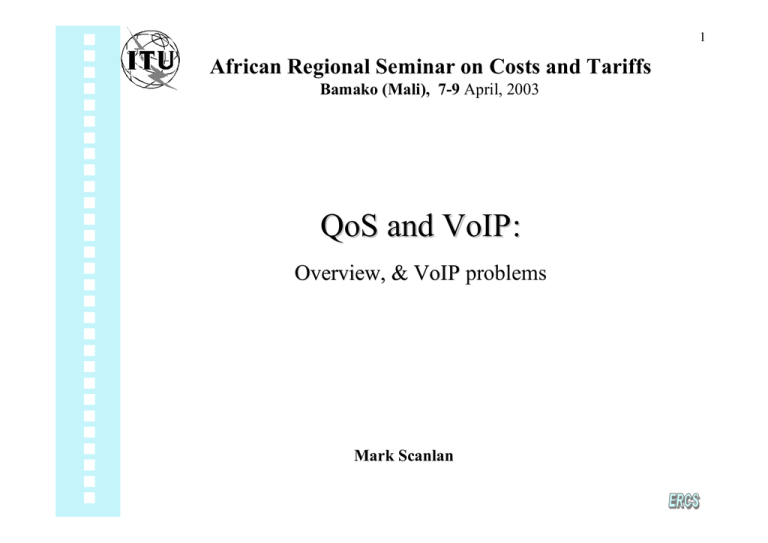 1
African Regional Seminar on Costs and Tariffs
Bamako (Mali), 7-9 April, 2003
QoS and VoIP :
Overview, & VoIP problems
Mark Scanlan
2
Overview of the internet and IP (1)
Ø The Internet is comprised of well over 100,000 networks
which operate different software and hardware solutions on
top of TCP/IP protocols.
Ø This diversity is both a strength and a weakness.
1. It means that networks using non standardised equipment
and operating with non standardised and diverse
software, can connect and communicate with each other.
2. On the negative side this diversity makes it difficult to
overcome technical (hardware and software) obstacles
that stand in the way of seamless interoperability
between networks.
3
Overview of the internet and IP (2)
OSI and Internet protocol stack
Layer 7 – Application
Applications and Services
Layer 6 – Presentation
Layer 5 – Session
TCP or UDP
Layer 4 – Transport
IP
Layer 3 – Network
Layer 2 - Data Link
Layer 2 - Data Link
Layer 1 - Physical
Layer 1 – Physical
Ø Applications and services protocols operate above at layers 5-7.
Ø The technical obstacles that stand in the way of seamless
interoperability will need to be overcome in order for the
Internet to converge with other platforms such as the PSTN
4
Overview of the internet and IP (3)
Ø The Internet is arranged in a loose hierarchy of entities,
Ø In some cases an ISP may traverse two or more of these loose
hierarchical levels.
Ø Prior to the mid 1990s only large ISPs maintained
interconnection with several other ISPs.
Ø Nowadays large numbers of regional ISPs connect to several
other regional ISPs (horizontal connectivity).
Ø Moreover, many ISPs connect to more than one transit
provider (vertical connectivity).
Overview of the internet and IP (4)
5
Core ISP
Inter-National Backbone Providers or Core
ISPs (multi-regional or world -wide)
Peering
Core ISP
Part
address
space
g
rin
e
e
p
ss
e
r
add
Core ISP
(Virtually default free zone)
Transit
rt Pa
Large ISP
P
T
T
P
Large ISP
Large ISP
Inter-National Backbone Providers (with
regional focus)
T
T
T
PaP
P
Intra-National Backbone Provider
P
T
T
T
..
.
..
.
..
.
llllll
llllll
llllll
Country A
Country B
Country C
T = Transit
P = Peering
PaP = Part-address peering
Local ISPs
End-users
6
Overview of the internet and IP (5)
Ø Horizontal interconnection is known as peering,
– although where it occurs between ISPs that are not major backbone
providers it is commonly known as secondary peering.
Ø Peers only accept traffic from other peers that is for
termination on their own network.
Ø Under a peering where packets addresses are not recognised
on the receiving ISP's network, the packets are dropped.
Ø With rare exceptions peering relationships do not involve
payment between the peering partners.
– The price each charges to accept traffic from the other for termination
is simply the cost of the reciprocal arrangement;
7
Overview of the internet and IP (6)
Ø Although rare, ISPs that are dissimilar in terms of size may
peer, but the larger ISP will only agree to provide the smaller
ISP with a subset of its total address space,
– The figure refers to part-address peering.
Ø Vertical interconnection is what is covered by transit
contracts. ISPs pay for transit.
Ø ISPs selling transit services will accept traffic that is not for
termination on their network and will route this transit traffic
to peering partners, or will themselves purchase transit where
the termination address is not recognised.
Ø As such, a transit agreement offers connection to all endusers on the Internet.
8
Overview of the internet and IP (7)
Ø Starting in the late 1990s, many smaller ISPs started to take
transit contracts with more than one transit providing ISP.
This is known as multi-homing.
Ø Other forms of connectivity are Hosting, Caching, Mirroring,
and Content Delivery Networks (CDNs).
– Their purpose is to hold content (e.g. web pages) closer to the edges
of the Internet, and in so doing reduce the cost of transit for ISPs, and
improve response times for information requests.
9
QoS on IP networks (1)
Ø IP networks are based on packet switching technology.
Information is digitised and placed into packets, and sent
with other packets from different sources in a randomised
fashion.
Ø This randomising of packets means that all packets are
treated with equal priority be it a packet from voice
conversation, or an email.
Ø Where congestion occurs packets that are earlier in the queue
will be forwarded first,
– i.e. packets containing voice will have to wait for any packets that are
not time-critical and that are earlier in the queue.
Ø VoIP is said to tolerate a certain level of latency (delay), jitter
(delay variation) and does not require high bandwidth.
10
QoS on IP networks (2)
Ø Congestion management on IP networks is not yet especially
well developed, and often results in inadequate quality of
service for VoIP.
Ø IP technology was designed to provide a low cost data delivery
service, where QoS and controls on queuing to be admitted to
the service (GoS) were not important attributes.
Ø ATM is used to carry packets, but the range of QoS options
provided by ATM technology is not available for IP.
Ø For Real-time service the Internet provides two main ways in
which traffic can be managed selectively for QoS.
1) To mark the packets with different priorities (tagging), or
2) To periodically reserve capacities on connections where higher QoS is
required.
11
QoS on IP networks (3)
Voice
10-2
File transfer
Interactive
data
Loss ratio
10-4
Web
browsing
10-6
10-8
Interactive
video
Circuit
Emulation
Broadcast video
1010
10-4
10-3
10-2
10-1
10 0
Maximum delay variation (seconds)
10 1
12
QoS on IP networks (4)
Ø In 1), the technology is known as IntServ (for integrated
services). It works with emulated VCs
Ø Although the IntServ solution can be used on the Internet:
– There are severe scalability problems that prevent its use in large
networks, and
– The IntServ model is a technical solution only. No attention was paid in
its design to the need for the service to be priced in order to manage
demand and supply.
Ø DiffServ (differentiated services) architecture is designed to
operate at the edges of networks based on expected congestion
rather than actual congestion along paths
Ø There are no specified standards for the detailing of expected
capacity profiles, thus the service is mainly "on-net" restricted.
Coordination and end-to-end superior service quality
Transit providing ISP
H E WL E T T
A CKARD
P
HEW L
ETT
PACKARD
ISP (A)
H E WL E T T
PACKARD
Router
E WL E T
H
ACKA
P
RD
HE
WL E T
ACKA
P
RD
Interactive
content
ISP (B)
Not normally a commercially viable
service if it is not end-to-end
:
End-user
gSuperior CoS
g'Best effort'
13
14
QoS on IP networks (5)
Ø Suggests that most VoIP is restricted to private networks and
WAEs, i.e. it is not yet able to replace the PSTN, but for the
public it remains an accounting rate by-pass service.
Ø Class of service technologies are not well developed, and do
not operate on the public Internet to any great degree.
– There is no interface with end-users that enables different CoSes to be
chosen in a way that provides value to users.
Ø The focus for improved QoS appears to have moved to
facilitating convergence between optical and data network
layers under the concept of Packet over SONET (PoS).
Ø For VoIP to operate on the Internet I believe also requires
engineering developments which enable congestion pricing
to work.
15
Conclusions
Ø The Internet is a loose hierarchy of ISPs.
Ø The Internet is ill designed for voice service provision
Ø Superior QoS can not be retained between ISP networks due
to technical reasons, e.g. software and hardware
incompatibility.
Ø VoIP is a service that only operates between certain
locations, and even here QoS tends to be very poor.