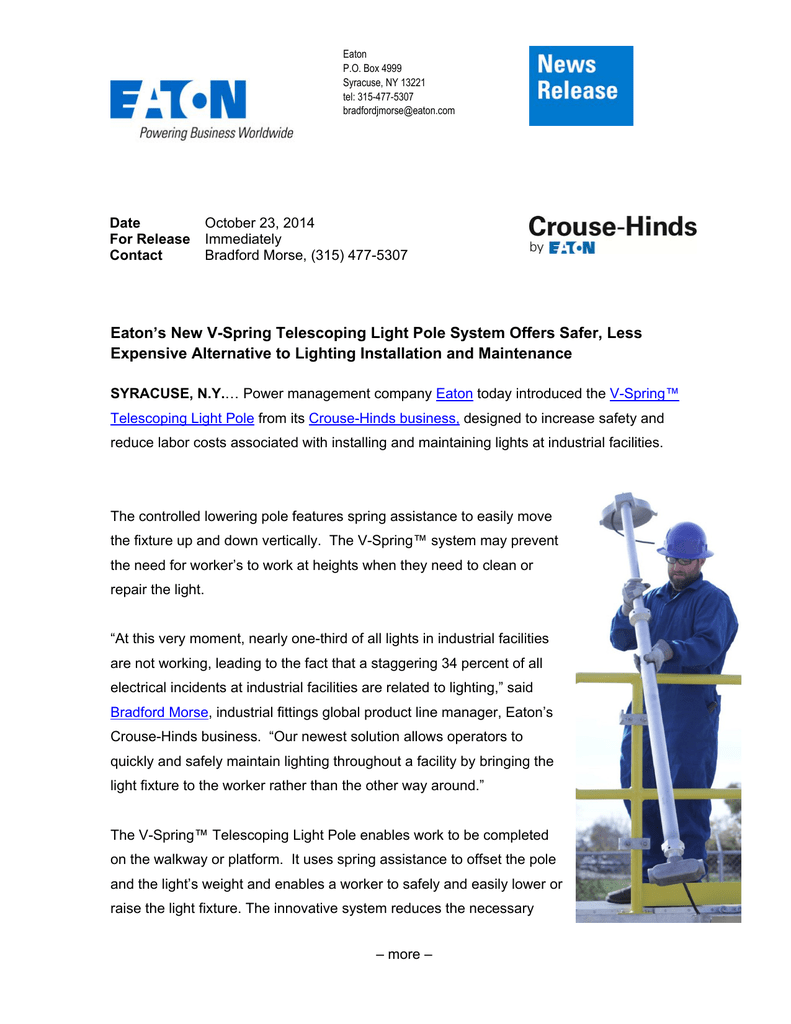 Eaton
P.O. Box 4999
Syracuse, NY 13221
tel: 315-477-5307
[email protected]
Date
For Release
Contact
October 23, 2014
Immediately
Bradford Morse, (315) 477-5307
Eaton's New V-Spring Telescoping Light Pole System Offers Safer, Less
Expensive Alternative to Lighting Installation and Maintenance
SYRACUSE, N.Y.… Power management company Eaton today introduced the V-Spring™
Telescoping Light Pole from its Crouse-Hinds business, designed to increase safety and
reduce labor costs associated with installing and maintaining lights at industrial facilities.
The controlled lowering pole features spring assistance to easily move
the fixture up and down vertically. The V-Spring™ system may prevent
the need for worker's to work at heights when they need to clean or
repair the light.
"At this very moment, nearly one-third of all lights in industrial facilities
are not working, leading to the fact that a staggering 34 percent of all
electrical incidents at industrial facilities are related to lighting," said
Bradford Morse, industrial fittings global product line manager, Eaton's
Crouse-Hinds business. "Our newest solution allows operators to
quickly and safely maintain lighting throughout a facility by bringing the
light fixture to the worker rather than the other way around."
The V-Spring™ Telescoping Light Pole enables work to be completed
on the walkway or platform. It uses spring assistance to offset the pole
and the light's weight and enables a worker to safely and easily lower or
raise the light fixture. The innovative system reduces the necessary
– more –
Eaton/Page 2
number of workers as well as the time it takes to install, clean, or repair the light fixture. By
removing the need to work at heights, the V-Spring™ lowering pole can contribute to
decreased regulatory costs.
The V-Spring™ is fully adjustable from five to ten feet and travels vertically as opposed to
traditional solutions that follow a 45-degree rotational path. It can be locked into any height
position without requiring nuts, safety pins or tethers. A sturdy 2-inch base pole comes
standard on all models and is constructed to meet high structural wind ratings.
The new V-Spring™ Telescoping Light Pole system comes fully assembled and can be
supplied complete with Eaton fixtures and fittings. Inside the pole, the design provides
protection of the CSA/UL 12/3 cable from moisture and from spring mechanism. Available
with a variety of mounting brackets to meet most applications, the V-Spring™ pole is ideal for
use in oil and gas applications, mining, power plants and other industrial settings.
To learn more about the V-Spring™ Telescoping Light Pole and other initiatives from Eaton's
Crouse-Hinds business, visit www.crouse-hinds.com.
Eaton's Crouse-Hinds business offers a range of cable fittings, enclosures, plugs and
receptacles, industrial lighting fixtures, signals and alarms, and electronic components
designed for the most demanding environments. The Crouse-Hinds business serves
customers in the industrial and manufacturing, mining, oil and gas, solar, infrastructure and
other markets.
Eaton's Electrical Sector is a global leader with expertise in power distribution and circuit
protection; backup power protection; control and automation; lighting and security; structural
solutions and wiring devices; solutions for harsh and hazardous environments; and
engineering services. Eaton is positioned through its global solutions to answer today's most
critical electrical power management challenges.
Eaton is a power management company with 2013 sales of $22.0 billion. Eaton provides
energy-efficient solutions that help our customers effectively manage electrical, hydraulic and
mechanical power more efficiently, safely and sustainably. Eaton has approximately 103,000
employees and sells products to customers in more than 175 countries. For more
information, visit www.eaton.com.