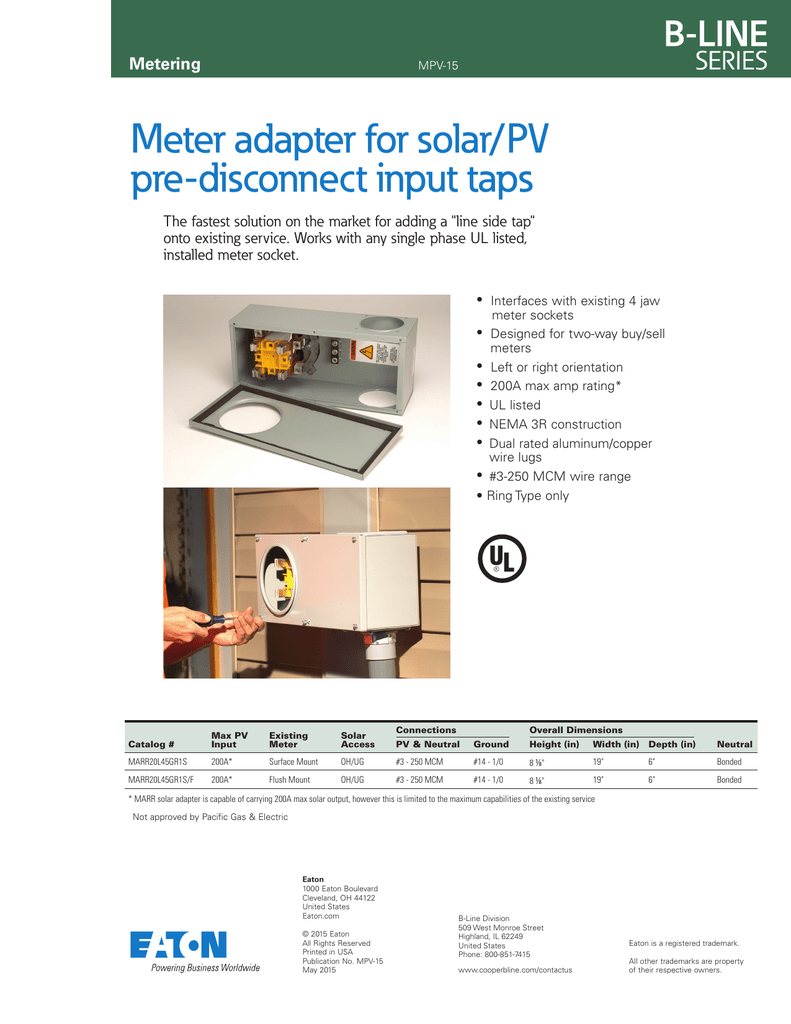 Metering
MPV-15
Meter adapter for solar/PV
pre-disconnect input taps
The fastest solution on the market for adding a "line side tap"
onto existing service. Works with any single phase UL listed,
installed meter socket.
• Interfaces with existing 4 jaw
meter sockets
• Designed for two-way buy/sell
meters
• Left or right orientation
• 200A max amp rating*
• UL listed
• NEMA 3R construction
• Dual rated aluminum/copper
wire lugs
• #3-250 MCM wire range
• Ring Type only
Catalog #
Max PV
Input
Existing
Meter
Solar
Access
MARR20L45GR1S
200A*
Surface Mount
MARR20L45GR1S/F
200A*
Flush Mount
Connections
Overall Dimensions
PV & Neutral
Ground
Height (in)
Width (in)
Depth (in)
Neutral
OH/UG
#3 - 250 MCM
#14 - 1/0
8 1/8"
19"
6"
Bonded
OH/UG
#3 - 250 MCM
#14 - 1/0
8 1/8"
19"
6"
Bonded
* MARR solar adapter is capable of carrying 200A max solar output, however this is limited to the maximum capabilities of the existing service
Not approved by Pacific Gas & Electric
Eaton
1000 Eaton Boulevard
Cleveland, OH 44122
United States
Eaton.com
© 2015 Eaton
All Rights Reserved
Printed in USA
Publication No. MPV-15
May 2015
B-Line Division
509 West Monroe Street
Highland, IL 62249
United States
Phone: 800-851-7415
www.cooperbline.com/contactus
Eaton is a registered trademark.
All other trademarks are property
of their respective owners.