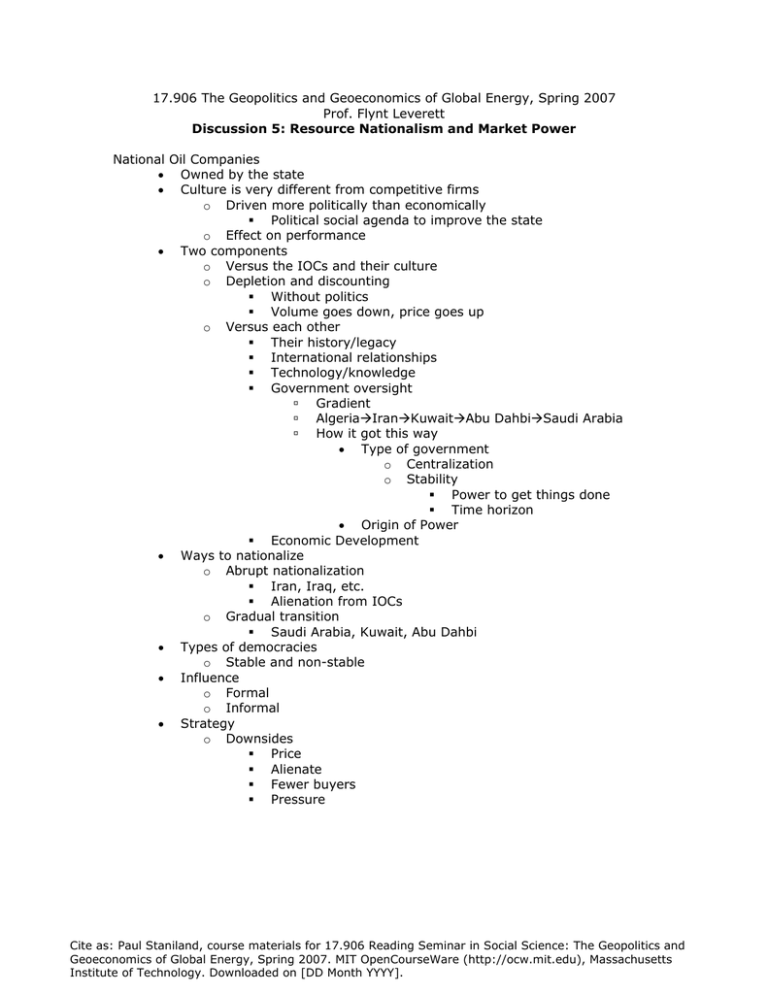 17.906 The Geopolitics and Geoeconomics of Global Energy, Spring 2007
Prof. Flynt Leverett
Discussion 5: Resource Nationalism and Market Power
National Oil Companies
• Owned by the state
• Culture is very different from competitive firms
o Driven more politically than economically
ƒ Political social agenda to improve the state
o Effect on performance
• Two components
o Versus the IOCs and their culture
o Depletion and discounting
ƒ Without politics
ƒ Volume goes down, price goes up
o Versus each other
ƒ Their history/legacy
ƒ International relationships
ƒ Technology/knowledge
ƒ Government oversight
à Gradient
à AlgeriaÆIranÆKuwaitÆAbu DahbiÆSaudi Arabia
à How it got this way
• Type of government
o Centralization
o Stability
ƒ Power to get things done
ƒ Time horizon
• Origin of Power
ƒ Economic Development
• Ways to nationalize
o Abrupt nationalization
ƒ Iran, Iraq, etc.
ƒ Alienation from IOCs
o Gradual transition
ƒ Saudi Arabia, Kuwait, Abu Dahbi
• Types of democracies
o Stable and non-stable
• Influence
o Formal
o Informal
• Strategy
o Downsides
ƒ Price
ƒ Alienate
ƒ Fewer buyers
ƒ Pressure
Cite as: Paul Staniland, course materials for 17.906 Reading Seminar in Social Science: The Geopolitics and
Geoeconomics of Global Energy, Spring 2007. MIT OpenCourseWare (http://ocw.mit.edu), Massachusetts
Institute of Technology. Downloaded on [DD Month YYYY].