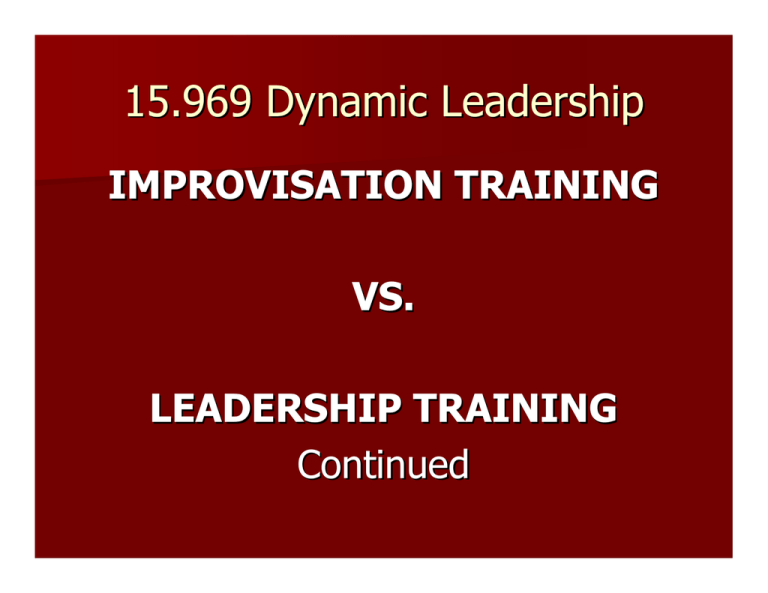 15.969 Dynamic Leadership
IMPROVISATION TRAINING
VS.
LEADERSHIP TRAINING
Continued
Leadership: Image Building
"Change Signature"
"Self-Awareness"
"HOW YOU INSPIRE OTHERS"
"We Must Be the Change We Wish to See in the World"
--- Gandhi
Examples in Today's Leaders?
" CEOs
– Written Word - WSJ
" Women Leaders - WSJ
" Dick Cheney
Improvisational moments define leadership
What Image for You?
" Think
for a moment
" Write down 3-5 characteristics
" Who you are today, who to be tomorrow
" Why are these important for you…
Improvisation utilizes 'characters' for image
YOU?
Group Project:
" Groups
"6
of 4 to 6:
minute presentation
" Real
world example to present
Last Class: Real World Apps
MANAGING UP?
Improvisational? Often YES.
Leadership 'in the moment'
Today's Class: Real? con't
" Networking?
Managing Down?
– Almost always 'improvisational'
– Use techniques learned here!
" Sales?
– Prepared yes…
– Also must react appropriately to cust needs
– Management = Leadership = Sales
Reminder: SKILLS + RISKS
" Learning
a new skill set
– Not content! Difficult here, easy when all info
available
– Learn how YOU react, how audience reacts
– Managing various factors, juggling everything
" Take
Risks
– Play, try, push yourself
– USE YOUR DESIRED IMAGE
FOCUS…Inside Classroom
" Skill
Building vs. Content
" Gaining Confidence
– Presentation Confidence
– Interpersonal Confidence
" Take
risks, push yourself
LAST LEARNING LABORATORY YOU'LL GET!