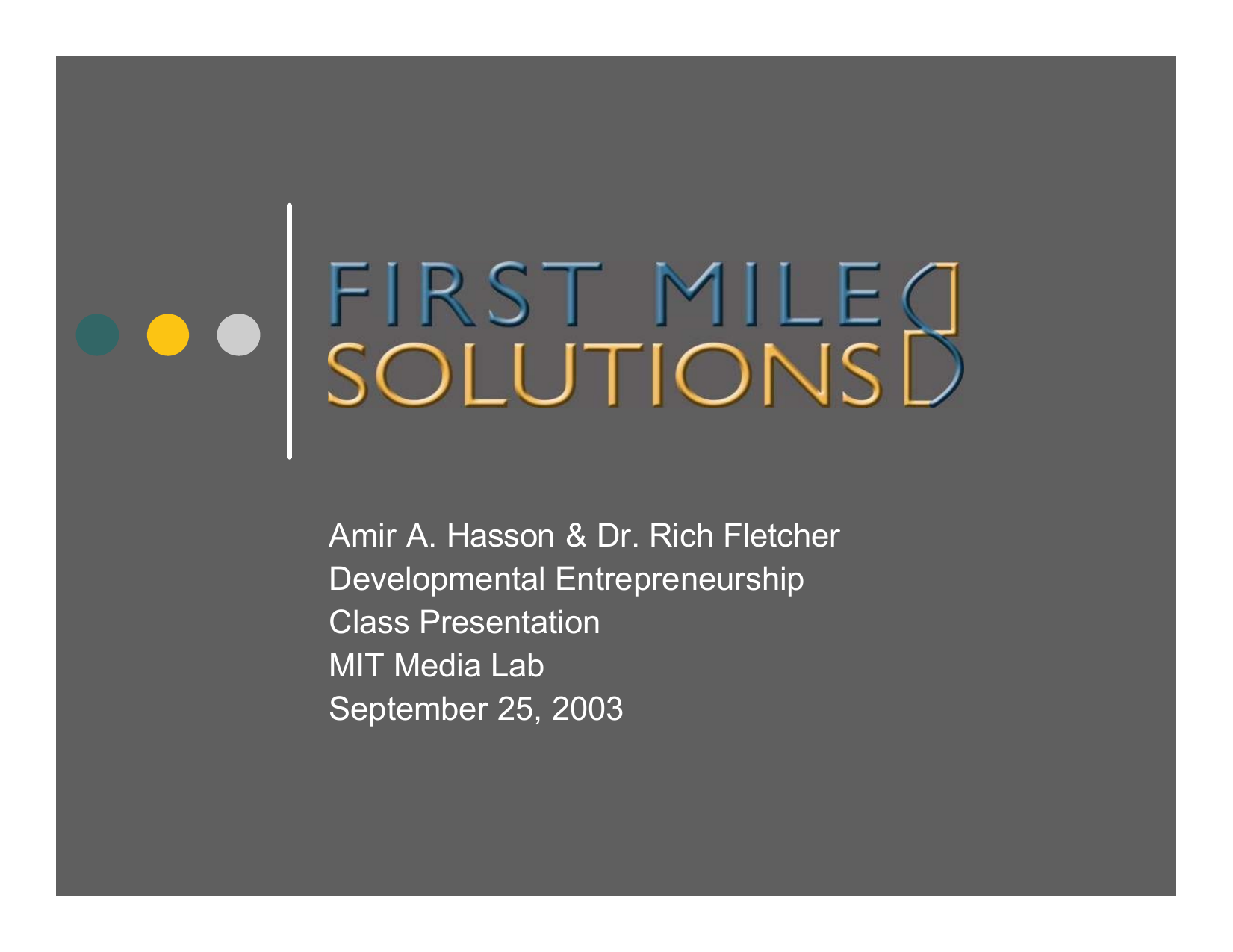 Amir A. Hasson & Dr. Rich Fletcher
Developmental Entrepreneurship
Class Presentation
MIT Media Lab
September 25, 2003
Overview
Introduction: Why are we here?
The Problem (Opportunity)
Approaches
Experiences
Business Strategy
Lessons Learned & The Way Forward
Why are we here?
Why are you here?
Developmental ventures require interdisciplinary teams and more than just
technology.
Political, cultural dimension is critical
The Problem
(Opportunity)
4 Billion Rural People
Remain Unconnected
Chicken and egg problem:
Egg: No affordable, sustainable rural
communications infrastructure
Chicken: No market for rural
communications
What is needed: a low-cost, low-risk means of
providing widespread connectivity so as to:
Overcome infrastructure cost barriers
Test out digital rural applications/services
Stimulate the rural development dynamic
Create incentives for deregulation and
delicensing
The Opportunity
Every 1% increase in value-add or efficiency in this
population segment represents a $40 billion opportunity.
Approaches
Traditional Approaches
Lay Copper
Lay Fiber
Set up UHF/VHF Radio
Set up Cell Phone Towers
Set up Real-Time wLAN Towers
Setup Satellite Connections
FMS Approach
Is real-time really necessary?
ICTs introduced as shared resource
But this has serious drawbacks for real-time
infrastructures:
high level of adoption required to achieve
cost recovery
who am I going to call?
shared communications infrastructure is
typically asynchronous
Transportation infrastructure can be used to
create a network
Experiences
DonkeyNet
India: Bhoomi
First National eGovernance
Initiative in India
Computerization of all land
records in state of Karnataka - Manual land records illegal
Some 500,000 land record
transactions/ month
Seeking means of
decentralizing its database
using wireless technology
MAX2
KIOSK
BUS
STOP
MAX1
Cambodia: Village Schools
Business Strategy
Vision
Same factors driving WiFi revolution in developed
world could drive a revolution in developing world:
low cost for users and providers
east of setup, use and maintenance
high bandwidth
Local entrepreneurs within developing countries will
use WiFi to:
solve chicken and egg problem:
market~infrastructure
proliferate wireless infrastructure
grow seamlessly with rural market, scaling up to
universal broadband connectivity
WiFi Value Chain
WiFi Product
Manufacturers
App. Software
(e.g. billing,
security)
Integration &
Solutions Firms
Network
Deployment
Network
Operator
End
Users
WiFi Value Chain: Emerging
Markets
Developed Markets
WiFi Product
Manufacturers
App. Software
(e.g. billing,
security)
Integration &
Solutions Firms
FMS
Network
Deployment
Network
Operator
End
Users
Emerging Markets
Network
Operator
End
Users
Products
Village WiFi Kit
Desktop
Printer
Fixed Access Point
Antenna
Client Software
• Network Code
• Email
• Non-real-time search engine (TEK)
• Working VMOIP and Search Agents
Administrator Kit
Mobile Access Points
Hub Access Point
Administrator Software
Network Solutions: wISPs
WiFi "hotspots" for urban
and semi-rural
communities
• Enables affordable
devices and services
• Stepping stone for
surrounding WiFi footprint
Network Solutions: Storeand-Forward Wireless
Network Solutions: MultiHop
Network Solutions: Private
Adoption & Meshes
Customers, Funding
Sources
NGOs
Rural Service Companies
Drishtee.com
ISPs/ Telcos
SIFY
Foundations/ Agencies
CambodiaSchools.com
WSIS
Long Run: Network Equipment Companies
Cisco
Lesson Learned &
The Way Forward
Lessons Learned
Development ventures require collaboration
across functions, fields, and cultures
Solve one problem at a time
Hardware should be cheap, rugged, and ugly
Must adopt a user-based approach
International shipping and national regulations
can be considerable obstacles
Must be prepared for a long-haul and never
give up
You can make an impact!
FMS Going Forward
Pursue urban/enterprise markets in
developing countries?
Focus just on "First Mile"?
Non-profit vs. For-profit?
Internship opportunities during IAP…
"ICT4D" Brainstorming
World Computer?
Language/interface/content/
application localization?