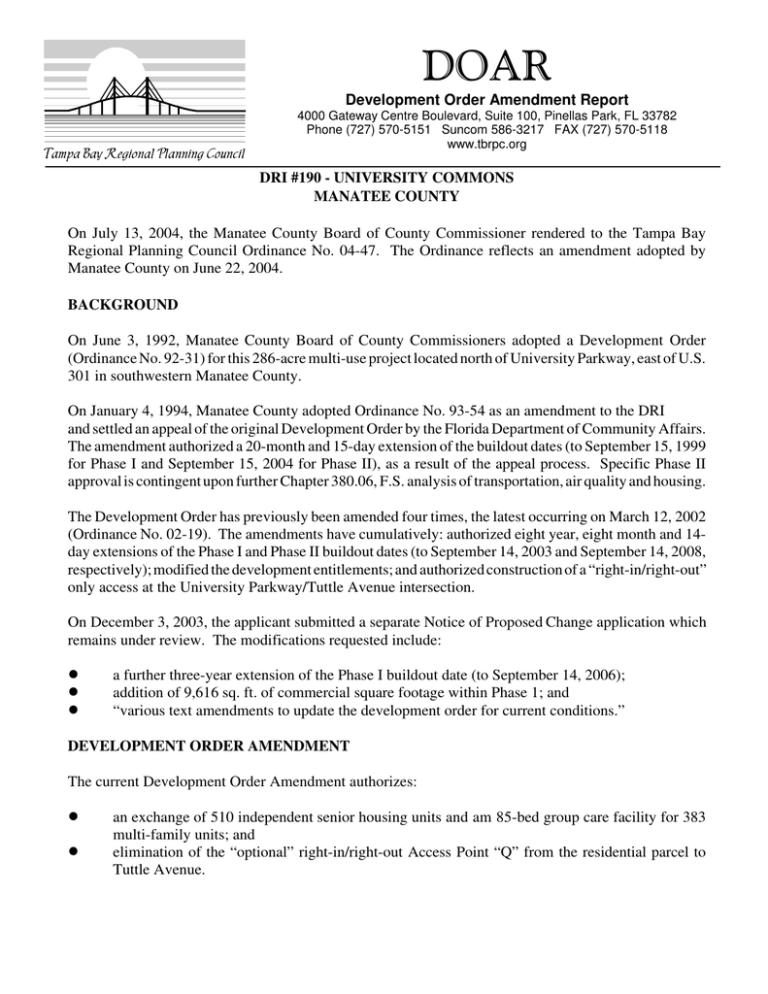 '2$5
Development Order Amendment Report
4000 Gateway Centre Boulevard, Suite 100, Pinellas Park, FL 33782
Phone (727) 570-5151 Suncom 586-3217 FAX (727) 570-5118
www.tbrpc.org
DRI #190 - UNIVERSITY COMMONS
MANATEE COUNTY
On July 13, 2004, the Manatee County Board of County Commissioner rendered to the Tampa Bay
Regional Planning Council Ordinance No. 04-47. The Ordinance reflects an amendment adopted by
Manatee County on June 22, 2004.
BACKGROUND
On June 3, 1992, Manatee County Board of County Commissioners adopted a Development Order
(Ordinance No. 92-31) for this 286-acre multi-use project located north of University Parkway, east of U.S.
301 in southwestern Manatee County.
On January 4, 1994, Manatee County adopted Ordinance No. 93-54 as an amendment to the DRI
and settled an appeal of the original Development Order by the Florida Department of Community Affairs.
The amendment authorized a 20-month and 15-day extension of the buildout dates (to September 15, 1999
for Phase I and September 15, 2004 for Phase II), as a result of the appeal process. Specific Phase II
approval is contingent upon further Chapter 380.06, F.S. analysis of transportation, air quality and housing.
The Development Order has previously been amended four times, the latest occurring on March 12, 2002
(Ordinance No. 02-19). The amendments have cumulatively: authorized eight year, eight month and 14day extensions of the Phase I and Phase II buildout dates (to September 14, 2003 and September 14, 2008,
respectively); modified the development entitlements; and authorized construction of a "right-in/right-out"
only access at the University Parkway/Tuttle Avenue intersection.
On December 3, 2003, the applicant submitted a separate Notice of Proposed Change application which
remains under review. The modifications requested include:
a further three-year extension of the Phase I buildout date (to September 14, 2006);
addition of 9,616 sq. ft. of commercial square footage within Phase 1; and
"various text amendments to update the development order for current conditions."
DEVELOPMENT ORDER AMENDMENT
The current Development Order Amendment authorizes:
an exchange of 510 independent senior housing units and am 85-bed group care facility for 383
multi-family units; and
elimination of the "optional" right-in/right-out Access Point "Q" from the residential parcel to
Tuttle Avenue.
The following phasing schedule is reflective of the current, above-referenced, amendment:
LAND USES
PHASE I
(1992-2003)
PHASE II
(1998-2008)
TOTAL
150
150
100
120
0
0
0
0
0
383
150
150
100
120
383
250,000
175,000
425,000
0
10,000
10,000
RESIDENTIAL
Single-Family Detached (Units)
Single-Family Attached (Units)
Single-Family Semi-Detached (Units)
Skilled Nursing (Beds)
Multi-Family(Units)
COMMERCIAL (SQ. FT.)
OFFICE (SQ. FT.)
RECOMMENDATIONS
In accordance with Section 380.07, Florida Statutes (F.S.), this Development Order has been reviewed and
determined to be consistent with the Council's NOPC Report, adopted on June 28, 2004, and with the
Council'sFinal Report adopted on April 8, 1991.
It is recommended that the Department of Community Affairs concur with the Development Order
amendment issued by Manatee County for DRI #190 - University Commons.