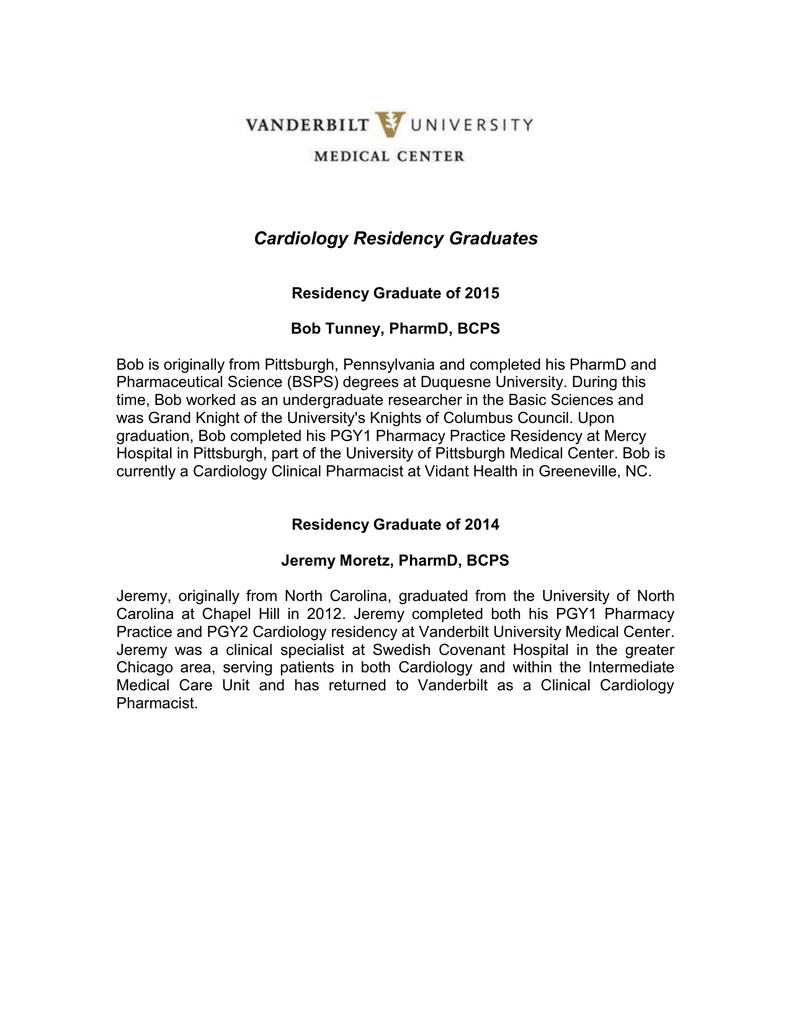 Cardiology Residency Graduates
Residency Graduate of 2015
Bob Tunney, PharmD, BCPS
Bob is originally from Pittsburgh, Pennsylvania and completed his PharmD and
Pharmaceutical Science (BSPS) degrees at Duquesne University. During this
time, Bob worked as an undergraduate researcher in the Basic Sciences and
was Grand Knight of the University's Knights of Columbus Council. Upon
graduation, Bob completed his PGY1 Pharmacy Practice Residency at Mercy
Hospital in Pittsburgh, part of the University of Pittsburgh Medical Center. Bob is
currently a Cardiology Clinical Pharmacist at Vidant Health in Greeneville, NC.
Residency Graduate of 2014
Jeremy Moretz, PharmD, BCPS
Jeremy, originally from North Carolina, graduated from the University of North
Carolina at Chapel Hill in 2012. Jeremy completed both his PGY1 Pharmacy
Practice and PGY2 Cardiology residency at Vanderbilt University Medical Center.
Jeremy was a clinical specialist at Swedish Covenant Hospital in the greater
Chicago area, serving patients in both Cardiology and within the Intermediate
Medical Care Unit and has returned to Vanderbilt as a Clinical Cardiology
Pharmacist.