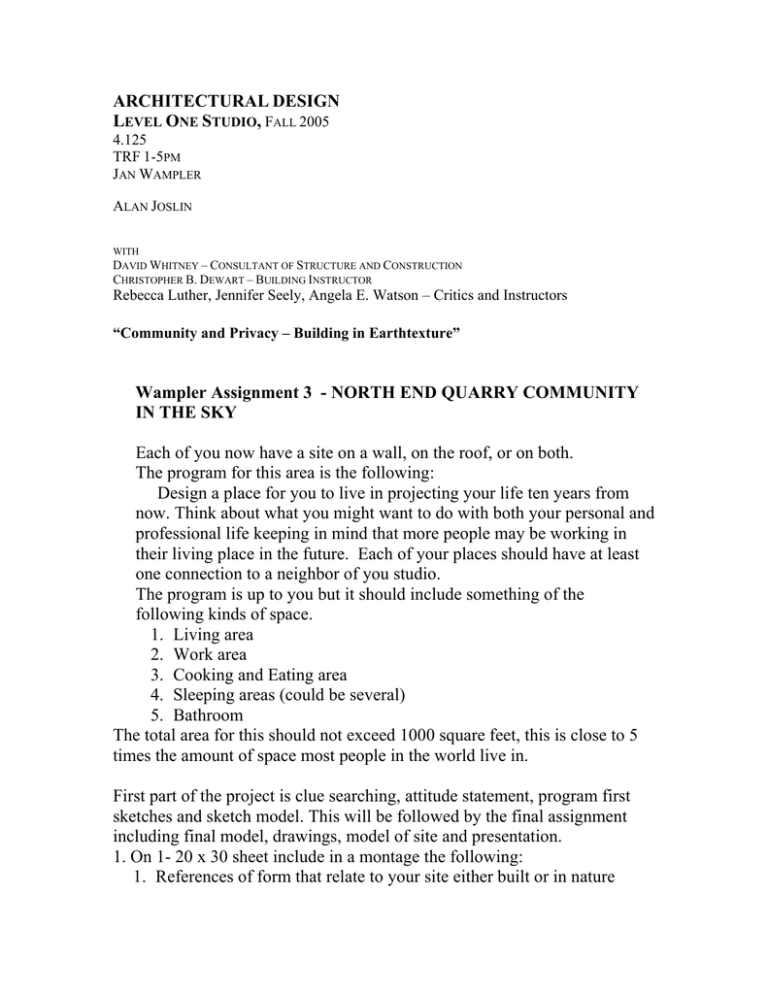 ARCHITECTURAL DESIGN
LEVEL ONE STUDIO, FALL 2005
4.125
TRF 1-5PM
JAN WAMPLER
ALAN JOSLIN
WITH
DAVID WHITNEY – CONSULTANT OF STRUCTURE AND CONSTRUCTION
CHRISTOPHER B. DEWART – BUILDING INSTRUCTOR
Rebecca Luther, Jennifer Seely, Angela E. Watson – Critics and Instructors
"Community and Privacy – Building in Earthtexture"
Wampler Assignment 3 - NORTH END QUARRY COMMUNITY
IN THE SKY
Each of you now have a site on a wall, on the roof, or on both. The program for this area is the following: Design a place for you to live in projecting your life ten years from
now. Think about what you might want to do with both your personal and
professional life keeping in mind that more people may be working in
their living place in the future. Each of your places should have at least
one connection to a neighbor of you studio.
The program is up to you but it should include something of the
following kinds of space.
1. Living area
2. Work area
3. Cooking and Eating area
4. Sleeping areas (could be several)
5. Bathroom
The total area for this should not exceed 1000 square feet, this is close to 5
times the amount of space most people in the world live in.
First part of the project is clue searching, attitude statement, program first
sketches and sketch model. This will be followed by the final assignment
including final model, drawings, model of site and presentation.
1. On 1- 20 x 30 sheet include in a montage the following:
1. References of form that relate to your site either built or in nature
5.
2. Your attitude statement of what this place is like and your idea of your
life in the future
3. A detail program including square feet of your idea.
4. Sketches of first ideas merged into your presentation at 1/8"=10".(plans, sections, sketches
A sketch model out of chip board of the first design.
Due on Friday October 7 for discussion.
We will discuss the work due for the following week.