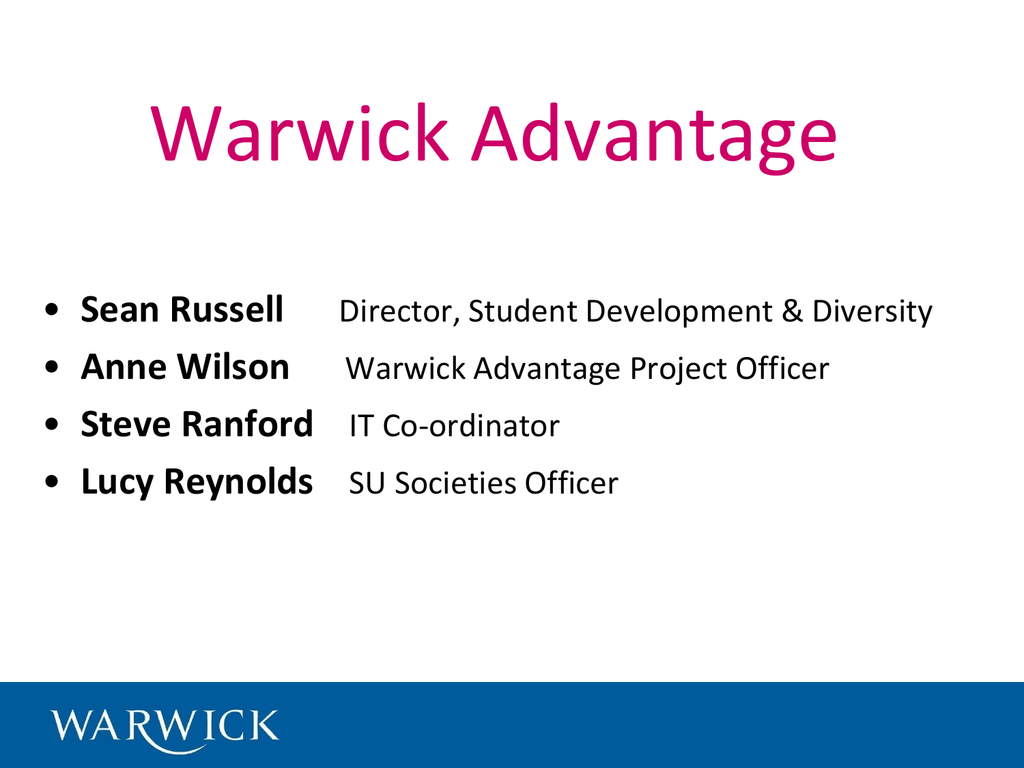 Warwick Advantage
•
•
•
•
Sean Russell
Anne Wilson
Steve Ranford
Lucy Reynolds
Director, Student Development & Diversity
Warwick Advantage Project Officer
IT Co-ordinator
SU Societies Officer
Personal & Academic
Development Planning
• Skills; what skills?
• QAA and Personal Development Planning:
Personal Development Planning is 'a structured and
supported process undertaken by an individual to
reflect upon their own learning, performance and / or
achievement and to plan for their personal,
educational, and career development.' (QAA 2000)
Teaching and
Learning
CSDE
WV
Disability
WA
SU and student
Activities
Employability
Life choices
Consultation & Marketing
•
•
•
•
•
Consultation: Warwick Network – June 2007
Student buy-in – SU and Societies
Link with Employability – Careers Centre
Using existing channels – CCs
Advisors > Champions: Senior Tutors,
Sabbaticals,
Learning and Teaching
QUESTIONS?
Warwick Advantage
Making the most of
your time at Warwick
Anne Wilson
[email protected]
Warwick Advantage
My focus:
• To create something students would use
• To provide a rationale for the benefits of reflection –to
increase graduate employability
• To encourage student responsibility for their progression
• To develop easy to use resources
• To give students choice in the way they reflect
To answer the question at all stages "What's in it for me?"
The process
• Consultation with SU Sabbaticals and groups of students
through SSLCs to outline ideas and seek input
• Discussion with academic staff to explore the new
approach
• Inputs from some Societies (OWW, WSAF, Warwick
Entrepreneurs) to look at skills development
The website
www.go.warwick.ac.uk/advantage
Sports
Execs
Committees
SSLC
Reps
Campaigning
Society
Execs
Volunteering
The Warwick Advantage Award
For commitment, dedication and development
What we want:
What you get:
•
At least one term of nonacademic involvement (or one
year for the higher award)
 A certificate signed by Pro-VC
Michael Whitby (or the Vice
Chancellor for the higher award)
•
Evidence of a project or event
you've taken responsibility for
 An awards celebration event
•
Reflection on your learning and
skills development
 Valuable evidence for your CV
and applications
Union
Officers
What's in it for the University?
• The Opportunities section- a showcase to the public of all
we offer here at Warwick
• Graduate employability is enhanced through students'
ability to translate and articulate their skills
• Warwick Advantage Award- Recruiter endorsement –
further enhancement of students they already rate highly
• Motivating students academically
Ongoing Developments
Reflection Pods
TQEF Project
Steve Ranford
Cont….
• Interactive sessions working with individual groups to help
students identify and articulate skills they are developing
• Departmental Champions who have responsibility for
promoting WA website and activities
• Resources for students with an offer to access before
starting at Warwick
Questions?