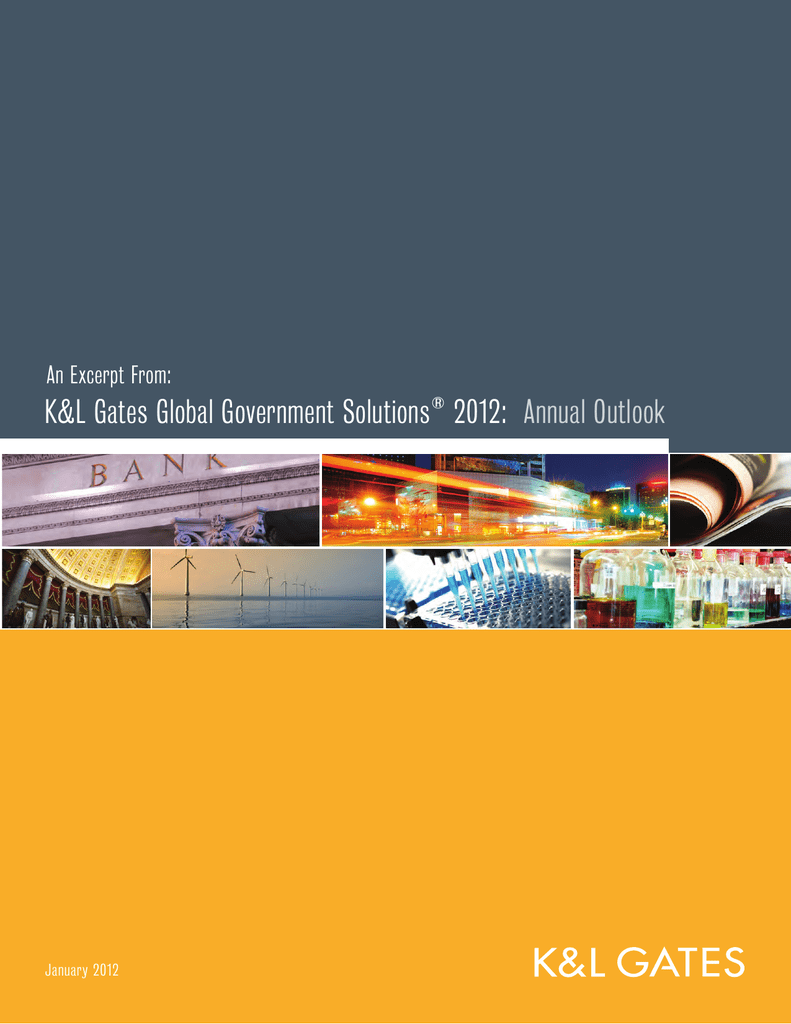 An Excerpt From:
K&L Gates Global Government Solutions ® 2012: Annual Outlook
January 2012
Antitrust and Competition
Pleading Poverty in the Wake of the Economic Crisis:
"Inability to Pay" Defense in EU Cartel Cases
Recent cases confirm the European Commission's willingness to take account, in
setting cartel fines, of companies' financial difficulties, particularly in the ongoing
economic crisis. Businesses facing either the imposition of fines or of recovery
measures, where fines are imposed but yet unpaid, are eligible for an 'inability to
pay' (ITP) reduction if they can show that the full fine would put them at a serious
risk of bankruptcy.
The high level of fines imposed in EU
cartel cases in recent years has become
all too familiar. Small and medium
enterprises (SMEs) and single product
companies find it increasingly difficult to
pay these heavy fines, especially in the
on-going economic crisis. The number
of businesses claiming their ITP and
requesting a fine reduction on that basis
has, as a result, risen significantly. ITP
claims are based on point 35 of the EU
Fining Guidelines. These rules entitle the
European Commission to take account,
at its discretion, of the critical financial
situation of individual businesses.
Following a strict case-by-case analysis,
the agency may grant, in exceptional
cases and upon request, fine reductions
to companies unable to pay the full fine.
In practice, a company has essentially
to show that the fine would "irretrievably
jeopardize [its] economic viability," thus
likely forcing it into liquidation. A mere
adverse or loss-making financial situation
would not be enough.
Interestingly, despite these rules being
in place for several years, it was only
in the wake of the economic crisis that,
in November 2009, the Commission
accepted ITP claims for the first time.
Since then, the Commission has granted
significant fine reductions—between
25 and 75 percent—in a number of
cases, including two cases in the last
year. In March 2011, the Commission
accepted a post-decision ITP claim
and lowered fines imposed in 2007 in
Fasteners (payment had been deferred
30
pending court proceedings). In December
2011, the Commission reduced fines in
Refrigeration Compressors, showing its
increased receptiveness to take account
of companies' financial difficulties in
the economic crisis. As Competition
Commissioner Almunia recently remarked,
it is the Commission's concern "not to
provoke a company's bankruptcy" as
"competition policy is about promoting
competition, not eliminating firms from the
market place."
The favorable stance towards ITP claims
is expected to continue at least as long
as the economic downturn persists.
The creation of a fully dedicated ITP
team within the Commission's Cartels
Directorate confirms the agency's long
term commitment to screen ITP claims
and grant relief where bankruptcy
concerns are substantiated. Since they
are financially more vulnerable than
larger groups, SMEs and single product
businesses are best placed to get relief,
in particular where active in sectors
especially affected by the recession
(e.g., construction, metal products,
and other manufacturing industries,
as found in recent decisions). First,
they face significantly higher fines, in
proportional terms, than larger companies
or diversified groups, often reaching
the legal upper limit of 10 percent of
total worldwide turnover. Second, they
normally do not hold sufficient cash to
pay the full fine, nor can they rely on
cash flow from conglomerate businesses
or controlling shareholders. Third, if
K&L Gates Global Government Solutions ® 2012 Annual Outlook
active in sectors in economic crisis, SMEs
and single product companies face the
additional hurdle that finding access to
capital or credit is extremely difficult due
to the declining demand. For example,
in granting fine reductions in Bathroom
Fittings and Prestressing Steel in 2010,
the Commission took account of the
severe financial difficulties experienced in
the sectors ("dysfunctional credit markets
at the height of the crisis," as described
in Commission's articles).
Companies which may face the
imposition of fines as a result of an ongoing cartel investigation, or have unpaid
fines outstanding, and feel especially hit
by the economic crisis, might consider
bringing an ITP claim if the fine would
likely cause their bankruptcy. As clarified
in a Commission Notice of June 2010,
the criteria for benefiting from an ITP
reduction vary depending on whether
claims are made before or after adoption
of the final decision imposing the fines.
While the related information gathering
is not insignificant, a company's efforts
in claiming ITP may be worth its own
continued existence.
Flavia Distefano (Brussels)
[email protected]
Neil Baylis (London)
[email protected]
Siobhan Kahmann (Brussels)
[email protected]
Anchorage Austin Beijing Berlin Boston Brussels Charleston Charlotte Chicago Dallas Doha Dubai Fort Worth Frankfurt Harrisburg
Hong Kong London Los Angeles Miami Moscow Newark New York Orange County Palo Alto Paris Pittsburgh Portland Raleigh
Research Triangle Park San Diego San Francisco São Paulo Seattle Shanghai Singapore Spokane Taipei Tokyo Warsaw Washington, D.C.
K&L Gates includes lawyers practicing out of 40 offices located in North America, Europe, Asia, South America,
and the Middle East, and represents numerous GLOBAL 500, FORTUNE 100, and FTSE 100 corporations, in
addition to growth and middle market companies, entrepreneurs, capital market participants and public sector
entities. For more information about K&L Gates or its locations and registrations, visit www.klgates.com.
This publication is for informational purposes and does not contain or convey legal advice. The information herein should not be used or relied upon in regard to
any particular facts or circumstances without first consulting a lawyer.
©2012 K&L Gates LLP. All Rights Reserved.