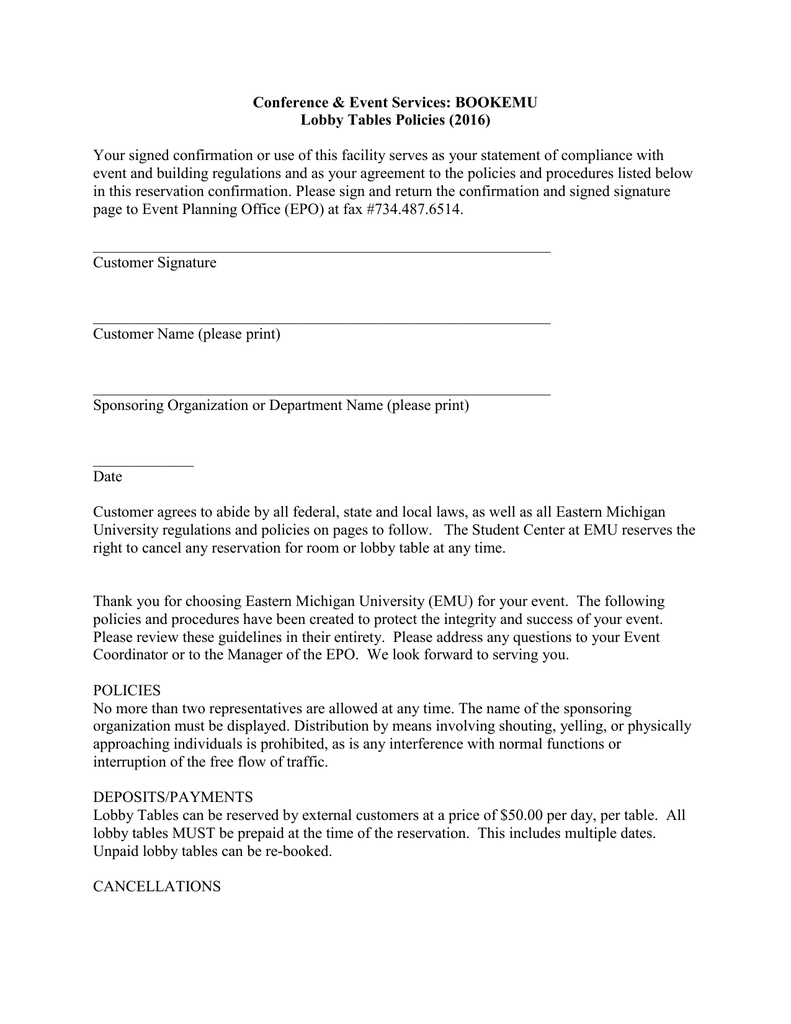 Conference & Event Services: BOOKEMU
Lobby Tables Policies (2016)
Your signed confirmation or use of this facility serves as your statement of compliance with
event and building regulations and as your agreement to the policies and procedures listed below
in this reservation confirmation. Please sign and return the confirmation and signed signature
page to Event Planning Office (EPO) at fax #734.487.6514.
___________________________________________________________
Customer Signature
___________________________________________________________
Customer Name (please print)
___________________________________________________________
Sponsoring Organization or Department Name (please print)
_____________
Date
Customer agrees to abide by all federal, state and local laws, as well as all Eastern Michigan
University regulations and policies on pages to follow. The Student Center at EMU reserves the
right to cancel any reservation for room or lobby table at any time.
Thank you for choosing Eastern Michigan University (EMU) for your event. The following
policies and procedures have been created to protect the integrity and success of your event.
Please review these guidelines in their entirety. Please address any questions to your Event
Coordinator or to the Manager of the EPO. We look forward to serving you.
POLICIES
No more than two representatives are allowed at any time. The name of the sponsoring
organization must be displayed. Distribution by means involving shouting, yelling, or physically
approaching individuals is prohibited, as is any interference with normal functions or
interruption of the free flow of traffic.
DEPOSITS/PAYMENTS
Lobby Tables can be reserved by external customers at a price of $50.00 per day, per table. All
lobby tables MUST be prepaid at the time of the reservation. This includes multiple dates.
Unpaid lobby tables can be re-booked.
CANCELLATIONS
Cancellation MUST be received in writing or (fax) within 48 hours of the event date or no refund
will be returned. Our fax number is 734.487.6514
SIGNS/DECORATIONS
Lobby Table reservations are for one (1) six-foot table and two (2) chairs. It does not include the
use of walls, windows or doors for posting of any materials. If the posting of signs is needed for
your event, please request easels from the EPO. Lobby tables are limited to one easel or e-clip.
MERCHANDISING
Merchandising is permitted at the lobby tables in the EMU Student Center only. No credit cards
solicitation is permitted (except by EMU affiliated banks). NO food items may be sold or given
away at lobby tables. Items must be approved by the Event Planning Office and items that are in
conflict with vendors located within the EMU Student Center will not be permitted. Vendors
may not aggressively solicit their product or services and/or block the flow of building patrons.
The vendor must stay behind the lobby table. Campus grounds or parking lot solicitation is not
permitted.
TRASH/DAMAGE
The sponsoring organization is responsible for all trash/litter incurred.