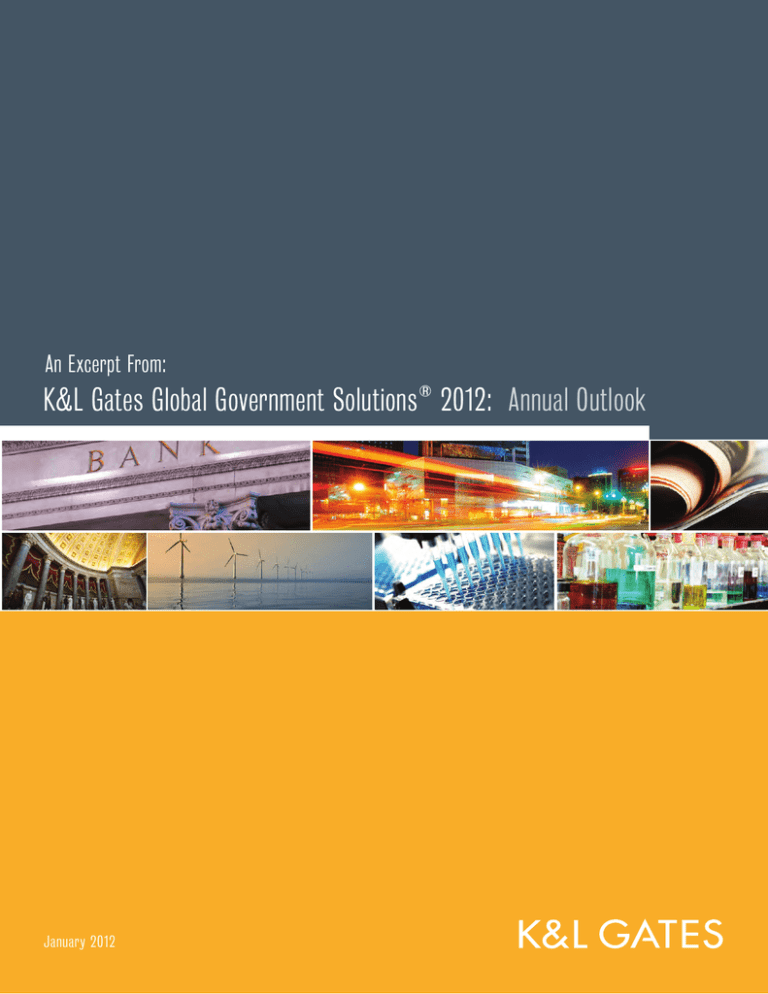 An Excerpt From:
K&L Gates Global Government Solutions ® 2012: Annual Outlook
January 2012
Betting and Gaming and Entertainment
Online Gambling in the European Union: Was 2011 a Landmark Year?
2011 may prove to have been a turning point in the regulation of online
gambling in Europe.
Until now, the European Union's
institutions (with the exception of the
Court of Justice of the European Union
(CJEU)) have been reluctant to intervene
in an online gambling market which
has become increasingly divided along
national boundaries. The 27 EU member
states have differing cultural, legal, and
fiscal approaches to the online gambling
industry—some support a state-sponsored
gambling monopoly operator, while
others have opened their markets to
licensed operators within a regulated
framework. However, even these national
regulated frameworks vary enormously,
and the principle of mutual recognition
of licensed operators from other member
states is rarely applied.
As a result, online gambling operators
providing cross-border services in Europe
must navigate an inconsistent patchwork
of regulated, gray, and restricted markets.
Further, the CJEU has had to deal with a
stream of cases concerning the conflict
between the restrictive online gambling
laws of many member states on the
one hand, and the freedom to provide
services enshrined in the Treaty on the
Functioning of the European Union (EU
Treaty) on the other.
However, 2011 has seen the European
Commission publish a green paper on
online gambling, and the European
Parliament issue an own-initiative report
on the topic.
European Commission Green Paper
In 2011, the European Commission's
green paper on online gambling
launched a public consultation covering
the regulation of gambling and related
services (including advertising and
sponsorship) in Europe, enforcement, and
public policy issues.
That consultation closed in July 2011,
and the commission is now considering
the responses. It is unclear what the
next steps will be: it may be that the
consultation is followed by a white paper
setting out policy options influenced by
the information gathered, and, perhaps,
a legislative proposal thereafter. However,
it seems extremely unlikely that the market
will be harmonized, or even that member
states will be prepared to adopt a policy
of mutual recognition toward gambling
operators established in other member
states. Any such developments would
require the support of member states
who, until now, have rarely reached
agreement on the topic. However, as
described below, the commission has now
been given some clear guidance by the
European Parliament.
European Parliament Report
On November 15, 2011, the European
Parliament adopted its own report on
online gambling in the internal market
(the Creutzmann Report).
Given that the member States differ
greatly on this issue, it is no surprise
that the Creutzmann Report rejected
legislative uniformity within the internal
market and supported the discretion of
individual member states to make their
own gambling policy, so long as it is
proportionate and non-discriminatory.
Nevertheless, the report still represents
a change of direction from the
European Parliament in favor of the
regulated online gambling industry
and demonstrates a new emphasis on
cooperation between member states and
upholding EU Treaty principles in the
sector. Importantly, the report urges the
commission to take a more active role
to pursue infringement proceedings, to
uphold EU Treaty principles in favor of
EU-licensed operators, and to consider
introducing common standards and a
framework directive.
The report represents a change of direction in favor of
the regulated online gambling industry.
70
K&L Gates Global Government Solutions ® 2012 Annual Outlook
Betting and Gaming and Entertainment
It is also particularly interesting that the
Creutzmann Report recommends that
a controversial property right for sports
event organizers, along the lines of the
"fair return" mentioned in the commission's
green paper, should be recognized.
While that is merely a recommendation,
if implemented it could mean that sports
organizations would be able to charge
gambling operators for the privilege of
taking bets on their events.
Conclusions
It is welcome that both the European
Parliament and the European Commission
have decided that this issue could benefit
from some central policy guidance.
What happens next is less certain: the
Creutzmann Report is non-legislative, and
the timing and the nature of the next steps
from both the European Parliament and
the commission are unclear. With such
divergent attitudes towards the regulation
of gambling among member states, it will
be difficult to forge any real progress in
the short to medium term.
discriminatory, or disproportionate. We
may also see a greater degree of legal
certainty for the industry in the future, and
increased cooperation between regulators
in different member states.
The events of the next few years promise to
be just as significant as the one just past.
Warren L. Phelops (London)
warren.phelops@klgates.com
Andrew R. Danson (London)
andrew.danson@klgates.com
At the same time, the tide may be turning
against the state-sponsored gambling
monopoly model in the European Union—
at least where member states' gambling
policies can be shown to be inconsistent,
K&L Gates Global Government Solutions ® 2012 Annual Outlook
71
Anchorage Austin Beijing Berlin Boston Brussels Charleston Charlotte Chicago Dallas Doha Dubai Fort Worth Frankfurt Harrisburg
Hong Kong London Los Angeles Miami Moscow Newark New York Orange County Palo Alto Paris Pittsburgh Portland Raleigh
Research Triangle Park San Diego San Francisco São Paulo Seattle Shanghai Singapore Spokane Taipei Tokyo Warsaw Washington, D.C.
K&L Gates includes lawyers practicing out of 40 offices located in North America, Europe, Asia, South America,
and the Middle East, and represents numerous GLOBAL 500, FORTUNE 100, and FTSE 100 corporations, in
addition to growth and middle market companies, entrepreneurs, capital market participants and public sector
entities. For more information about K&L Gates or its locations and registrations, visit www.klgates.com.
This publication is for informational purposes and does not contain or convey legal advice. The information herein should not be used or relied upon in regard to
any particular facts or circumstances without first consulting a lawyer.
©2012 K&L Gates LLP. All Rights Reserved.