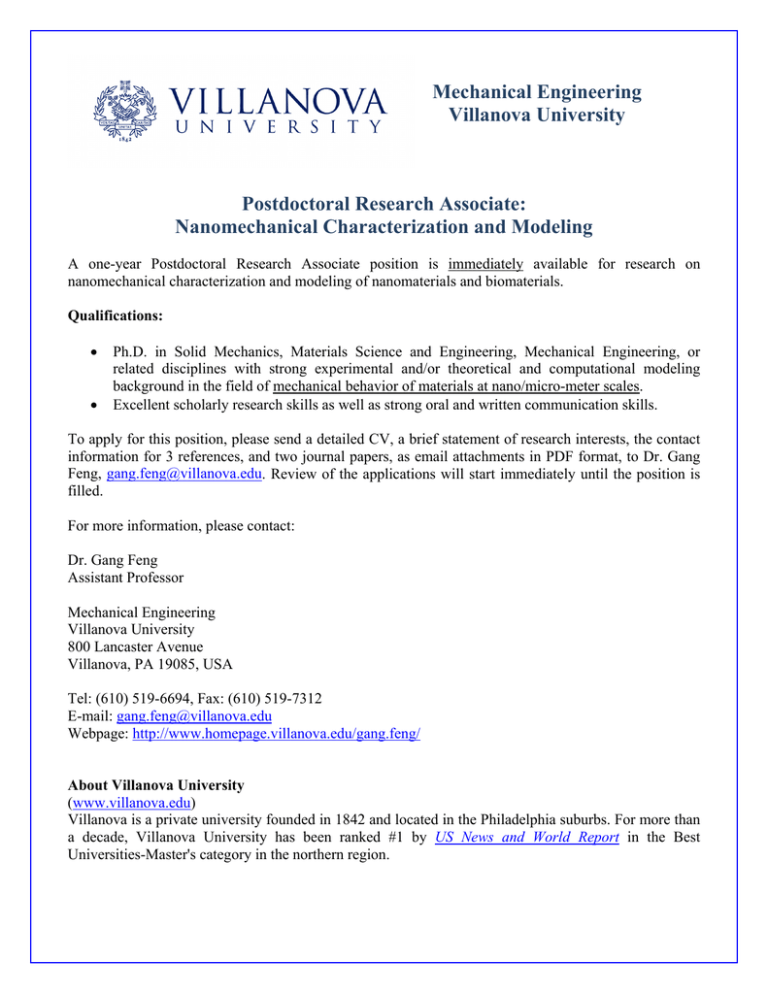 Mechanical Engineering
Villanova University
Postdoctoral Research Associate:
Nanomechanical Characterization and Modeling
A one-year Postdoctoral Research Associate position is immediately available for research on
nanomechanical characterization and modeling of nanomaterials and biomaterials.
Qualifications:
•
•
Ph.D. in Solid Mechanics, Materials Science and Engineering, Mechanical Engineering, or
related disciplines with strong experimental and/or theoretical and computational modeling
background in the field of mechanical behavior of materials at nano/micro-meter scales.
Excellent scholarly research skills as well as strong oral and written communication skills.
To apply for this position, please send a detailed CV, a brief statement of research interests, the contact
information for 3 references, and two journal papers, as email attachments in PDF format, to Dr. Gang
Feng, gang.feng@villanova.edu. Review of the applications will start immediately until the position is
filled.
For more information, please contact:
Dr. Gang Feng
Assistant Professor
Mechanical Engineering
Villanova University
800 Lancaster Avenue
Villanova, PA 19085, USA
Tel: (610) 519-6694, Fax: (610) 519-7312
E-mail: gang.feng@villanova.edu
Webpage: http://www.homepage.villanova.edu/gang.feng/
About Villanova University
(www.villanova.edu)
Villanova is a private university founded in 1842 and located in the Philadelphia suburbs. For more than
a decade, Villanova University has been ranked #1 by US News and World Report in the Best
Universities-Master's category in the northern region.