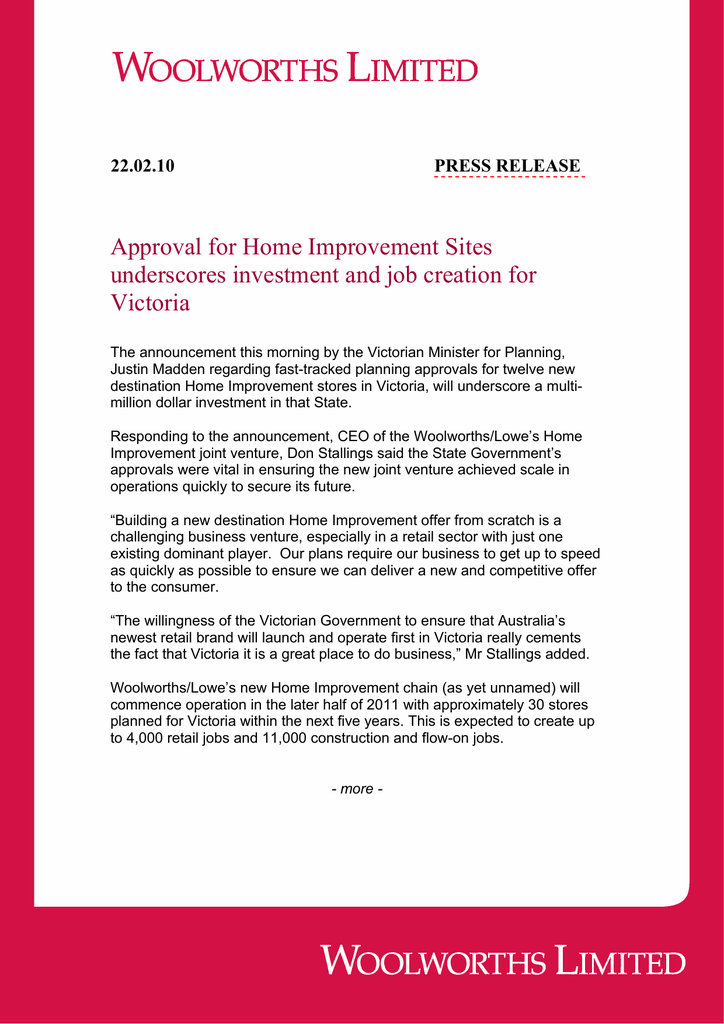 22.02.10
PRESS RELEASE
Approval for Home Improvement Sites
underscores investment and job creation for
Victoria
The announcement this morning by the Victorian Minister for Planning,
Justin Madden regarding fast-tracked planning approvals for twelve new
destination Home Improvement stores in Victoria, will underscore a multimillion dollar investment in that State.
Responding to the announcement, CEO of the Woolworths/Lowe's Home
Improvement joint venture, Don Stallings said the State Government's
approvals were vital in ensuring the new joint venture achieved scale in
operations quickly to secure its future.
"Building a new destination Home Improvement offer from scratch is a
challenging business venture, especially in a retail sector with just one
existing dominant player. Our plans require our business to get up to speed
as quickly as possible to ensure we can deliver a new and competitive offer
to the consumer.
"The willingness of the Victorian Government to ensure that Australia's
newest retail brand will launch and operate first in Victoria really cements
the fact that Victoria it is a great place to do business," Mr Stallings added.
Woolworths/Lowe's new Home Improvement chain (as yet unnamed) will
commence operation in the later half of 2011 with approximately 30 stores
planned for Victoria within the next five years. This is expected to create up
to 4,000 retail jobs and 11,000 construction and flow-on jobs.
- more -
2/2
The twelve initial sites announced today are:
Hawthorn East
Mornington
Preston
Coolaroo*
Wendouree
Oakleigh South
Carrum Downs
Burnside
Knoxfield
South Morang
Bendigo
North Geelong
* Announced September 2009
- ends -
CONTACT DETAILS: Woolworths Press Office (02) 8885 1033.