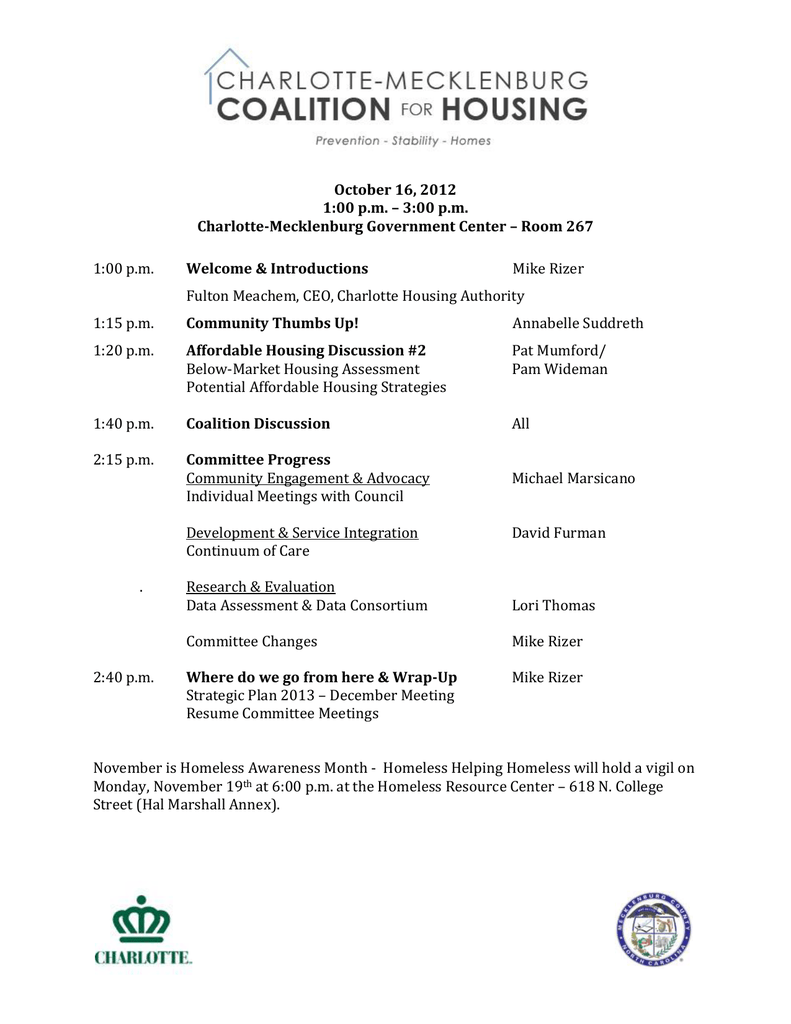 October 16, 2012
1:00 p.m. – 3:00 p.m.
Charlotte-Mecklenburg Government Center – Room 267
1:00 p.m.
Welcome & Introductions
Mike Rizer
Fulton Meachem, CEO, Charlotte Housing Authority
1:15 p.m.
Community Thumbs Up!
Annabelle Suddreth
1:20 p.m.
Affordable Housing Discussion #2
Below-Market Housing Assessment
Potential Affordable Housing Strategies
Pat Mumford/
Pam Wideman
1:40 p.m.
Coalition Discussion
All
2:15 p.m.
Committee Progress
Community Engagement & Advocacy
Individual Meetings with Council
Michael Marsicano
Development & Service Integration
Continuum of Care
.
2:40 p.m.
David Furman
Research & Evaluation
Data Assessment & Data Consortium
Lori Thomas
Committee Changes
Mike Rizer
Where do we go from here & Wrap-Up
Strategic Plan 2013 – December Meeting
Resume Committee Meetings
Mike Rizer
November is Homeless Awareness Month - Homeless Helping Homeless will hold a vigil on
Monday, November 19th at 6:00 p.m. at the Homeless Resource Center – 618 N. College
Street (Hal Marshall Annex).