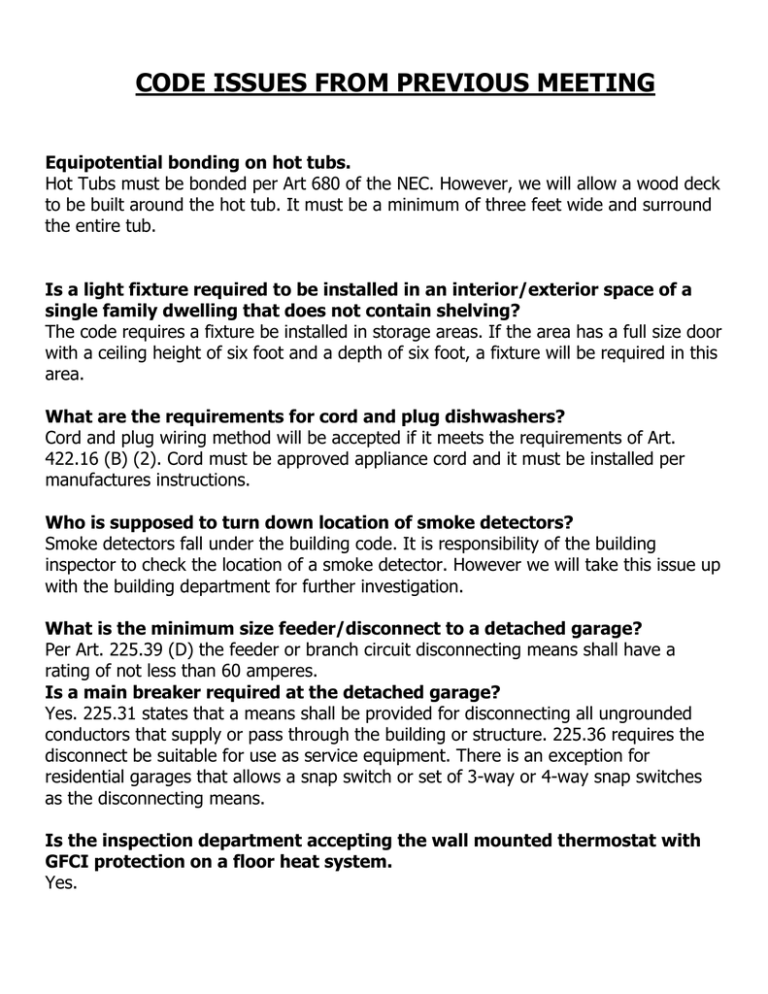 CODE ISSUES FROM PREVIOUS MEETING
Equipotential bonding on hot tubs.
Hot Tubs must be bonded per Art 680 of the NEC. However, we will allow a wood deck
to be built around the hot tub. It must be a minimum of three feet wide and surround
the entire tub.
Is a light fixture required to be installed in an interior/exterior space of a
single family dwelling that does not contain shelving?
The code requires a fixture be installed in storage areas. If the area has a full size door
with a ceiling height of six foot and a depth of six foot, a fixture will be required in this
area.
What are the requirements for cord and plug dishwashers?
Cord and plug wiring method will be accepted if it meets the requirements of Art.
422.16 (B) (2). Cord must be approved appliance cord and it must be installed per
manufactures instructions.
Who is supposed to turn down location of smoke detectors?
Smoke detectors fall under the building code. It is responsibility of the building
inspector to check the location of a smoke detector. However we will take this issue up
with the building department for further investigation.
What is the minimum size feeder/disconnect to a detached garage?
Per Art. 225.39 (D) the feeder or branch circuit disconnecting means shall have a
rating of not less than 60 amperes.
Is a main breaker required at the detached garage?
Yes. 225.31 states that a means shall be provided for disconnecting all ungrounded
conductors that supply or pass through the building or structure. 225.36 requires the
disconnect be suitable for use as service equipment. There is an exception for
residential garages that allows a snap switch or set of 3-way or 4-way snap switches
as the disconnecting means.
Is the inspection department accepting the wall mounted thermostat with
GFCI protection on a floor heat system.
Yes.