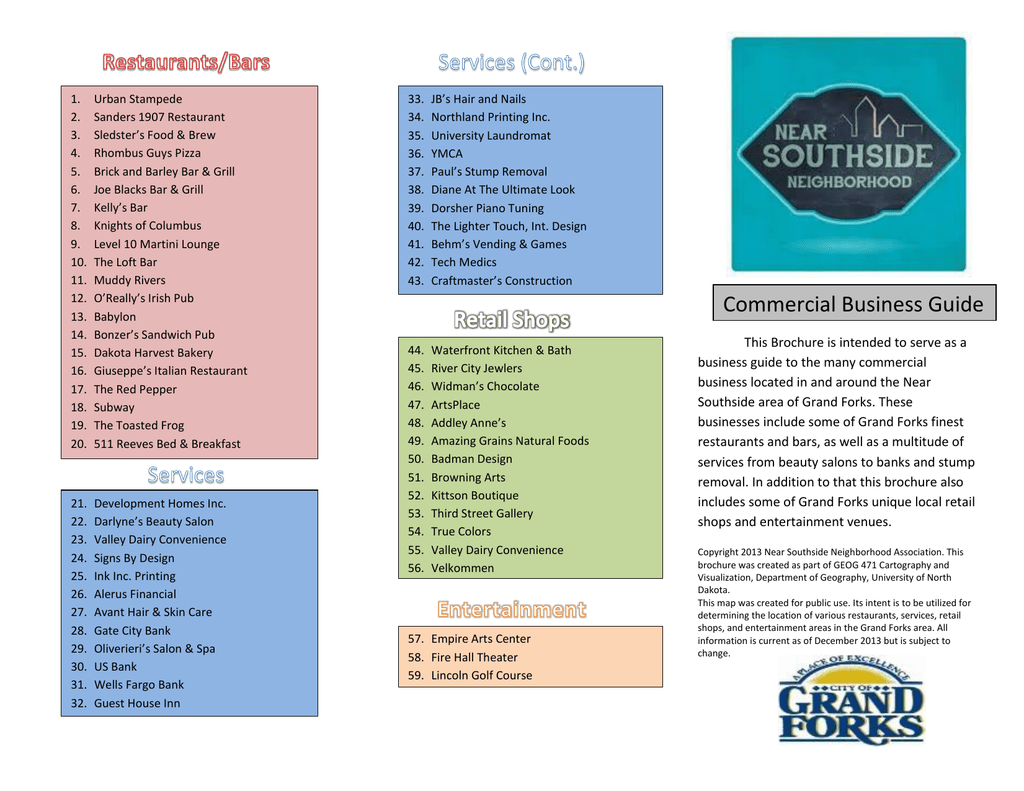 1.
2.
3.
4.
5.
6.
7.
8.
9.
10.
11.
12.
13.
14.
15.
16.
17.
18.
19.
20.
Urban Stampede
Sanders 1907 Restaurant
Sledster's Food & Brew
Rhombus Guys Pizza
Brick and Barley Bar & Grill
Joe Blacks Bar & Grill
Kelly's Bar
Knights of Columbus
Level 10 Martini Lounge
The Loft Bar
Muddy Rivers
O'Really's Irish Pub
Babylon
Bonzer's Sandwich Pub
Dakota Harvest Bakery
Giuseppe's Italian Restaurant
The Red Pepper
Subway
The Toasted Frog
511 Reeves Bed & Breakfast
21.
22.
23.
24.
25.
26.
27.
28.
29.
30.
31.
32.
Development Homes Inc.
Darlyne's Beauty Salon
Valley Dairy Convenience
Signs By Design
Ink Inc. Printing
Alerus Financial
Avant Hair & Skin Care
Gate City Bank
Oliverieri's Salon & Spa
US Bank
Wells Fargo Bank
Guest House Inn
33.
34.
35.
36.
37.
38.
39.
40.
41.
42.
43.
JB's Hair and Nails
Northland Printing Inc.
University Laundromat
YMCA
Paul's Stump Removal
Diane At The Ultimate Look
Dorsher Piano Tuning
The Lighter Touch, Int. Design
Behm's Vending & Games
Tech Medics
Craftmaster's Construction
Commercial Business Guide
44.
45.
46.
47.
48.
49.
50.
51.
52.
53.
54.
55.
56.
Waterfront Kitchen & Bath
River City Jewlers
Widman's Chocolate
ArtsPlace
Addley Anne's
Amazing Grains Natural Foods
Badman Design
Browning Arts
Kittson Boutique
Third Street Gallery
True Colors
Valley Dairy Convenience
Velkommen
57. Empire Arts Center
58. Fire Hall Theater
59. Lincoln Golf Course
This Brochure is intended to serve as a
business guide to the many commercial
business located in and around the Near
Southside area of Grand Forks. These
businesses include some of Grand Forks finest
restaurants and bars, as well as a multitude of
services from beauty salons to banks and stump
removal. In addition to that this brochure also
includes some of Grand Forks unique local retail
shops and entertainment venues.
Copyright 2013 Near Southside Neighborhood Association. This
brochure was created as part of GEOG 471 Cartography and
Visualization, Department of Geography, University of North
Dakota.
This map was created for public use. Its intent is to be utilized for
determining the location of various restaurants, services, retail
shops, and entertainment areas in the Grand Forks area. All
information is current as of December 2013 but is subject to
change.