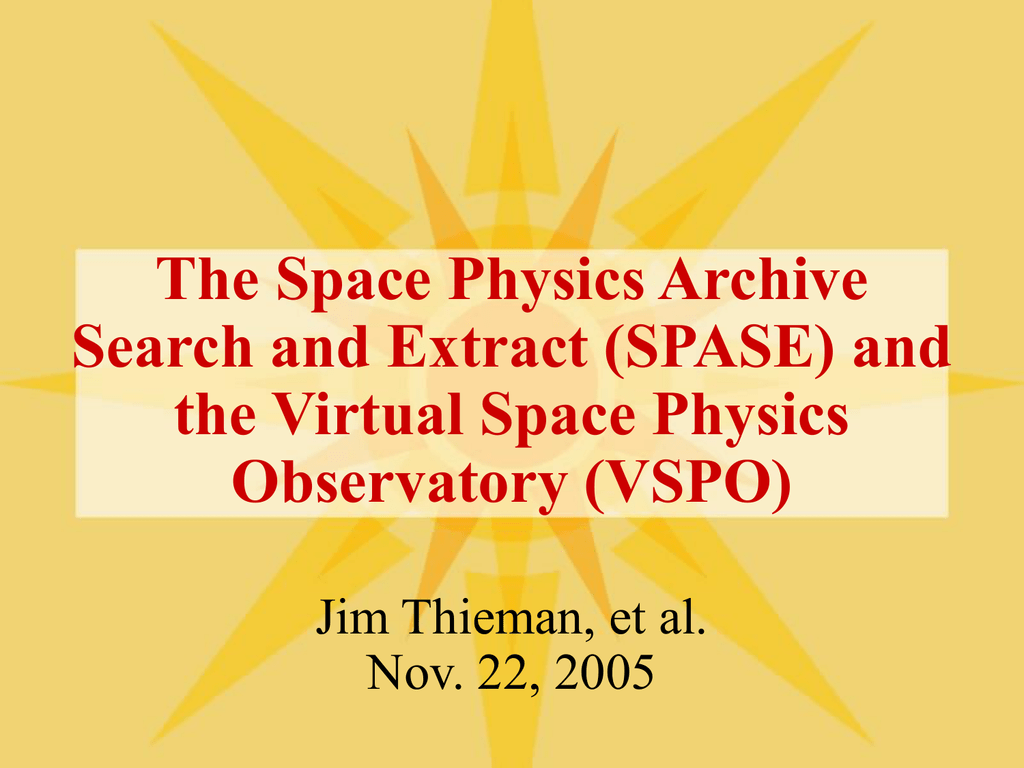 The Space Physics Archive
Search and Extract (SPASE) and
the Virtual Space Physics
Observatory (VSPO)
Jim Thieman, et al.
Nov. 22, 2005
Present Participants
• CNES/CNRS Plasma Physics (CDPP) Data Archive
• NASA/Goddard Space Flight Center
• NOAA/National Geophysical Data Center
• Planetary Data System- UCLA Plasma Physics Interactions Node
• Rutherford Appleton Laboratory
• Southwest Research Institute
• Applied Physics Laboratory
• Jet Propulsion Laboratory
• Augsburg College
• European Grid of Solar Observations (EGSO)
• Institute of Space and Astronautical Science (ISAS/JAXA)
Space and Solar Physics Data
QuickTime™ and a
YUV420 codec decompressor
are needed to see this picture.
Space Physics Data Environment
• Thousands of relatively small datasets
• Tens to hundreds of data centers or data
providers (repositories)
• Very diverse metadata terminology and
data formats
• SPASE adds value to the distributed data
by making them known and used
• Preservation of the data often becomes the
task of NSSDC
Some Present Space and Solar Physics Missions
SPASE Goals
• Provide a standard method of registering products
• Enable searching for data among diverse repositories
• Facilitate intercomparison of similar quantities from different data
sets through common terminology mapping (e.g. visible
radiation vs. optical radiation)
SPASE Objectives
• Develop a Space Physics Data Model/Data Dictionary as an interlingua or common
language translating the multitude of metadata values used in the Space Physics
community;
• Provide a search capability across the Virtual Observatories (VxO's) and the major
data holdings of interest to space physicists through one or more interfaces of choice;
• Return metadata in a common format that will allow cross-comparison of the
metadata even though they come from data centers using .differing storage formats,
data dictionaries and schemas.;
• Extract and retrieve the data sets or subsets of data sets of interest for the user; and
• Connect to important space physics data services (e.g., ViSBARD, CDAWeb,
SSCWeb, SDDAS, COHOWeb, FTPBrowser, Modelweb, Helioweb, OMNIWeb,
etc), to allow them to be used as conveniently and widely as possible.
Data Environment Architecture
SPASE User Scenario
• User defines a query using an application
• Application contacts access points or a general gateway
• Each access point or gateway translates queries, if necessary,
and contacts relevant repositories or other gateways and
generates a reply
• The reply brings back metadata or the actual data
• User can refine the query to get more specific metadata,
particular datasets, or even subsets of data
Scope of Data Model
• Discipline: Space and Solar Physics but
relationship to planetary science and astronomy
close
• Present Emphasis: Describing Numerical and Display Data
• Future Directions: Including Model Data, Data Catalogs, Support
Software, etc.
SPASE Website
Copy of Data Model
Version 0.99.9 is available on the web.
Version 1.0.0 will be available very soon.
"Data Model
document"
Other SPASE-relevant items of interest are found here as well
http://www.igpp.ucla.edu/spase
SPASE Data Model
Recent Example Data Product Description
VERSION
OBJECT
RESOURCE_ID
MEASUREMENT_TYPE
OBSERVATORY_ID
INSTRUMENT_ID
PROVIDER_ID
ACCESS_RIGHTS
OBJECT
RESOURCE_NAME
ACKNOWLEDGEMENT
DESCRIPTION
= "1.0.0"
= NUMERICAL_DATA
= "UCLA::ACE-SW-MFI-4-RDR-PROC-V1.0:ACEMAG200301:1"
= "Magnetic Field"
= "ACE"
= "ACE_MFI"
= "UCLA"
= "Open"
= RESOURCE_HEADER
= "ACEMAG200301"
= "User will acknowledge the data producer and instrument P.I. in any
publication resulting from the use of these data."
= "ACE MFI 1-minute averaged magnetic-field data in GSE coordinates
from Jan 2003. These data have been linearly interpolated to the
even minute from 16 second data."
OBJECT
ROLE
PERSON_ID
END_OBJECT
= CONTACT
= "Principal Investigator"
= "[email protected]"
= CONTACT
OBJECT
ROLE
PERSON_ID
END_OBJECT
= CONTACT
= "Co-Investigator"
= "[email protected]"
= CONTACT
OBJECT
ROLE
PERSON_ID
END_OBJECT
= CONTACT
= "Data Producer"
= "[email protected]"
= CONTACT
END_OBJECT
………….
= RESOURCE_HEADER
Virtual Space Physics Observatory Search Application
http://vspo.gsfc.nasa.gov/websearch/dispatcher
VSPO Search Results
http://vspo.gsfc.nasa.gov/websearch/dispatcher
VSPO System Architecture
Summary

The Version 1.0.0 SPASE Data Model will be
released shortly and the scope will continue to be
expanded in new versions

VSPO serves as a test system for data description
and an example gateway to available space physics
data

Feedback from the community is particularly
important for SPASE progress and use

Results and current work can be found at:
http://www.igpp.ucla.edu/spase
BACKUP
SPASE Data Model
SPASE Data Model
Recent Example Data Product Description
HEADER (Data Use Elements):
REPOSITORY NAME: CSDS
PROJECT:
PROJECT NAME: CLUSTER
OBSERVATORY:
OBSERVATORY NAME: CLUSTER
INSTRUMENT:
INSTRUMENT NAME: Fluxgate Magnetometer
INSTRUMENT TYPE: Magnetometer
PRODUCT ID: CSDS::CLST_SP_FGM_CDF_60s_V01
PRODUCT NAME: Cluster Fluxgate Magnetometer Summary Parameter
PRODUCT TYPE:
NUMERICAL DATA:
FORMAT: CDF
FILE ENCODING: SUNMS
ACCESS URL: <http://www.cluster.rl.ac.uk/>http://www.cluster.rl.ac.uk/
SHORT DESCRIPTION: TBW
LONG DESCRIPTION: TBW
CONTACT INFORMATION:
NAME: Andre Balogh
INSTITUTION: Imperial College of Science, Technology and Medicine, University of London
ROLE: P.I.
E-MAIL: <mailto:[email protected]>[email protected]
PHONE: N/A
PROVIDER PROCESSING LEVEL: CALIBRATED
RELEASE DATE: 2000-11-01
VERSION: 1.0
AVAILABILITY: Online
ACCESS RIGHTS: Open
CAVEATS: See CSDS User's Guide, DS-MPA-TN-0015, for post-processing caveats ***CAUTION Preliminary
calibrations used: not for publication………………
…………………..
Data Environment Architecture
Data Model Work

Where are we now?
– SPASE Data Model now at version 0.99.6+.
(Next version briefly 0.99.8, then 1.0.0)
– Data Model Document is mostly complete
– Alignment of text, schema, and dictionary needed
– Some issues on schema need resolution
– Concerns about numerical data keyword adequacy

What needs to be done at this meeting?
– Define final Table of Contents
– Agree on the narrative sections (Exec. Sum., I, II, and other
smaller narrative parts)
– Resolve major issues of schema
– Resolve any major dictionary problems
– Determine format of SPASE
– Test with data set descriptions and revise as needed
– Examine useful technologies
Data Model Work
Finishing 1.0.0
• Data Model Definition Document would need:
- Introductory section
- Purpose and Scope
- Applicability
- Glossary
- Conformance section
• Version 1.0 released for full community review for at least 6 weeks
• All community comments formally listed as well as responses
• Data Model Definition Document to be followed by Implementation
Document with XML or other approaches
Latest Interactions
• Biweekly hour-long teleconferences continue
(summaries of each are available)
• Occasional multi-hour teleconferences are held when
more concentrated work is needed
• Team meets face-to-face twice per year (next one in
San Antonio - May 9-11)
• Recent presentations about SPASE at Fall AGU,
CODATA
• Planned presentations at Spring AGU, PV 2005,
GEM/CEDAR
Summary Guidelines

Perfection is not required

Keep to major issues and don't get caught on details

Look for the simple solution

Seek consensus, majority rule, decision by chair if
necessary
Thanks for all of your hard work!!